When Ted and I bought our first house and felt "settled," one of the things I wanted was a set of good kitchen knives. We shopped and bought Gerber knives. After 48 years of use and sharpening, they have become notched at the handle end of the blade. The arrow shows where the blade edge used to be flush with the visible portion of the tang. I decided it's time for new knives.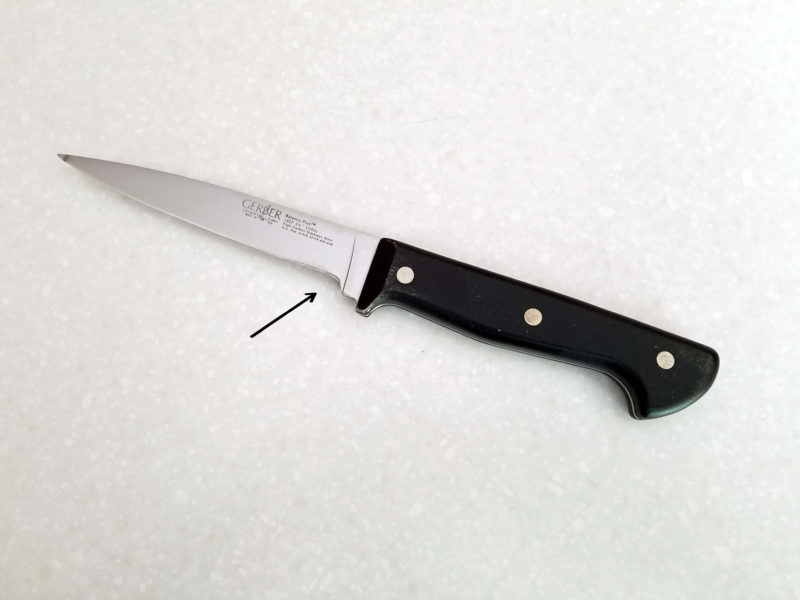 I checked all my knives and noted which ones I use a lot, which ones I might not replace, and which other styles of knives I might want. I decided to keep the bone-handled knife and honing steel Ted and I received as a wedding gift because they are so beautiful. And yes, that's the honing steel I was using when I sliced my wrist.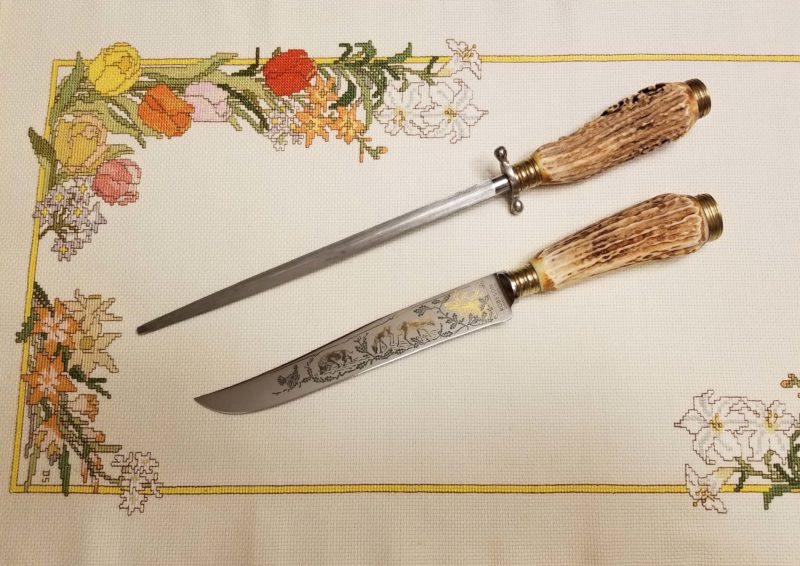 I liked my Gerber knives, so I went online to see if I could get some more. The answer is "no." I learned that, in the 1970s, sometime after I bought my kitchen knives, Gerber dropped its kitchen line and now makes only hunting knives. I don't hunt, so I did some more online research, went to Williams-Sonoma to see what they had to offer, and decided to go with Wüsthof. I kept the wedding gift knife and the Miyabi rocker knife I bought several years ago and added eight new knives. I treated myself to a new knife block as well. Of course, the supply chain is still out of whack from the COVID pandemic, so I only took one knife home with me. The rest trickled in, one knife at a time, over a period of three months. (Don't you just love the supply chain?) Each knife arrived over-packaged. Does Wüsthof have only one size shipping box? On the other hand, none of the knives had shipping damage.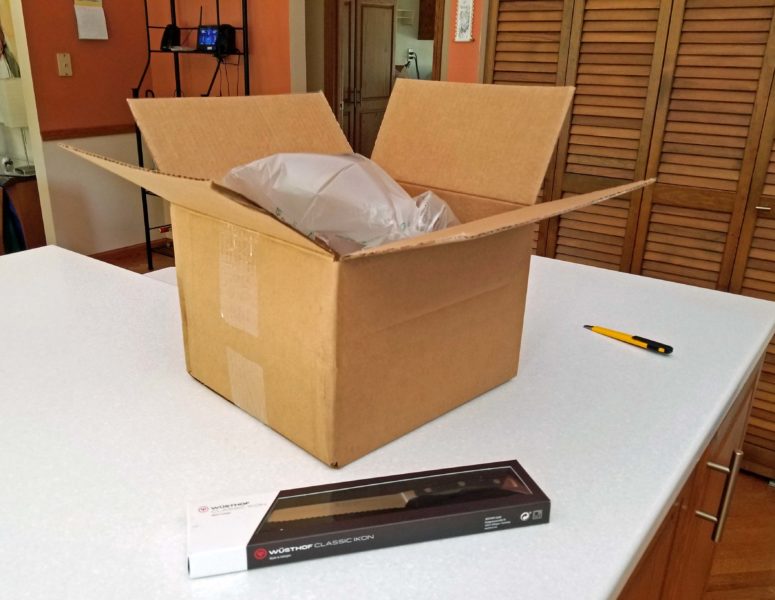 The new knives are amazingly sharp! Wüsthof sharpens its knives to a 14-degree edge; most knives are sharpened to a 15-degree edge. That single degree of difference is definitely noticeable.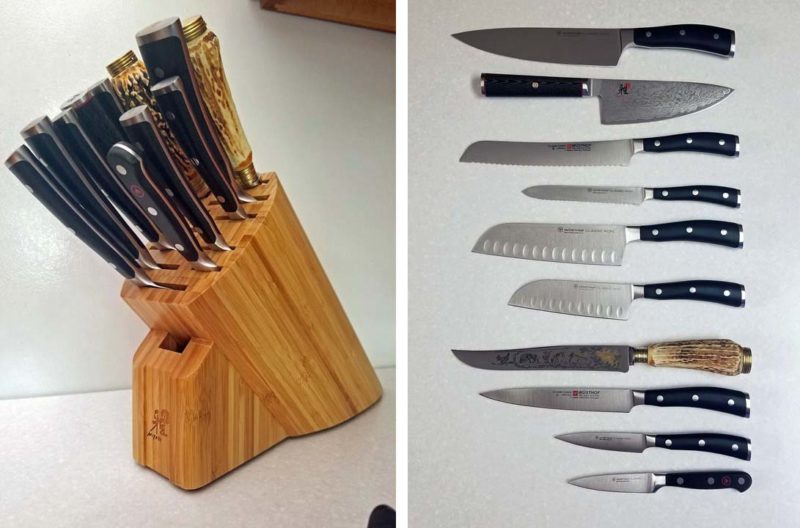 Now that I have new knives, what shall I do with the old ones? I asked Kathy and Kari if they were interested in them. Kathy already has a set of knives and a knife block, but Kari said my old knives will be better than what she currently has and she'll take the block too. That was easy!
When I removed the knives from my old block to replace it with the new one, the old one looked pretty bad. That's not surprising, since it's 48 years old and has been used daily. You can see how putting the knives and the honing steel in and out created wear on the openings, and how the finish at the bottom edge is worn from years of wiping the countertop beside the block.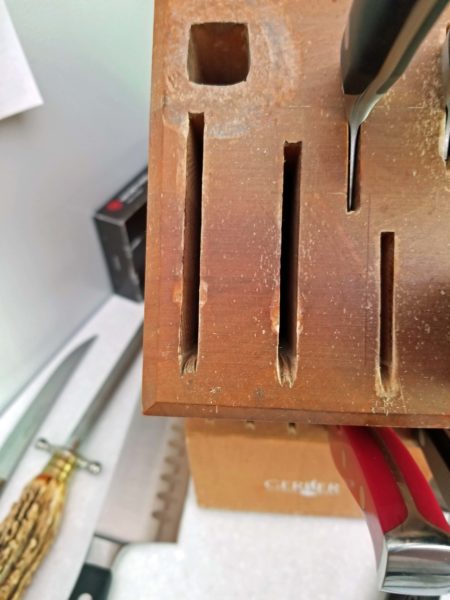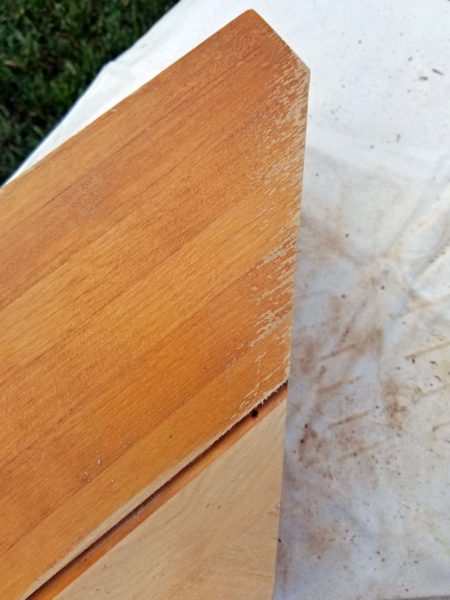 I felt badly about giving something that looked so worn to Kari, so I decided to refinish the block for her. It was easy to sand the finish off with my power sander. You can see more damage on this side of the block where it rubbed against the side of the refrigerator for many years. The bare wood shows where I've partially sanded the block.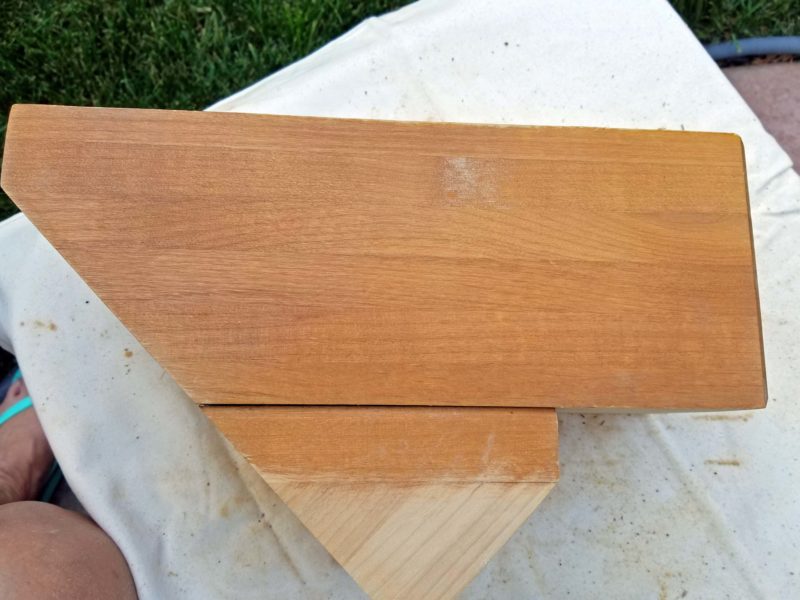 When I had the block sanded clean, the wood was beautiful. I finished the sanding portion of the project with a 600 grit sandpaper, and that made the surface feel as smooth as glass.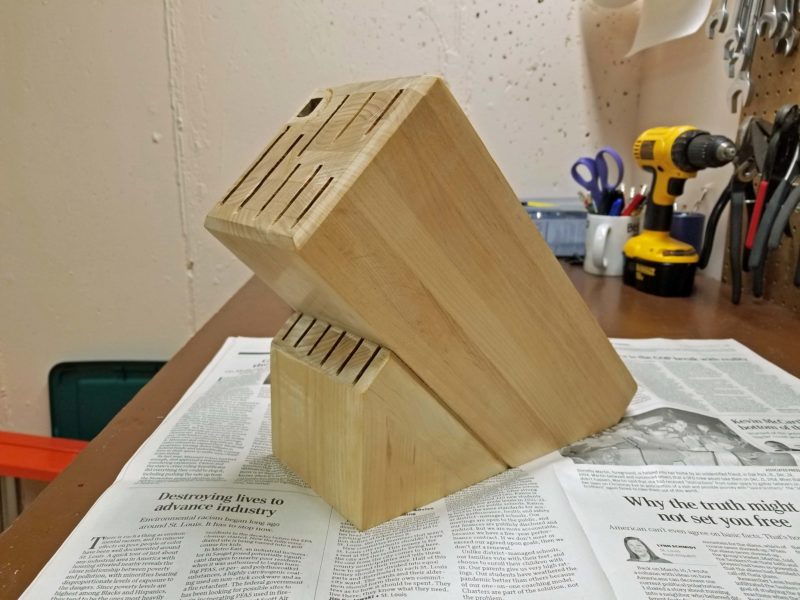 The next step was stain. I almost hated to put stain on the wood because the bare wood looked so pretty. I debated leaving the natural finish but, in the end, I went with a wiping stain and rubbed it in as much as I could.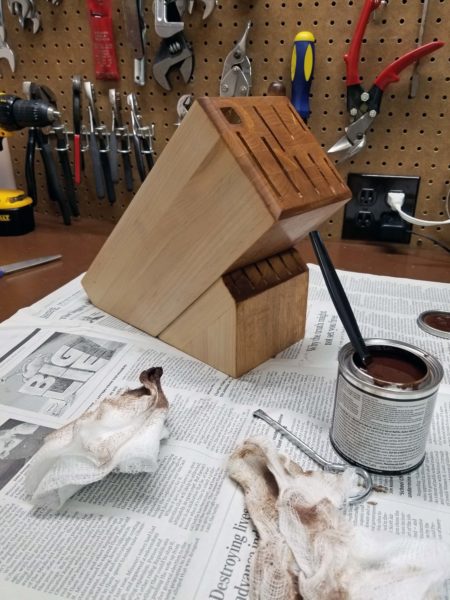 When the stain dried, it was time for varnish. I tried spray-on varnish for the first time. I wanted only a thin coat of varnish, and I thought it would be easier to apply a thin coat with a spray than with a brush. Luckily, we just bought a storage shed. Ted suggested we use the shed box to form a wall to catch the overspray.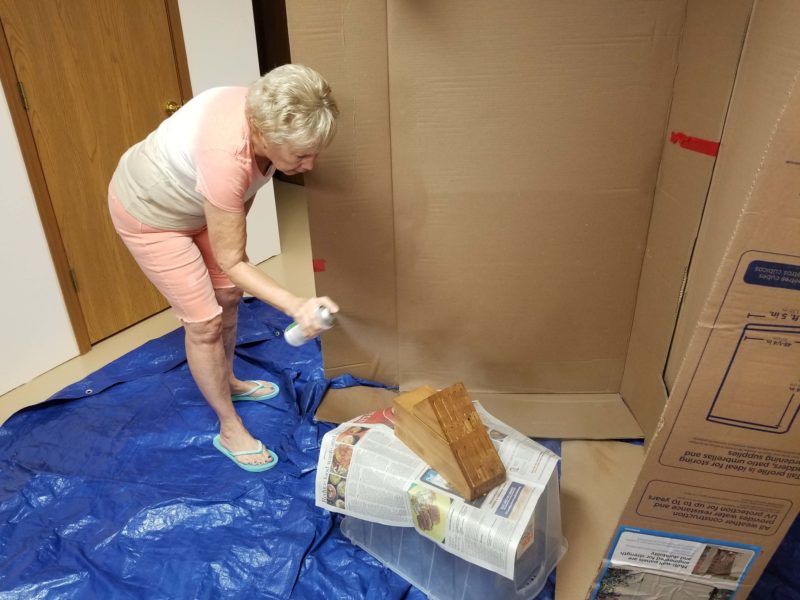 The spray varnish dried to touch in about five minutes and was thoroughly dry in four hours. With such a short drying time, it was possible for me to spray all sides of the block right away, rather than waiting a day to do whichever side had been on the bottom. When the entire varnished block was dry to touch (roughly 30 minutes), I fed a wire through the honing steel opening and suspended the block from two nails in a ceiling joist to finish drying. I hung the drying block over a step stool so that if the wire hanger failed for any reason, the block wouldn't have far to fall.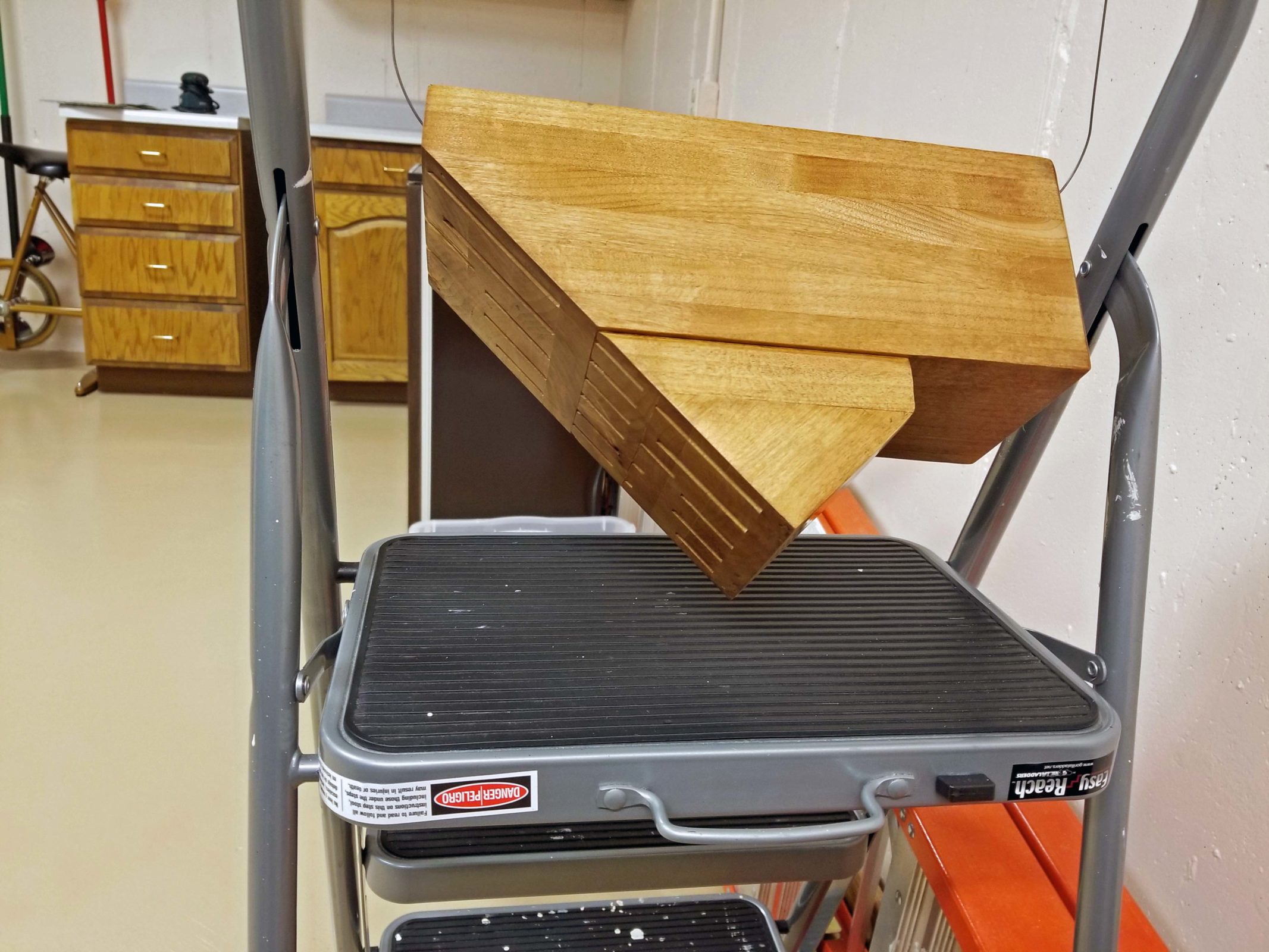 And here's the re-finished block–not looking shabby–for Kari. I haven't re-finished anything for a few years, so this was fun for me. Now Kari and I both have updated kitchen knives and blocks.