For Mother's Day, Kathy and Annette sent me a Diamond Art kit. I have already admitted to Kathy that I was skeptical when I saw it, but I decided to give it a try. Kathy admitted that it was Annette's idea and that she (Kathy) was skeptical about sending it too. The happy ending is that it was a lot of fun to do and I enjoyed the opportunity to spend time on a new activity. Annette, you rock!
To do Diamond Art, you use a pen-size tool (in my hand) with a hollow tip to pick up tiny little "gems" from a tray (the gray thing on the countertop) and stick them to the adhesive surface of the fabric to create a sparkling picture. The picture is pre-printed with color-coded symbols to designate which gems to use. Think of paint-by-number, only different. It sounds tedious, but it was challenging enough (this was an intermediate level kit) that I enjoyed watching the picture come to sparkling life for an hour or two at a time. ("I'll just finish this flower before I quit.")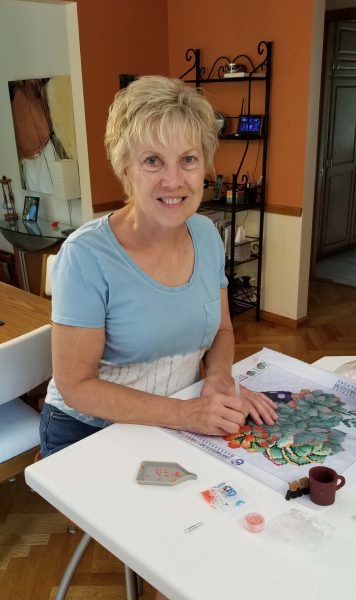 When I finished, Ted looked at it and sounded kind of surprised when he said, "It looks pretty nice." I agreed. I don't think I'll hang it, and it won't become my life's work, but I had a good time and I think I'd like to try an advanced kit next time. Thank you, Kathy and Annette, for introducing me to a new kind of craft project.