When I was in eighth grade, the University of Wisconsin played Southern California in the New Year's Day Rose Bowl game. I don't remember which team won, but that was when I decided that, when I went to college, I was going to attend UW in Madison so I could go to Pasadena for the Rose Bowl. Hahahahaha! UW had its worst football teams ever while I was in college. The University of Iowa was the bottom-ranked Big 10 team, and UW lost to them with a score of 51-0. We cheered for first downs as if they were touchdowns because first downs were about as good as the team got, and they didn't happen that often. Even without a Rose Bowl holiday, UW was a good choice for me. Football weekends were great and I never had enough money to go to Pasadena anyway.
I paid for college with scholarships and grants–a good deal because I didn't have big student loans to repay. Ted's college education was covered by the GI Bill, so he didn't have big college loans either. I needed to work 10-15 hours/week during the school year and full time in the summers to avoid loans, so I did. During the summer between my sophomore and junior years, I worked two jobs–40-hours/week at the university library and 20 hours/week as a Kroger checker.
During the school year, I qualified for work/study jobs, which were partially funded by the federal government and paid more than minimum wage. Minimum wage was $1.25/hour; work/study paid $1.50/hour–20 percent more. Unless you were a boy, that is; then the pay was even better. My first work/study job was in a campus administration office as a "typist." This job was very educational because it introduced me to unfair salary practices for men and women. Example: There were also three or four male students working in that office, but they were "draftsmen." I did a little typing, but I never saw any of the men drafting. The reality was that we all stuffed envelopes for mailers regarding meetings and conferences on campus. I stuffed much faster than the men (I can show you the trick of rapid stuffing because I still do it with our Christmas cards), but the men made $2.25/hour–80 percent above minimum wage. Is it any wonder that the next episode in an historic series of women's rights movements was ramping up during my college years?
In the spring semester of my freshman year, I was invited by the UW history department to be one of twenty students attending a six-week seminar at Smith College (one of the elite Seven Sisters schools) in Northampton, MA with all expenses paid. I have no idea how I was selected because I hadn't even taken a history course, but it was a fun summer. I needed a job for the other six weeks, so the Financial Aid office found a work/study opening at the Old Wade House in Greenbush, WI, not far from my parents' home. The job allowed me to work before and after the six weeks at Smith. That was a sweet deal!
The Old Wade House was essentially a hotel/restaurant in the days of traveling by horse. It was located halfway between Sheboygan and Fond du Lac–the distance a horse could travel in a day. It's on the National Register of Historic Places. I was a tour guide and have tales to tell about the visitors. During slow times, another work/study student and I had time to goof off. One day we took pictures of each other, just for the fun of it. Here I am in my tour guide dress. It won't surprise you to know that my mom made this dress and another one for me to alternate on my work days. It's hard to see, but I'm touching the hand of a male mannequin as if I'm flirting with him.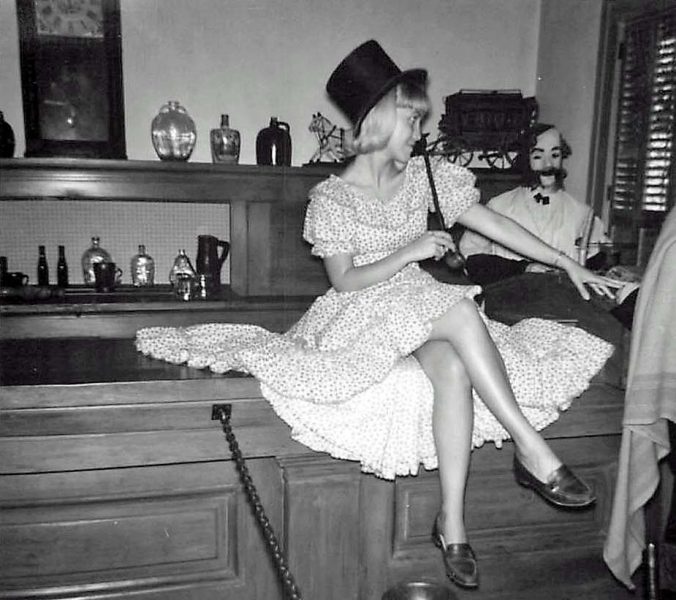 Colleen, my best friend, attended Cardinal Ritter College in Milwaukee, but didn't like it because it was an all-girls school. During her junior year, she convinced her parents to let her transfer to UW Madison. Her dorm was near mine and we frequently spent time together. Our favorite times were when her mom would make a batch of turtles (big ones with four pecan "legs" and a pecan "head." When one of those boxes would arrive, Colleen would call me and say, "I've got turtles. Want to come over?" You bet! In this photo, we were on a double date going to a fraternity theme party. That's not my dress, sweater, or scarf. I think the sweater was Susan's (a dorm mate), but I don't remember the rest. It looks like we were having a good time.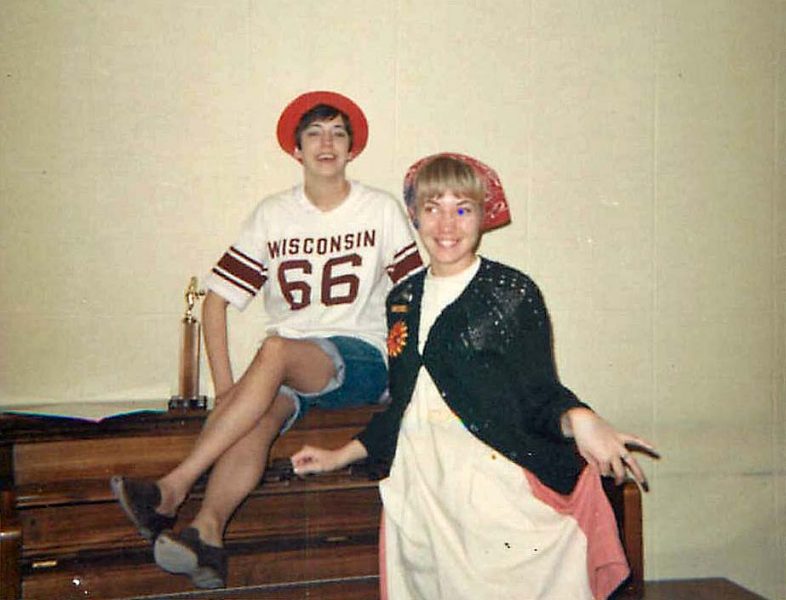 You do crazy things in college and spend the rest of your life saying, "It was college, for heaven's sake!" Why would we decide to smear our faces with toothpaste, wear our shower caps as if they were high fashion fascinator hats, put on dress heels and flats with our bathrobes, and get someone to take our picture? Crazy, but fun. That's me on the left, then Eileen, Becky, and Susan.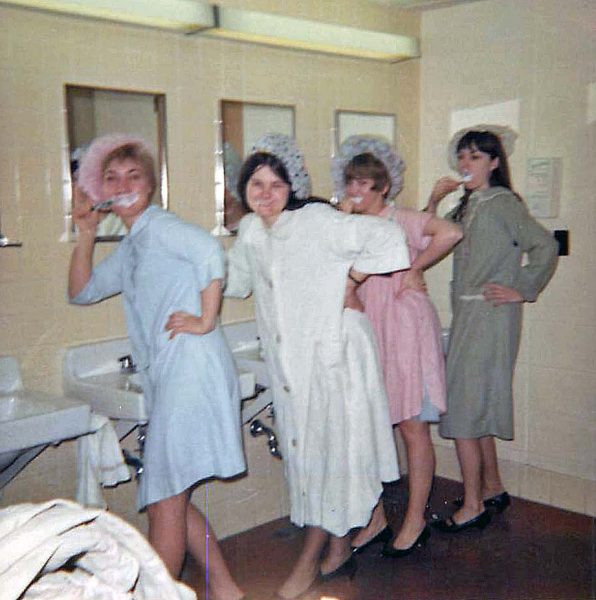 I loved my college years, but my senior year was the most fun of all. I shared a house in the summer with three former dorm mates. In the fall, we moved to a bigger house and added another dorm mate plus a friend of Eileen's. The six of us had a ball and we still keep in touch and get together. Here we are at Christmas. Barb isn't in the picture because she got married on December 21. We all kidded her about it being the longest night of the year. It looks like we had a Charlie Brown Christmas tree, but I remember we had a ball decorating it. Left to right, it's Leila, Carol, Eileen and Lin. I took the picture.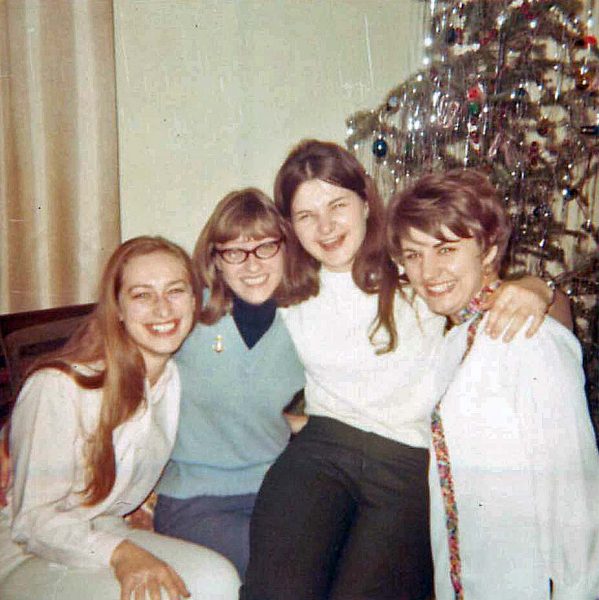 The late 1960s were a politically active time on American college campuses. UC Berkeley and UW Madison were among the most active, with regular protests against the Vietnam War, including protests against Dow Chemical Company, which produced agent orange, a carcinogenic defoliant used in the jungles of Vietnam. In February 1969, there was a campus protest against Dow, and I guess it was expected to be unusually violent (by 1960s standards, not by today's protest standards). I didn't want to go to jail or get beat up, so I didn't participate in protests. I attended my early morning class and was shocked when I left the classroom and saw National Guard troops with rifles standing in every hallway. I'd never been that close to a soldier with his gun ready to use and I was frightened.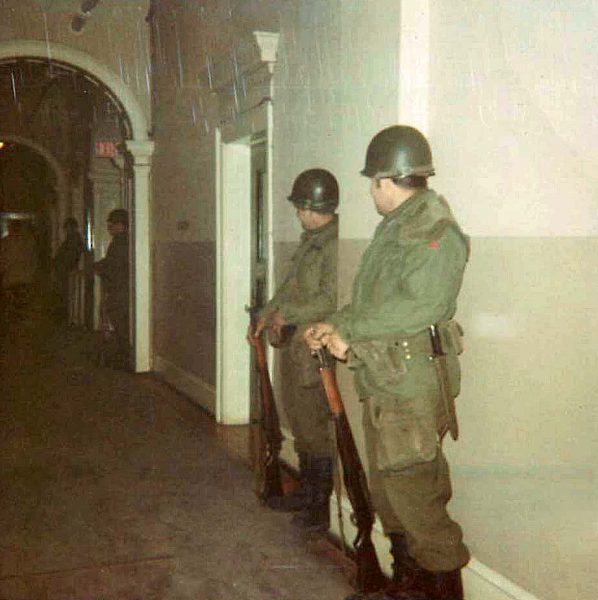 On the way to my next class, this is what I saw–more armed National Guardsmen standing shoulder-to-shoulder on the southern boundary of the campus. After class, I headed home for lunch. I had to cross University Avenue to get home to the house I shared with the other five women. By that time, the four-lane street had been closed to traffic and there wasn't a car in sight. The guardsmen were more scattered, standing farther apart. With no traffic, I assumed the guardsman at the corner would be happy to see a non-threatening person (me) leaving the campus and carrying nothing but books. Wrong! As I stepped off the curb, the guardsman stepped directly in front of me, raised his rifle with a bayonet attached to it, and pointed it at me only a few feet from my chest. "Get back on the sidewalk!" he shouted. "I'm only going home for lunch," I squeaked. He looked both ways (no cars in sight) and said, "Then wait for the light." So I stood there on the sidewalk and he stood there at the curb with his bayonet pointed at me until the "Walk" light came on. Then I legally crossed the empty, deserted street and went home for lunch. I think I skipped my afternoon classes, or maybe I didn't have any that day.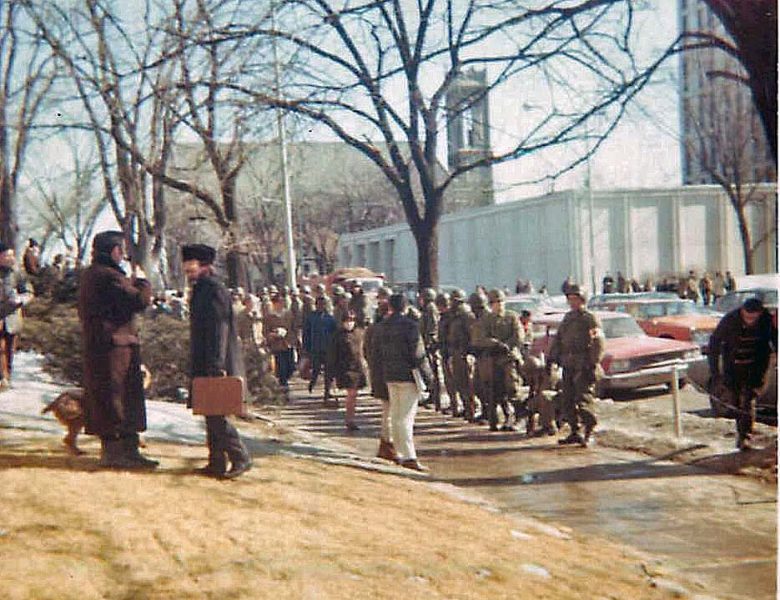 Time moved on, things calmed down, and June 10, graduation day arrived. My parents and brothers and my Grandpa L. came to watch me graduate, and so did Ted, who was working at the Weather Service Forecast Office (WSFO) in Washington, D.C. at the time. Here are three of my four brothers at my graduation–Denny, Russ, and Steve.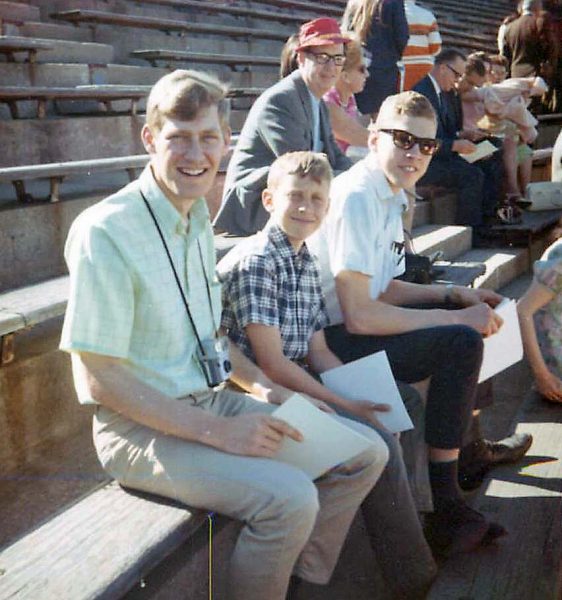 There were thousands of graduates and it was quite an efficient, if meaningless, operation. We were called by schools, so I walked with the School of Education students. You knew it was your turn when you heard "School of Education" on the loudspeaker. No individual names were called, and that was a good thing with so many graduates. The line never stopped moving. We walked toward the stage in a random group, received a quick handshake from everyone along the way (don't stop or pause as you pass), and returned to our seats carrying an empty red faux leather folder for the diplomas that were mailed to us later. The picture of the graduation ceremony (below) was taken by my mom. Graduates (in black) are seated in the lower rows of the stands. I have no idea where I am in the crowd and maybe Mom didn't either. I assume she timed the shot to at least show the School of Education graduates with our light blue tassels.
Graduation was held in Camp Randall, the UW football stadium. You can see the field and some of the stands on the other side in the picture below. As I mentioned earlier, football weekends were fun times. Students could buy season tickets for a pretty low price, and it seemed like everyone turned out for the games. I don't think it was about winning or losing; it was about going somewhere that was a lot of fun and only incidentally watching UW lose the game. Seniors and grad students got the best tickets, so when I went to a game with Ted in my senior year, we sat near the front of the stands on the 40-yard line. As a freshman, I was at least two-thirds of the way up on the bottom level and probably on the far side of the 30-yard line. I remember having to look away to the left to see the cheerleaders. Camp Randall seated 70,000 people and was sold out for every home game. In contrast, Lambeau Field, where the Green Bay Packers play, only seated and sold out 55,000 seats at that time. Yes, football weekends were great!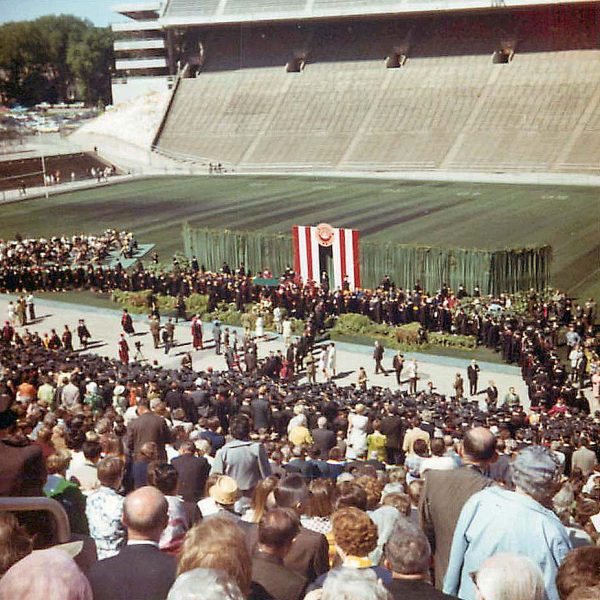 Grandpa wanted a picture with me in my graduation regalia. Our six-woman fun house porch and steps are on the right. Can you believe Grandpa and my dad wore suits to a June graduation where they had to sit in the sun on bleachers?! So did the other adult men in the pictures above. Dress codes for graduation ceremonies have certainly changed over the years.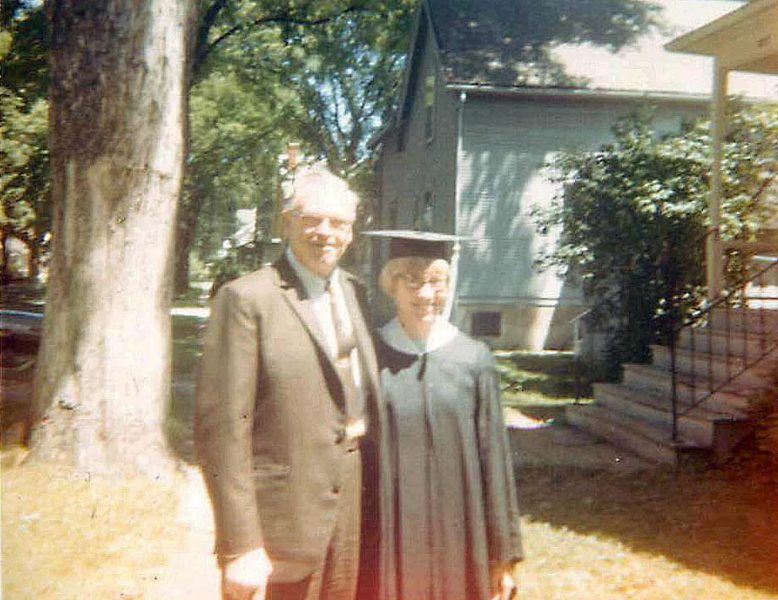 Four days after my college graduation, Ted and I were married and headed for Washington, D.C. where we were going to live. This is our first Christmas tree. It looks normal, although a little wide, but it was so full and so crooked that we couldn't get it to stand up in any way that resembled straight. We settled for hiding a kitchen chair in the corner behind the tree, weighting the chair with lots of Ted's Encyclopedia Britanica volumes, and tying the tree to the back of the chair. You can't see the chair through that thick Christmas tree, but you can see my sewing machine cabinet on the right. I bought it used during my freshman year in college and I still use it. The picture on the wall was my first gift from Ted. It's a watercolor of Lombard Street that he bought while he was in San Francisco the summer we met.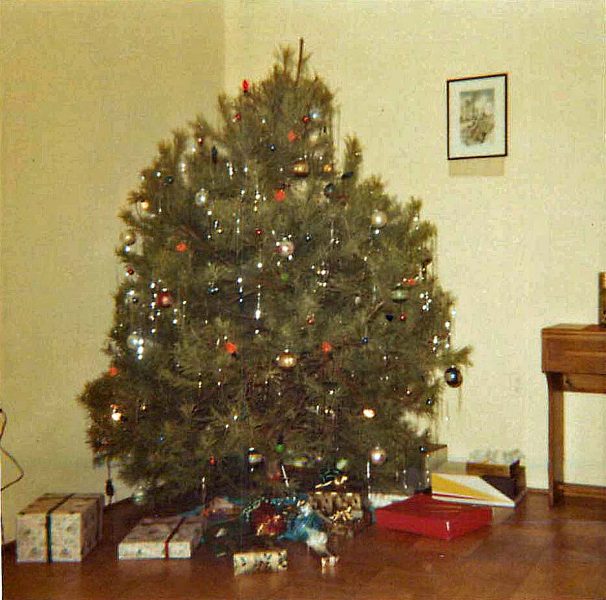 Ted and I learned our lesson. When we moved to a larger (two-bedroom) apartment, we bought an artificial tree for our third Christmas. It stood nice and straight. By this time, we had accumulated some furniture. Pole lamps were in style, so we had one of those. The picture on the wall is one that Ted bought when he was on R&R in Japan during his Army service in Korea. We bought the black and white TV to watch Neil Armstrong and Buzz Aldrin walk on the moon. When we bought it, I said to the salesman, "Doesn't it even come with a stand?" He went into a back room, came out with a stand, and gave it to us for nothing. The drapes cover an entire wall where we had sliding doors to a balcony. I made the drapes on my sewing machine, sitting at the sewing cabinet in the previous picture.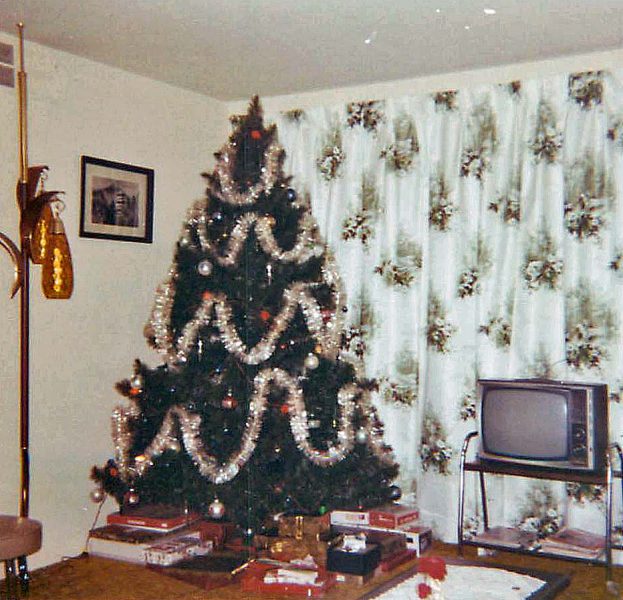 This was the time of data punch cards and everyone with access to discarded cards was making Christmas wreaths out of them. I worked at the Bureau of the Census and the Bureau was tabulating the decennial census by computer for the first time ever. Did I have access to used punch cards? More than you can imagine. Here's my punch card wreath, sprayed with silver paint, decorated with sparkles, and highlighted with a sprig of artificial greenery in the center. Very vogue in the early '70s.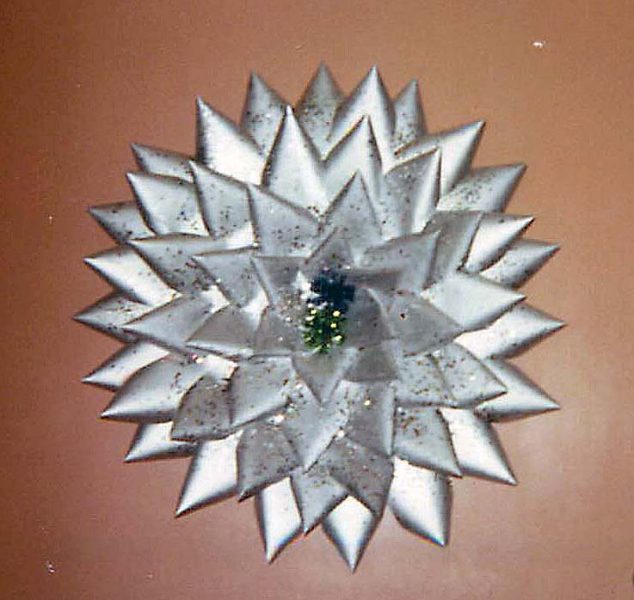 When we got married, Ted was driving a 10-year-old Pontiac Bonneville tank he bought when he was discharged from the Army. The heater didn't work, so we had to cover our legs with a blanket in the winter. In Spring 1971, we bought an Opel Sport Coupe with the big engine–2.2 liters. The small model had only a 2.0 liter engine. That extra 0.2 liters made a difference, right? The car cost $2,200 and it was awesome! In all the time we had it, it only needed one major repair. The head gasket blew off when the car was 14 years old and it was a $400 repair. We debated whether or not the car was worth the money, but since it hadn't cost us more than regular maintenance (oil, filters, tires, etc.) for 14 years, we fixed it and drove it for three more years. By that time, the brakes were failing and the clutch was so worn out, you had to start the car in second gear. Ted and I could manage that, but Jeff was 16 by then and he was learning to drive. We didn't think it was a safe car for a 16-year-old to use, so we replaced it with a used Nissan Stanza. We never saw many Opels in the U.S. but we lost count of how many we saw in Germany when we were there.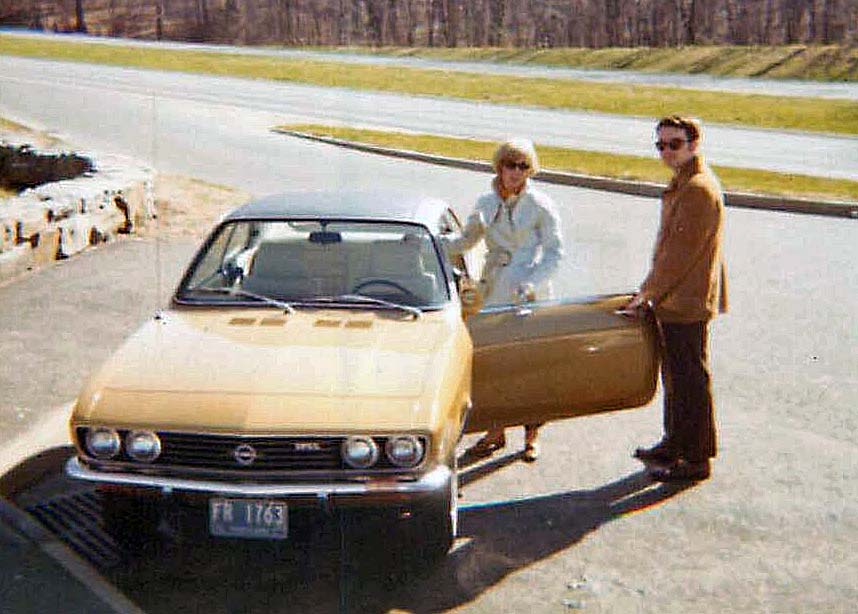 A little over a year later, it was time to buy a car seat for the Opel. I was pregnant with Jeff and wanted a rocking chair to rock the baby. We bought this chair at "the world's most unusual lumberyard" where they sold more than raw lumber. It was unfinished, so I stained and varnished it The stain and varnish cans are sitting on the floor. On the right, you can see the bookcase that held the encyclopedias we used to hold our first Christmas tree upright. When the varnish on the chair was dry and the chair was ready to use, I made a seat cushion and a back cushion for it (with my sewing machine at the sewing cabinet, of course). I rocked all four kids in this chair and it's still in excellent condition in our upstairs library.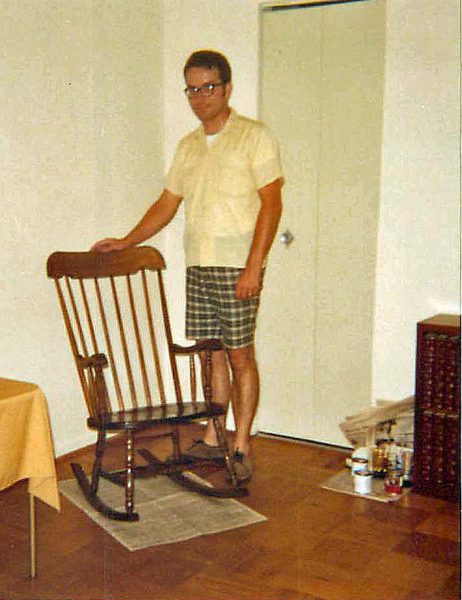 I think that's all the photo history I have of myself–elementary school, high school, college, and marrying Ted. The next phase of Ted's and my lives is raising our children. Good times, all the time.