Ted brought me another batch of old family photos. Some pictures had information on the back identifying the people, the date, and the activity. Ted did his best to identify people and guess at dates for the others. If any of my readers can contribute better information, please let me know. The photos and memories below are in chronological order, to the best of Ted's knowledge.
This is one of only two pictures we have of Ted's mom as a child. The picture noted that it was taken at the farmhouse in June 1918, when she was ten years old. Check out the water pump. Ted thinks the pump was removed and capped when he was in high school.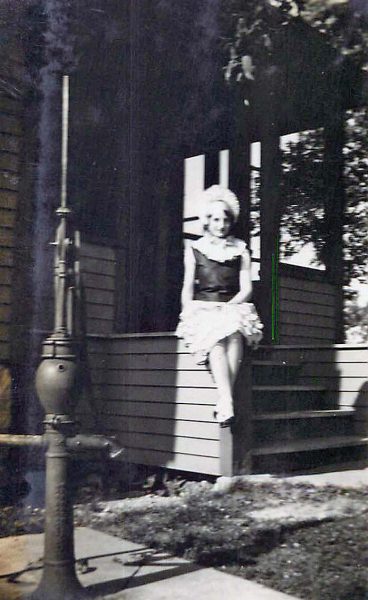 This is Grandpa Theodore, for whom Ted is named. It was his farm where Ted's mom grew up, where Ted's dad was the hired hand before marrying Ted's mom, and where Ted and his siblings grew up. Ted's mom lived in this house her entire life until after his dad died. Grandpa Theodore had a heart attack and died in the barn when Ted was six years old. For a long time after that, Ted said he was afraid to go into the barn.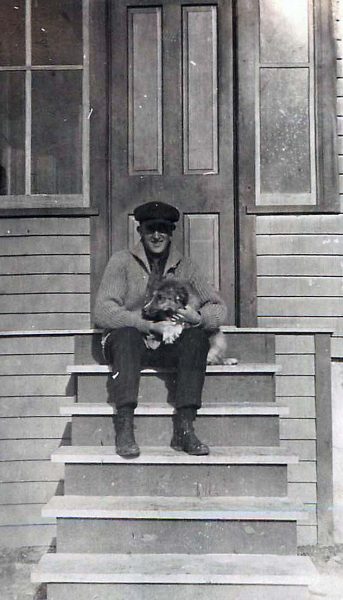 This photo specifies that it was taken on February 23, 1930. The lady is Ted's mom and we think the man must be her fiancé, Gerhart, who died in a motorcycle accident two weeks before their wedding. Ted thinks Gerhart has a suitcase because he's going somewhere. (Duh!)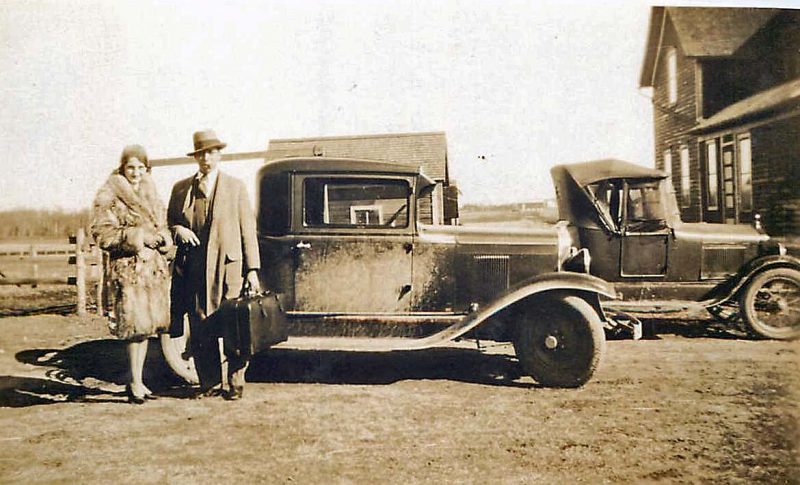 The information on the back of this picture said it was taken at the Port Wellar Bridge in Wellar, Ontario on August 13, 1930. Ted identified the people (L>R) as Loella, her sister Leona, and her brother Clinton. We think this picture was probably taken on the trip Loella took to Niagara Falls with Louis and Leona, her sister and brother-in-law, and that Clinton was also invited to come along.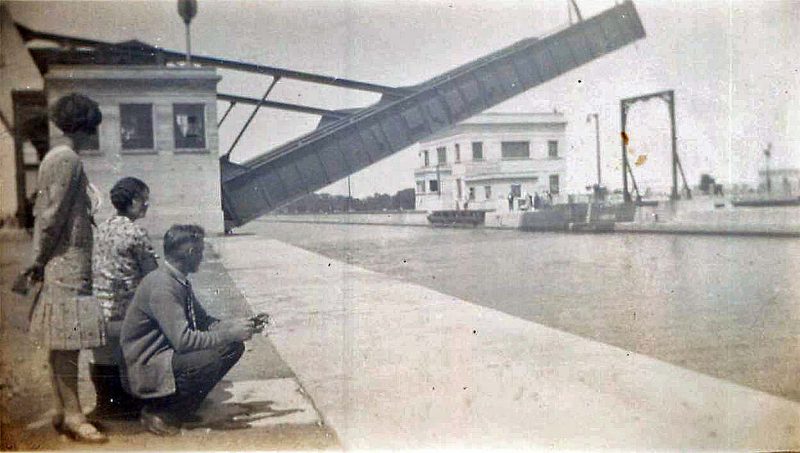 This picture of Paul and Loella was taken at the farm on July 26, 1931. They were 23 and 24 years old at that time.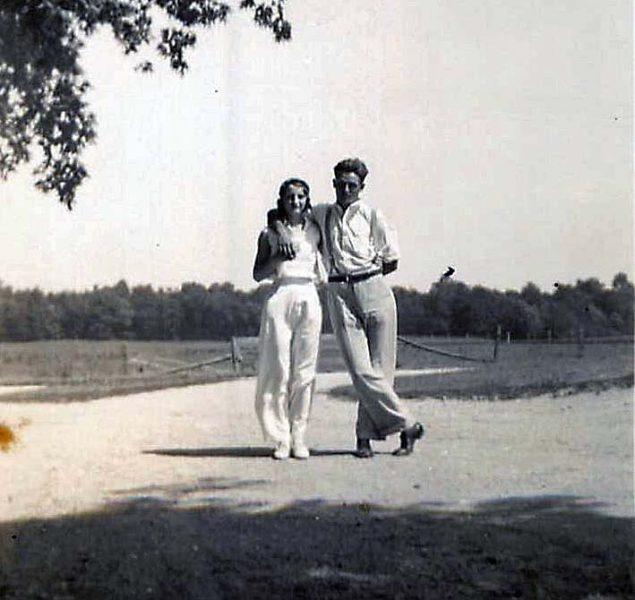 Loella always had a big garden. She told me once that "the farmer takes care of the land and the farmer's wife takes care of the garden." She froze and canned a lot of food every year. She was still gardening and "putting up" food through her 70s. We are guess-timating this picture was taken around 1931.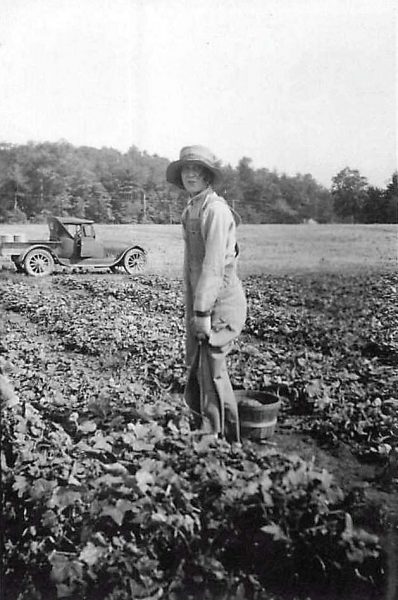 Snow! There was no information on the back of this picture, but we think the people are Loella and a man. Her dad? Ted's dad? We have no idea. We're going with 1936 because my mom repeatedly told me stories of how much snow there was in the winter of 1936.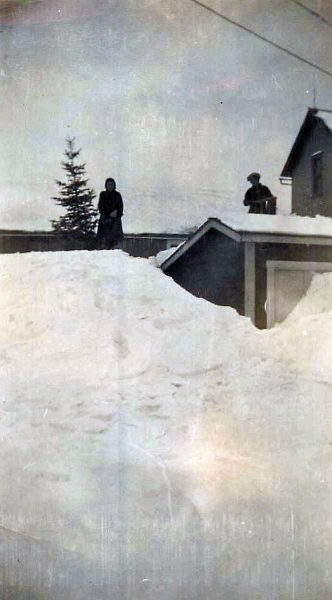 Introducing Baby Teddy. Maybe the family was having a "fry-out" (as we called it in Wisconsin), so they brought Teddy's high chair outside. This is probably the summer of 1943 because it doesn't look like Ted is wearing walking shoes yet.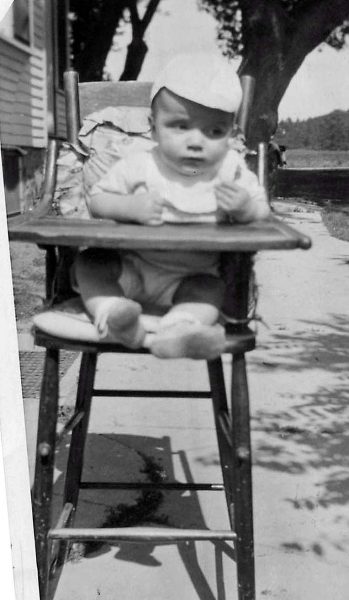 It looks like Baby Teddy is happy to ride his tricycle and to help his mom with the laundry.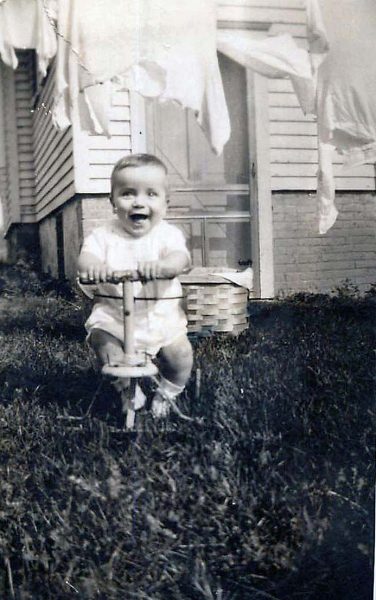 Here's Ted holding one of the barn cats. He thinks he might be seven or eight years old.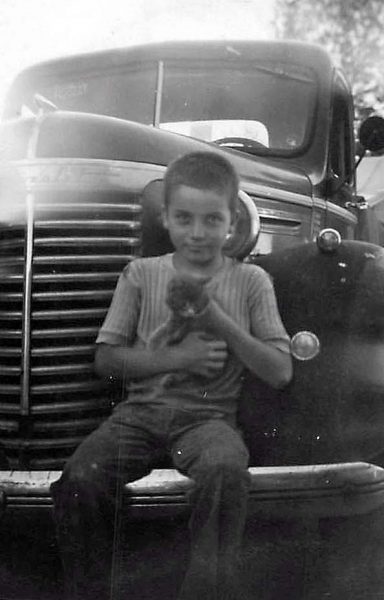 When Ted was ten years old, he joined the local Busy Bees 4-H Club. One of his club projects was to raise a calf. He showed this calf at the county fair.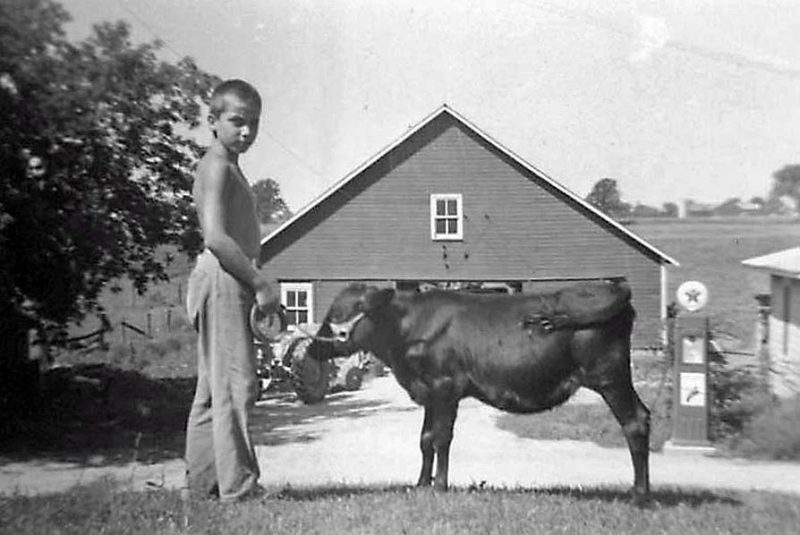 This is Ted's sixth grade picture.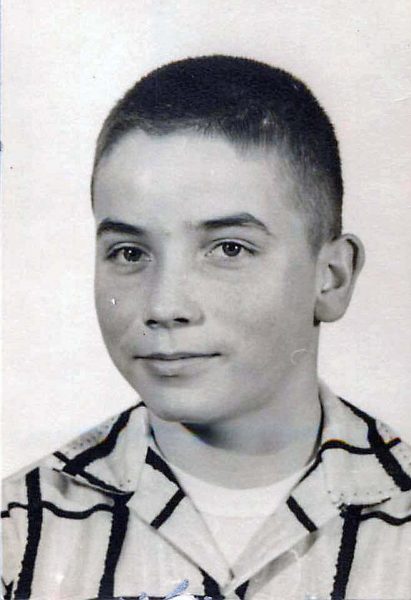 Ted's dad often attended agricultural classes at the University of Wisconsin Extension Center. Here's a picture of him (center back) and his classmates one year. Ted's best guess is mid-1950s. We suspect the man on the right was the teacher, trying to look as if he just handed the certificate to the man beside him.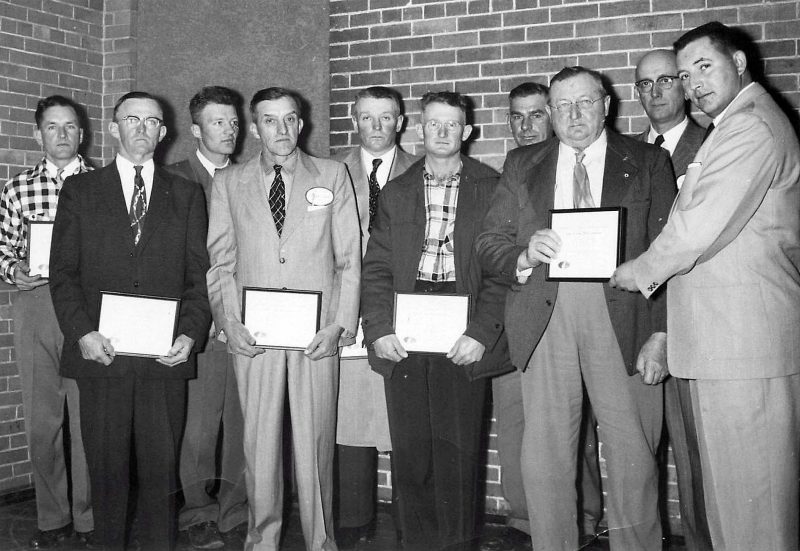 Every year, the high school FFA Club (Future Farmers of America) selected a local Farmer of the Year. One year (maybe late 1950s?), Ted's dad received the honor and his picture was printed in the local newspaper. The picture was taken in front of the corncrib on his farm.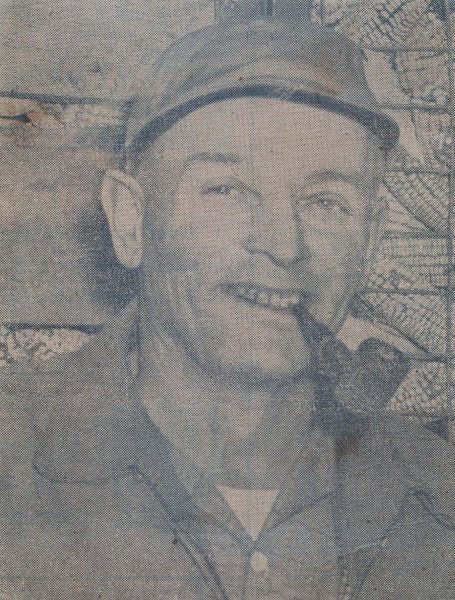 This is Ted's high school graduation photo.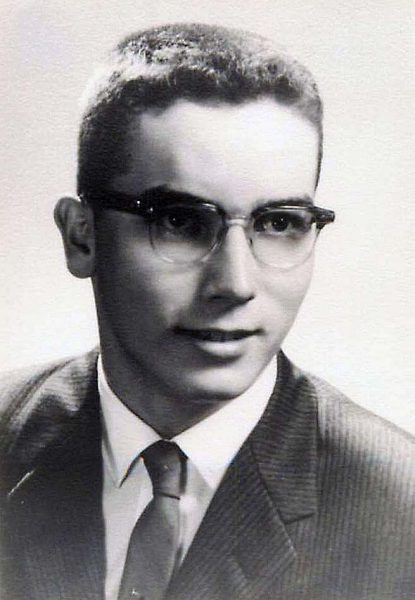 After high school, Ted wasn't sure which career path he wanted to follow. There was a draft at the time, so he decided to meet his obligation to Uncle Sam for three years and give himself time to think about his future. In the early 1960s, lots of U.S. soldiers were being sent to Germany (including Elvis), but Ted got unlucky and was sent to South Korea. One of his buddies took this picture of Ted washing his feet in a mountain stream in 1962. The picture says "The water was real cold and really felt good in the terrific heat."
Note: Ted did find a career path in the Army. One of his duties in South Korea was to launch weather balloons. The balloons sent radio signals with information about the upper level winds so that if it became necessary to launch an Honest John missile at North Korea, the missile launchers could adjust their aim as needed. Fortunately, there was no need to launch a missile while Ted was serving in South Korea. As a result of his weather-related duties, however, Ted later attended the University of Wisconsin and graduated with a degree in meteorology, then became a forecaster for the National Weather Service.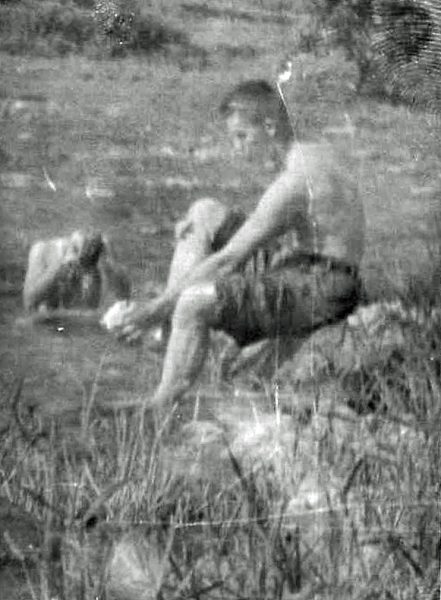 After serving 13 months in South Korea, Ted's next assignment was at Fort Benning, GA. One of his duties on base was to serve as the chaplain's assistant. The picture notes that Chaplain Kelly took this picture Ted sent home. The back of the picture also informs his parents that he bought a tripod with the money they sent him and that he was looking forward to using it.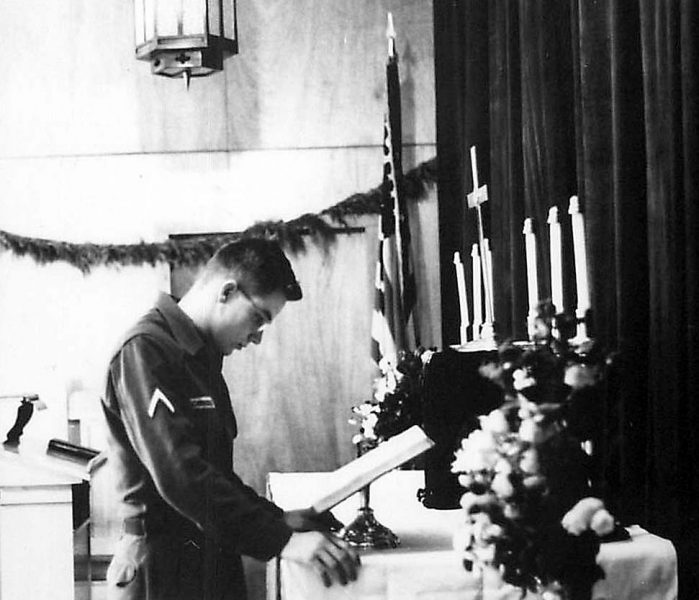 Ted also served in the Color Guard at Fort Benning. Here he is in his uniform. All he needs is a flag. It's 1963, and he's almost ready to be discharged from the U.S. Army.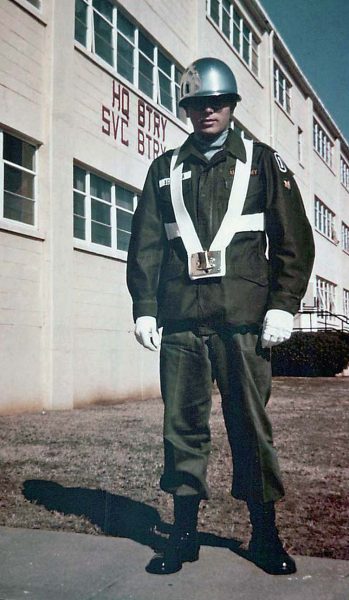 Meanwhile, on the home front, here are Ted's grandparents (Paul's parents, Elizabeth and John) with Ted's nieces, Lisa (the younger one) and Cindy.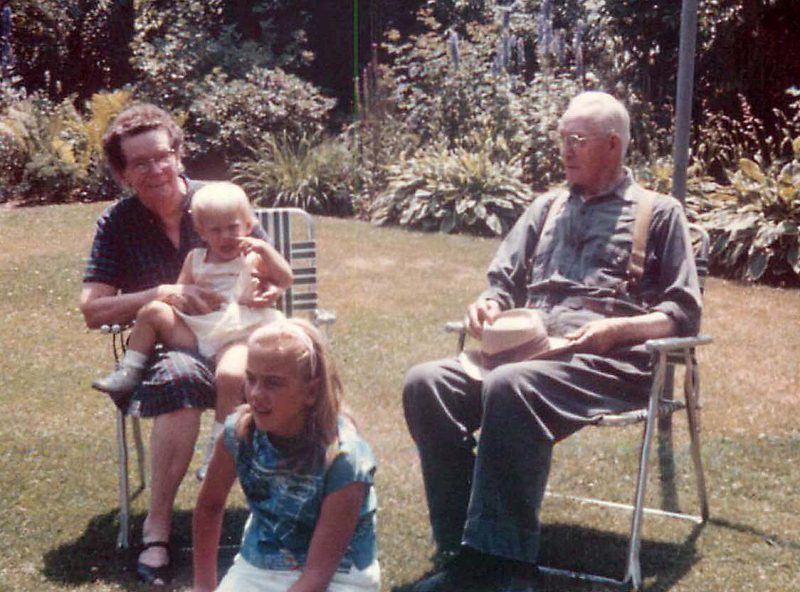 There is no information on the back of this picture, but we both think it was taken in 1972 during the weekend celebration of Paul and Loella's 40th wedding anniversary. Check out the men in the family: (L>R) Dan, Ted, Paul, and Gary. Note that they all have the same nose and they all have their right leg crossed over the left. I have another picture of them somewhere. They are standing together outside in the family stance: they are all roughly the same height and they all have their legs spread the same way and their left arm crossed over the right arm. It must be bred into them!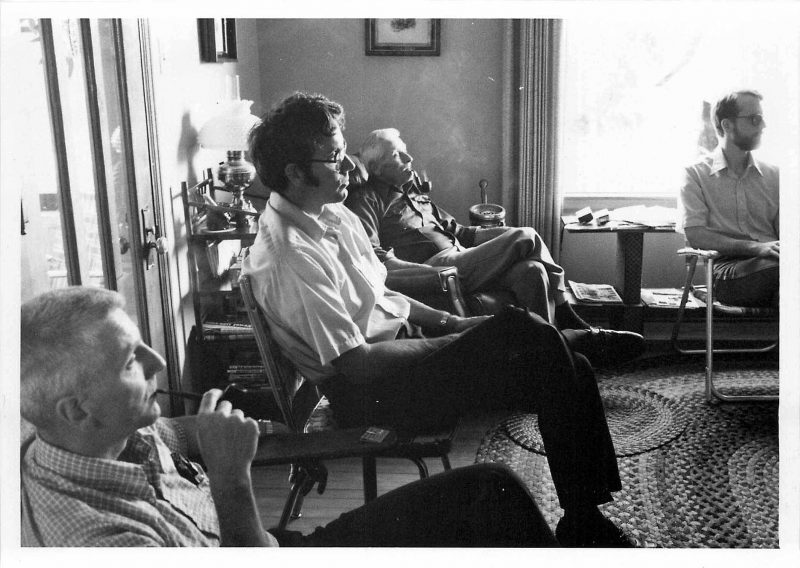 The last picture we have in this pile of old photos celebrates a happy time. It's cherry-picking time in Door County in 1983. From left to right, that's Helen, Cella, and Loella. Those are some fantastic-looking cherries! And look how much fruit the tree is bearing! My guess is they started on the right where the tree branches look more bare and filled those four buckets without even going to another tree. Good times!
P.S. Is that car on the left a woodie?