The concrete project is (almost) finished. During the five weeks of work and mess, Ted and I felt like we never had a chance to relax. We didn't do anything to actually pour or finish the concrete, but there always seemed to be something to make a decision about, the noise level was high, and the mess was unexpectedly overwhelming.
The two of us decided to take a day off from work and hassle and do only pleasurable, relaxing things. We walk regularly around our neighborhood and know it well–even in the dark. We had some shopping to do on Historic Main Street in St. Charles, so we decided to walk a different route. Main Street is a mile long and runs parallel to the Missouri River. The Katy Trail runs through Frontier Park along the river, so we walked the two-mile loop down Main Street and along the river. It was a treat to look at less familiar things. Here are some things we don't see on our regular route.
Daniel Boone greeted us when we got out of the car.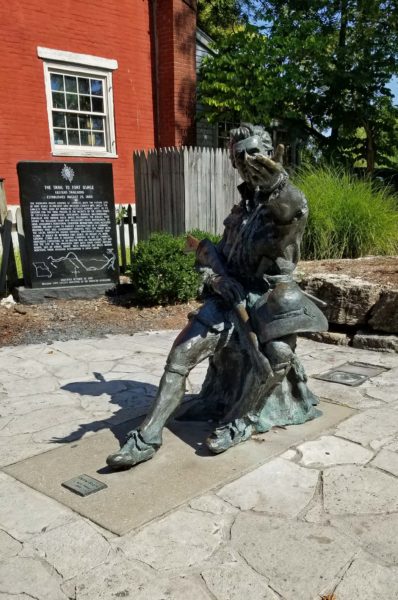 There's a little waterfall on a creek that flows into the Missouri River.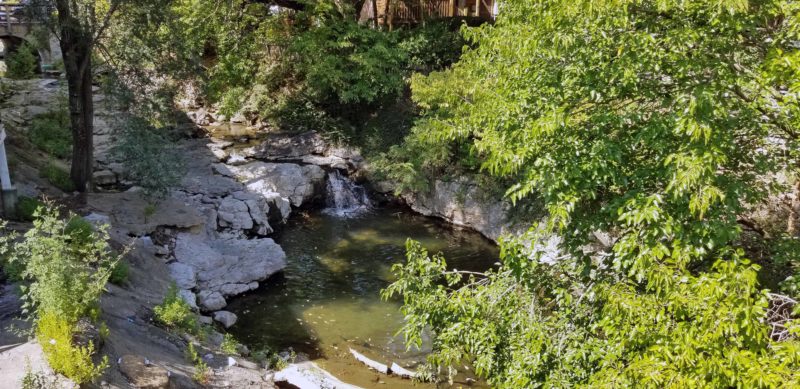 A riverfront statue of Lewis and Clark commemorates their exploration of the Louisiana Purchase. They supplied their journey in St. Louis and set out on the Missouri River at St. Charles. It's a big claim to fame for the city. (Lewis and Clark, not the statue.)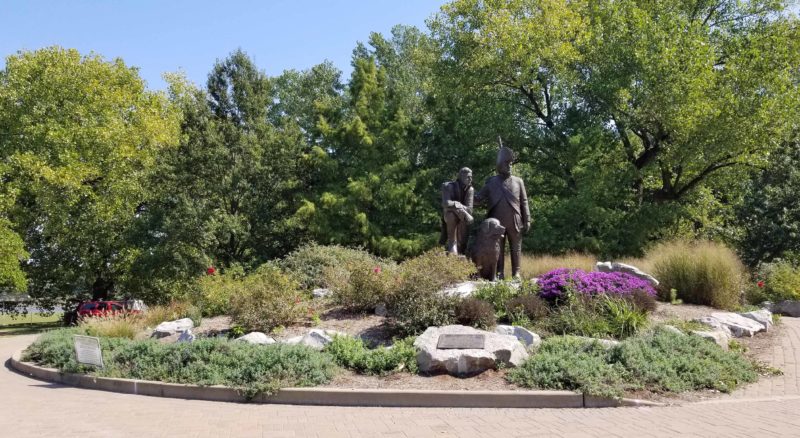 The Missouri River is running very low due to a lack of rain here and upstream. After raining all spring and summer, setting some records and keeping the river unusually high, the faucet turned off in August. At least we don't have water shortages here.
There are lots of park benches along Main Street and at the riverfront. This one is dedicated to the founder and owner of the Noah's Ark restaurant and hotel, a former iconic St. Charles landmark (inset). It was built in 1967 and demolished in November 2005 to make way for the Streets of St. Charles, a business, entertainment, and residential complex.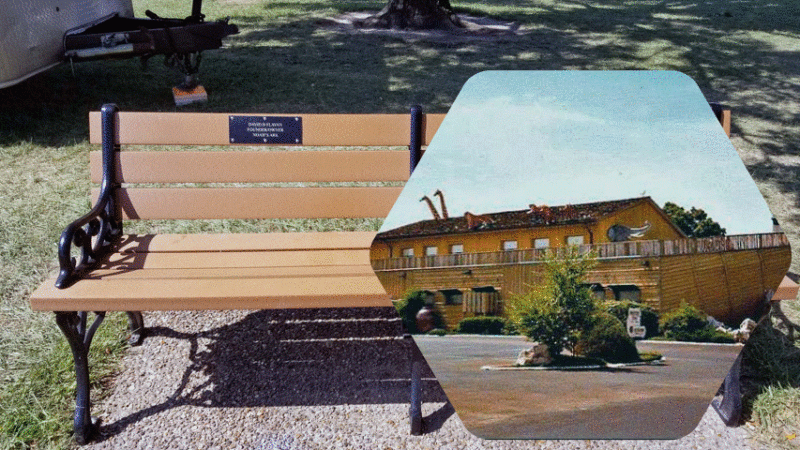 We've attended many events at the St. Charles bandstand. It's situated at the St. Charles trailhead for the Katy Trail.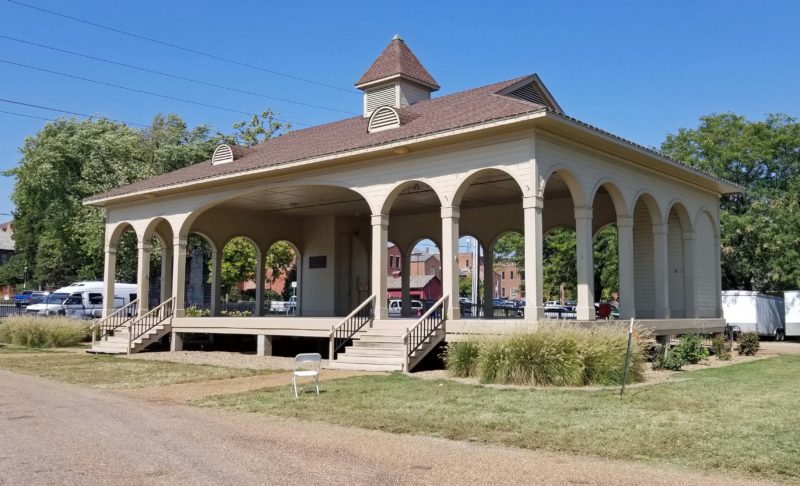 Our grandson, Dylan, has had some of his artwork displayed at the Foundry Art Center.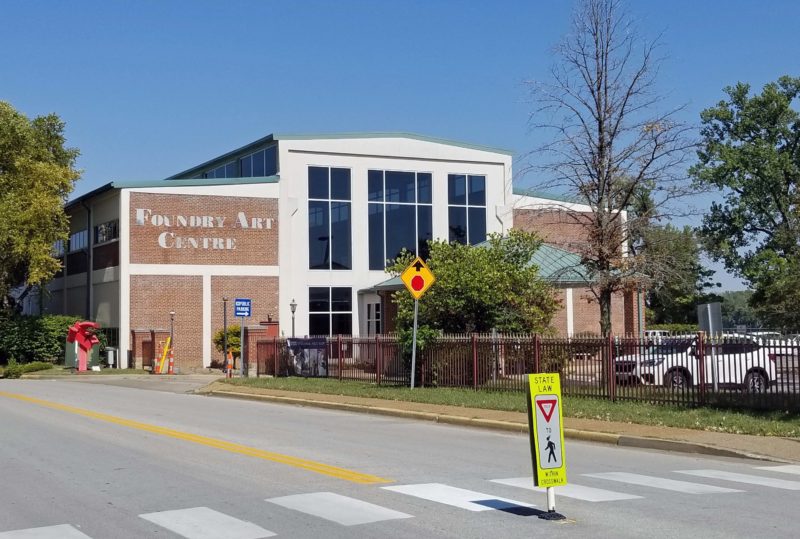 Main Street is a treasure trove of historic buildings. This is the Grand Opera House, which now serves as an event venue.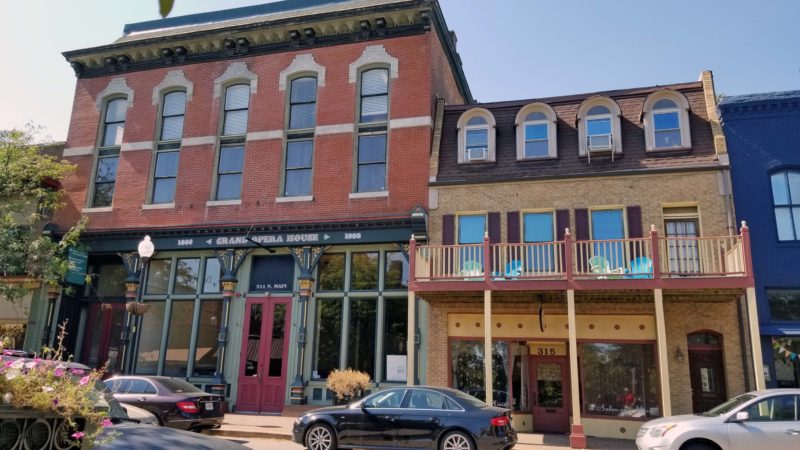 It was about 90 degrees this afternoon, and we were thirsty, so we stopped at Kilwin's for a Coke (Ted) and a bottle of water (me) and sat on their bench to people-watch while we refreshed ourselves. They also have an outdoor patio in the back, but we were doing the Main Street part of the walk at this time. We resisted the ice cream and chocolates because we were more thirsty than hungry. Maybe next time we'll be hungry too. Except for an occasional kid's lemonade stand, we don't get refreshments on our neighborhood walks. No streetside benches either.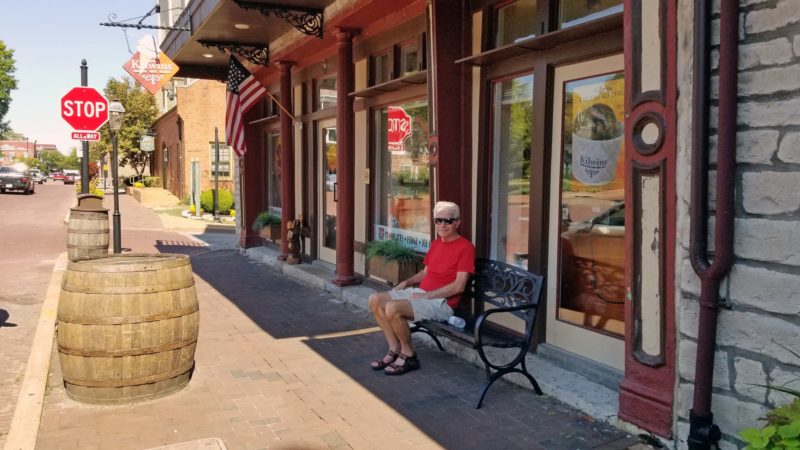 Dylan recently got a job at the Bike Stop. This business serves as a Katy Trail biker's stop. We noticed that they rent bicycles built for six like we saw at the bike store.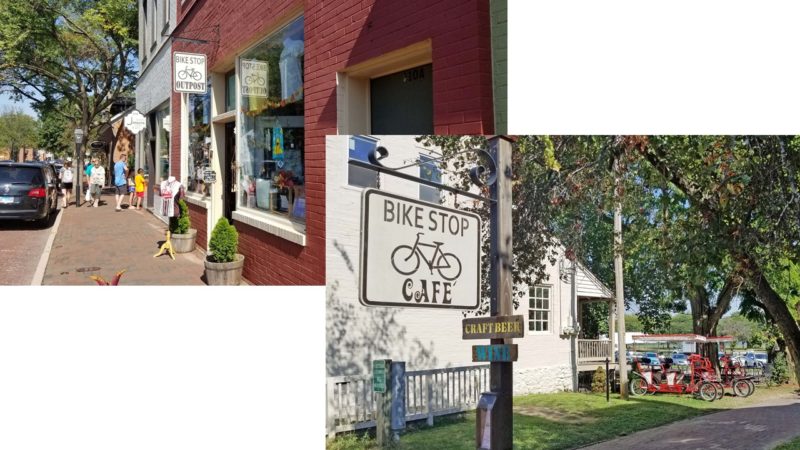 Instead of going for cardio as we usually do on our walks, Ted and I walked for pleasure. It was still two miles of exercise, but it was a lovely day and a relaxing walk. We decided to do it again soon and to maybe look for other interesting walks, just as we look for a variety of bike trails. Best of all, there was no concrete work going on outside our door and all the mess at home is cleaned up. Yes, a lovely day.