This was a year to stay home. Because of the COVID pandemic, Ted and I have not spent a night away from home since we returned from Australia on January 15. With the world in lockdown mode during the first months of the year, there wasn't much to do. Like many people, Ted and I hit the streets–walking and biking. It gave us a chance to get out of the house.
We love our ebikes and spent a lot of time on them all year. We found routes through the neighboring subdivisions that provided long and short rides. I think our longest neighborhood ride was just over 20 miles. We also tried out a number of greenways and bike trails in the area. Our longest trail ride was 40 miles. We rode the trails so frequently that Ted finally decided to leave the bike carrier on the car instead of putting it on and taking it off every few days.
Bicycling produces a wind chill. When the temperatures are in the 80s and 90s, that feels good; in the 40s, an extra layer of clothing keeps us comfortable. We biked so much that I set a personal goal to bike 1,000 miles in a year–from August 28, 2019 (when we got our new bikes) through August 28, 2020. I achieved that goal on August 20, so I set a new goal to ride 1,000 miles in 2020.
Our weather forecast for the next two days is rain mixed with snow, so it's safe to say that the mileage after our last bike ride on December 27 is the final number for this year. At the end of 2019, my odometer read 364 miles. This is what my odometer shows now.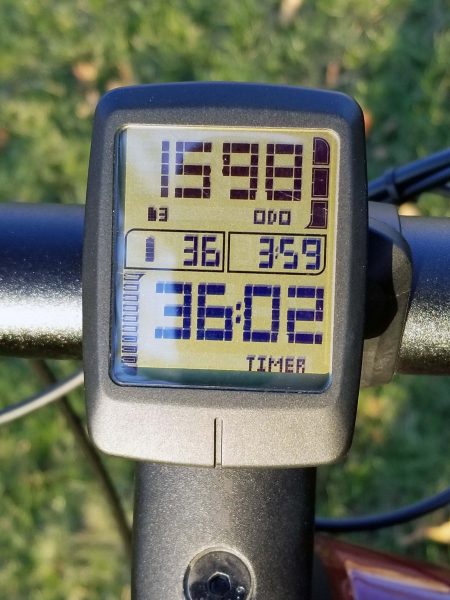 I bicycled 1,234 miles this year. Good for me! I love biking, so it was one of my joys in a year of challenges.