Note: "K-K-K Katy" was a popular World War I song and made a comeback during World War II. The first line of the song is "K-k-k-Katy, beautiful Katy, you're the only g-g-g-girl that I adore…." I know all the words because my dad used to sing it at home.
Yesterday was a perfect summer day–not too hot with low humidity. Ted and I thought it was a good day to bike a different section of the Katy Trail. This time, we entered the trail at the Defiance bike stop, less than a half mile from where we ended our July 4 ride, and went 13 miles west toward Augusta and Dutzow. We should have gone on to Dutzow, but we thought it was at least seven more miles (and back); had we known it was only a little over three miles, we'd have done it.
Most of the Katy between St. Charles and Defiance closely follows the Missouri River and is nicely shaded by trees. In other words, the view doesn't change very much. It's a beautiful bike ride and it's very peaceful, but variety in scenery is limited. Our ride today was very different from that. The trail sometimes took us alongside the river and sometimes bordered MO Hwy. 94, which also follows the river. We crossed lots of bridges, and biked through farmland and through Missouri wine country in the Augusta wine district. Local pride note: The Augusta AVA was the first federally approved American Viticultural Area, becoming official eight months before California's Napa Valley AVA.
The Katy Trail borders the MO River side of Defiance. At the trail entrance, there are restaurants and bars that were really hopping on a Sunday afternoon. One parking lot was filled with motorcycles (a biker bar?) and live music was provided in every venue. The first town we passed west of Defiance was Matson. Matson's bike rest area looks like a little train depot. The trail is in the center of the picture and that's Hwy. 94 on the right.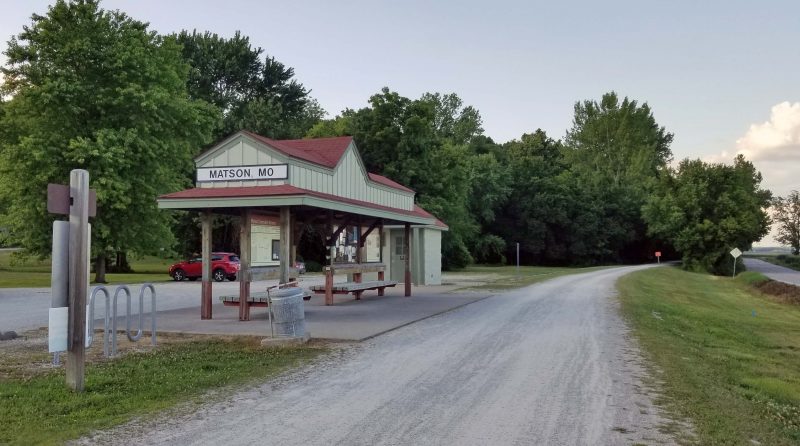 Just a little farther beyond Matson, we entered Augusta. Of course there was a winery right beside the trail. The trail is still following Hwy. 94 (left).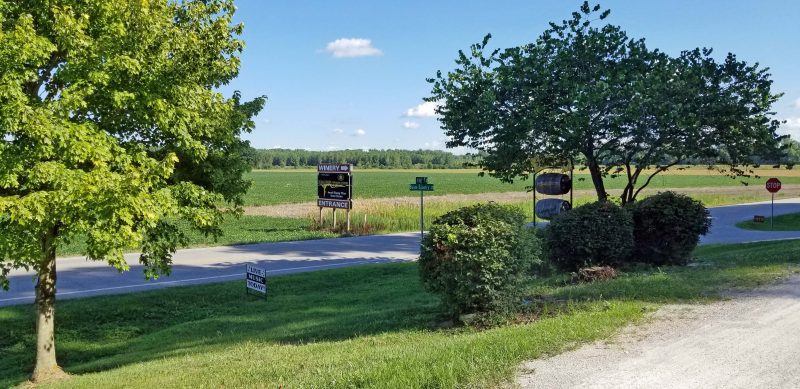 Sometimes the trail was a long way from the Missouri River as we passed through farmland. The trail is somewhere beyond the blue horizon (I couldn't help it–another song reference). The corn was as high as an elephant's eye (cf Oklahoma!–I'm apparently feeling musical) and we're looking forward to fresh local corn in the next week or two.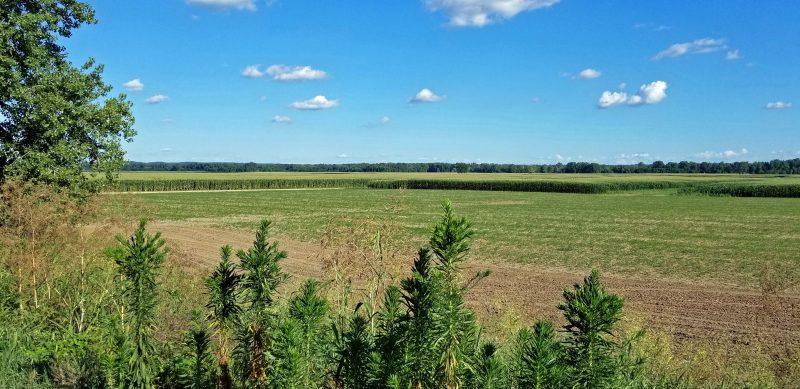 We crossed lots of trail bridges over creeks that feed that Missouri River.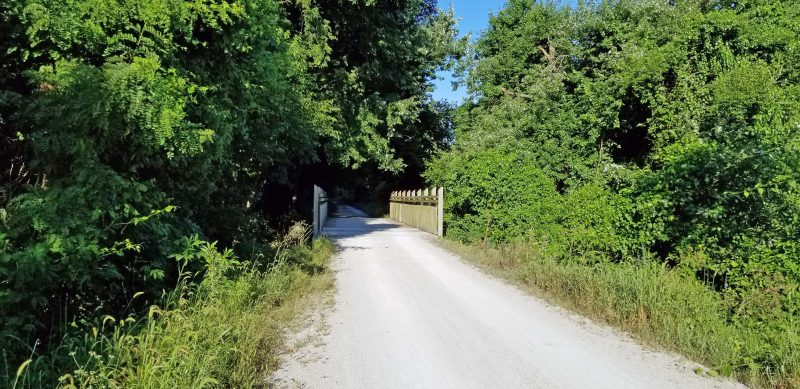 In many places along the river, we've biked beside tall, limestone bluffs. This one was different from the ones that go straight up and are shadowed with vegetation. It also added a new word to our vocabularies when we read the sign that said "Riparian restoration in progress." Now I know that riparian means "of, on, or relating to the banks of a natural course of water." Or, in simpler terms, a riverbank. It was a pretty impressive block of stone.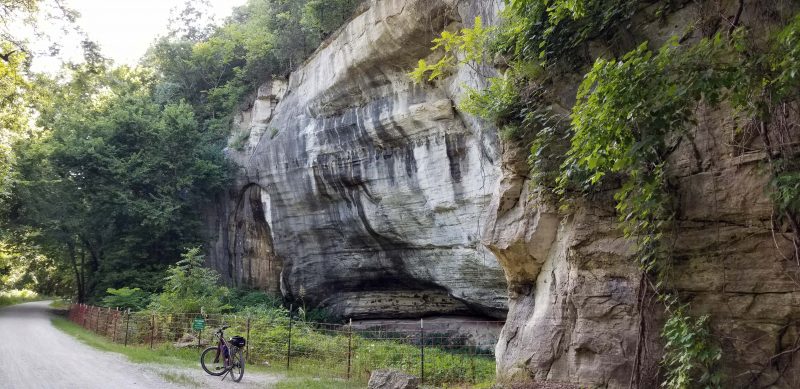 We frequently rode beside Hwy. 94. The portion of trail we rode today crossed the highway several times. In case you're wondering, the path with the yellow center line is the highway; the other is the bike trail.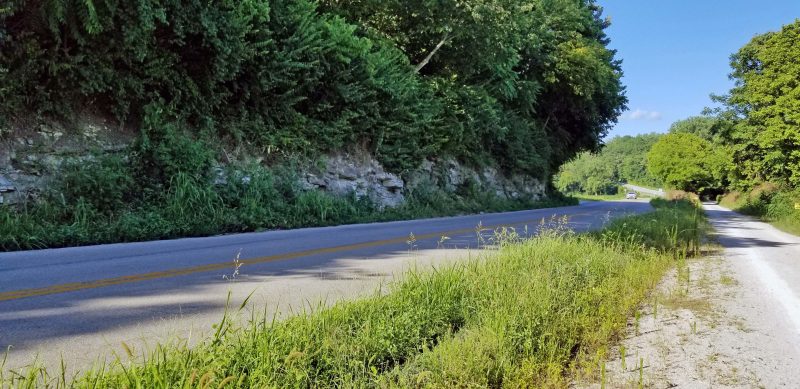 Are we still having fun? You bet!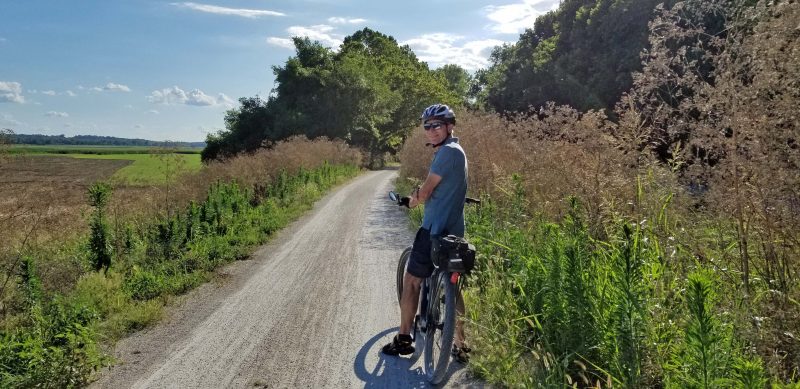 There were lots of visual treats as we biked through the farmland areas. Below are a white stone wall/levee bordering a country road; a white barn set off by the summer green trees; an aluminum silo and granary; and an old Ford tractor parked inside a shed.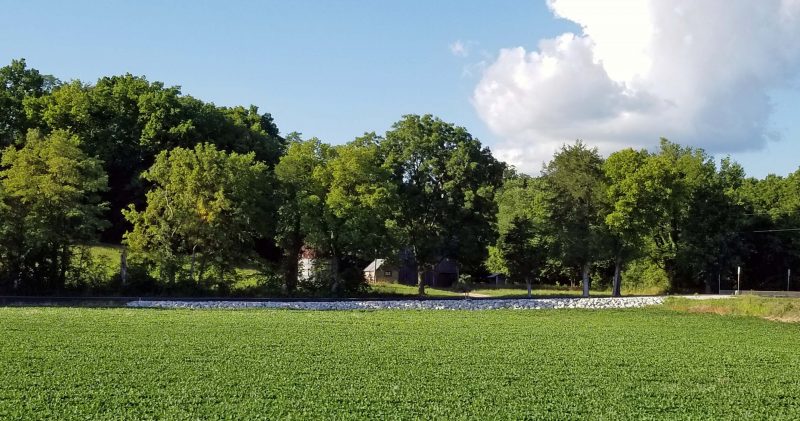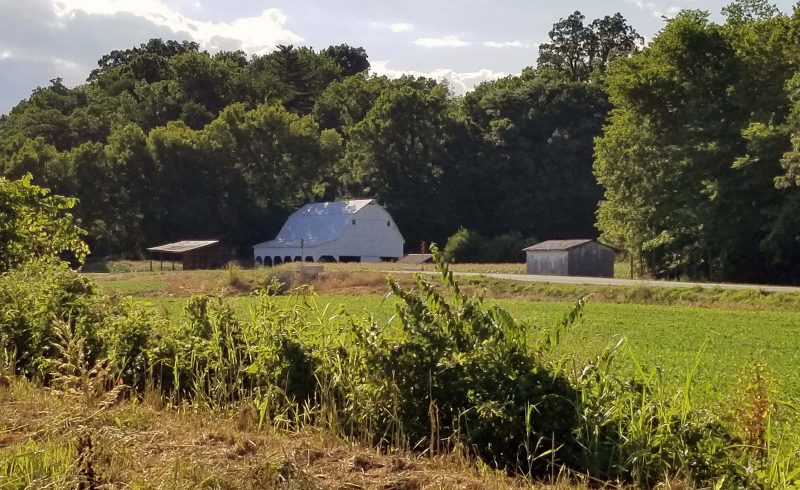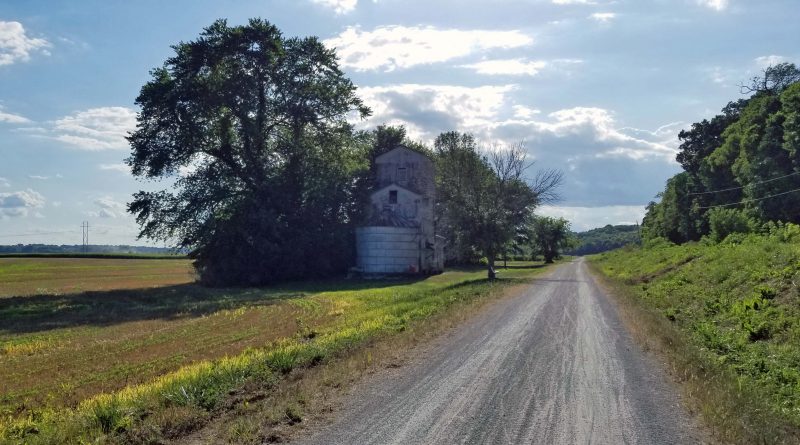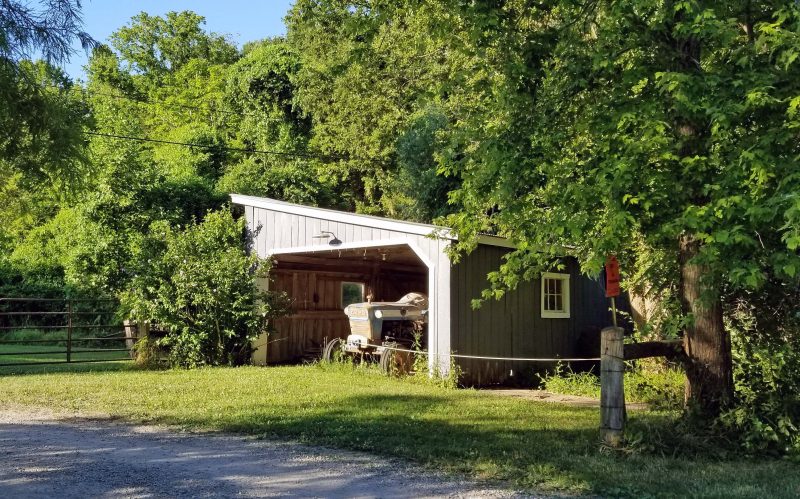 There are lots of park benches along the Katy Trail. This one stands out because it looks so lonely. Most of the benches are surrounded by woods and have a scenic view. This one gets a dead tree, a fallen sign, and nothing but flat fields to look at.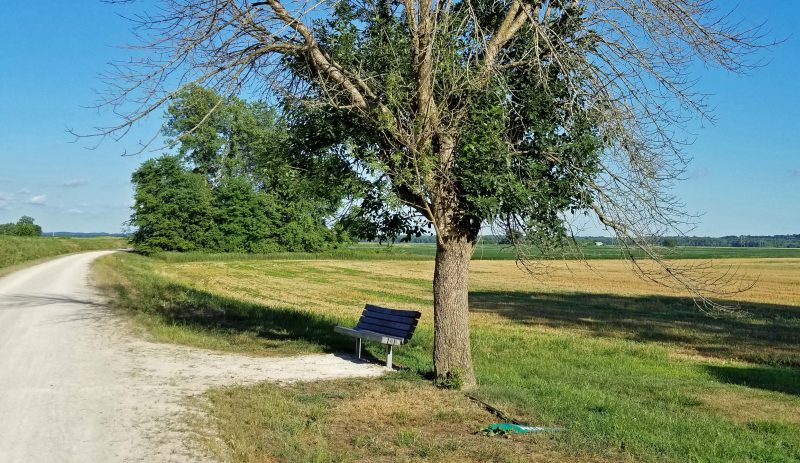 The river views are always pretty. I took this picture near a boat launch. There were a lot of cars with boat trailers in the parking lot. It was a good day for boating, too.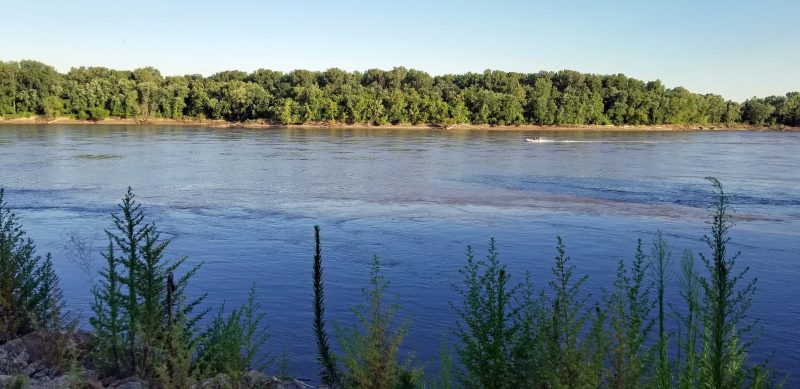 As the sun dropped lower in the sky, the clouds began to turn pink.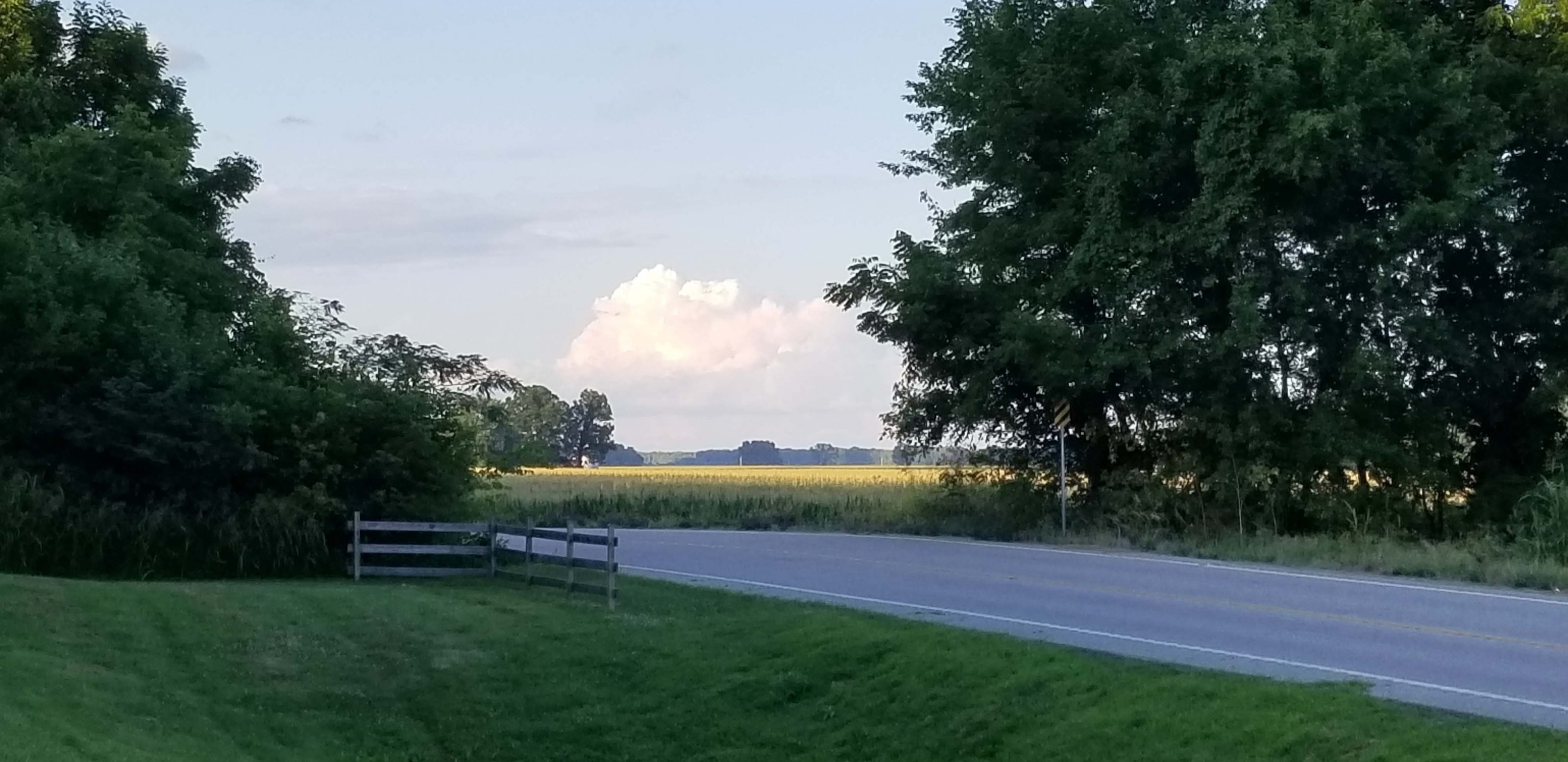 The Katy Trail is paved with hard-packed gravel. The weather has been dry. As we rode, our back wheels created little plumes of dust behind our bikes. After riding 25+ miles, the bikes were pretty dirty. I ran my finger over a spot on Ted's navy blue chainstay and over his black tire and rim. You can see how dusty they are. Our bare legs (and feet and shoes) were also coated with a thick layer of white dust. Our clothes had a thinner layer, but felt gritty. When we got home, we washed the bikes, cleaned the chains, and vacuumed our bike bags. Compare the clean bag to the dirty one.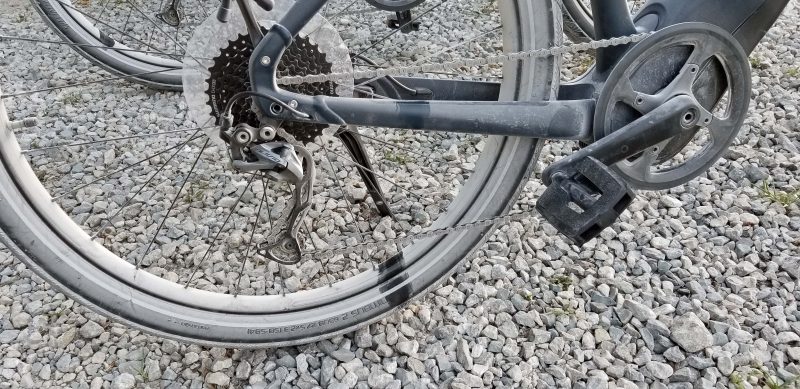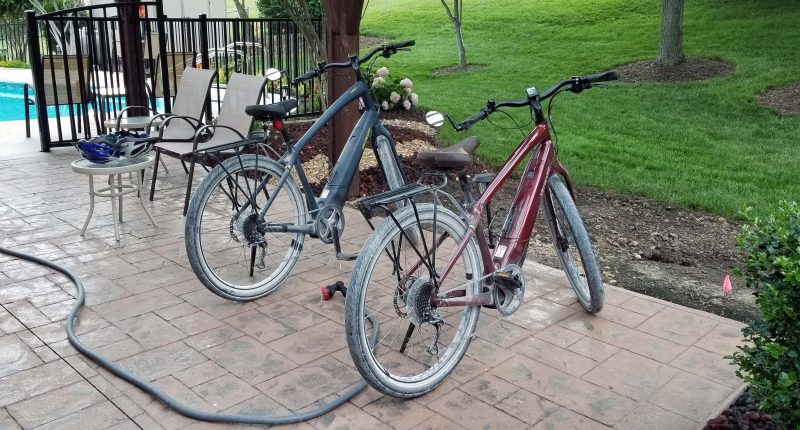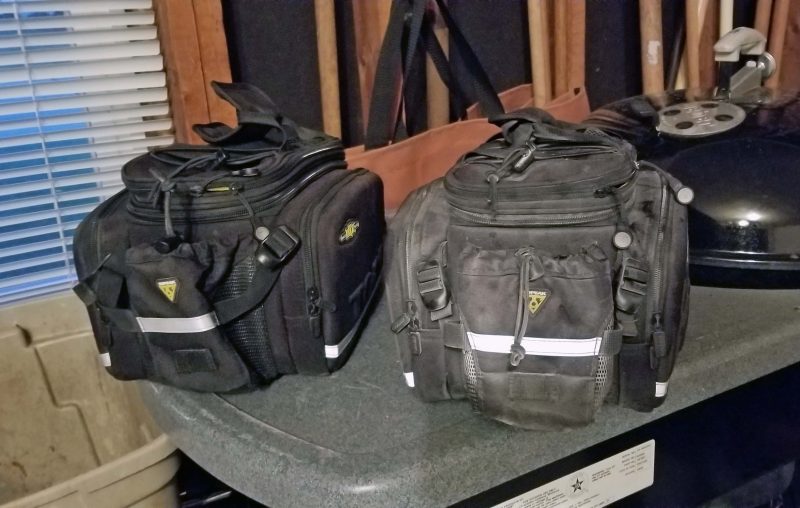 After the bikes were clean, it was our turn: a shower, a change of clothes, and a load of laundry, then dinner. Twenty-five miles of biking is hungry work, but it was fun. When we got back to our car and were loading up our bikes, Ted said, "I'm kind of sorry we're finished." I was too. Next time: Dutzow and farther west.