Ted and I decided to vote by absentee ballot this year because we think there will be very long lines at the polls on November 3. The line was a lot longer than usual for the 2018 midterms when I counted 75 people ahead of us, and there are always long lines for Presidential elections. Maybe especially for this Presidential election. Besides, the weather could be crummy in November, so who wants to stand outside if they don't have to?
We've never voted absentee or by mail before, but the process was very simple. We filled out our absentee ballot request online and then headed for the Election Authority office just a short distance from our house, where we received our ballots and cast them immediately. As it turned out, if we were appearing in person with a photo ID, we could pick up our ballots and vote without the application. Oh, well. It's better to be prepared, right?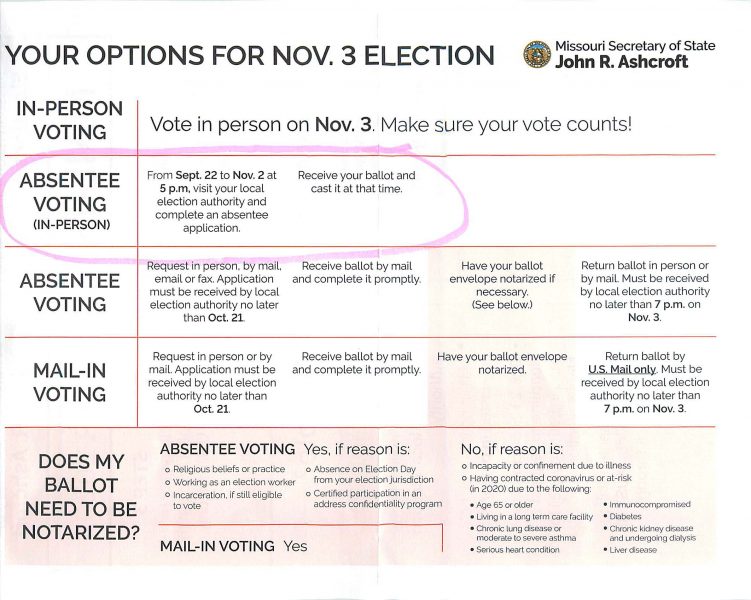 The roads near the Election Authority office were clearly marked with "Election Authority Office" signs at each corner along the way, but we already knew where it was–next door to where my SCC program used to provide a GED classroom site.
Our first surprise was the number of campaign signs posted along the road and around the parking lot. The signs added a colorful and–dare I say?–decorative touch to a dreary day and a blah parking lot. I didn't read any of them because I already knew who I was voting for. Does anyone decide how they will vote when they arrive at the polling place parking lot and see those signs? "Oh, I was going to vote for Donald Duck, but the Mickey Mouse sign at least 25 feet from the polling place door caught my attention and changed my mind."
Our second surprise was the steady stream of cars coming and going and filling the parking spaces. When we left, there were at least as many cars in the parking lot and at least as many people in the room as when we arrived. If there's a steady stream of voters like this–a rainy Tuesday afternoon–every day, a lot of people are voting early. Maybe the polling place lines won't be so long on November 3 after all.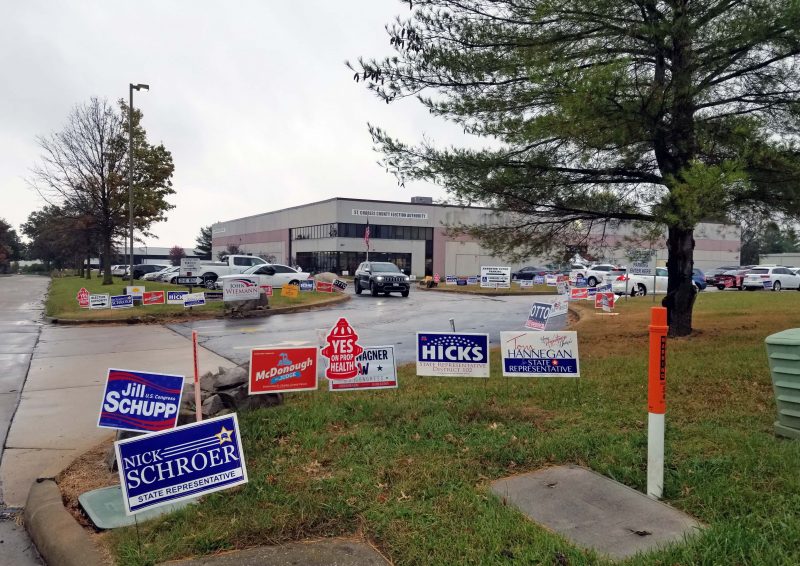 Curbside voting was available for those who requested that their ballots be mailed to them in advance. For awhile, there was a long line of cars at the curbside, but not when I took this picture.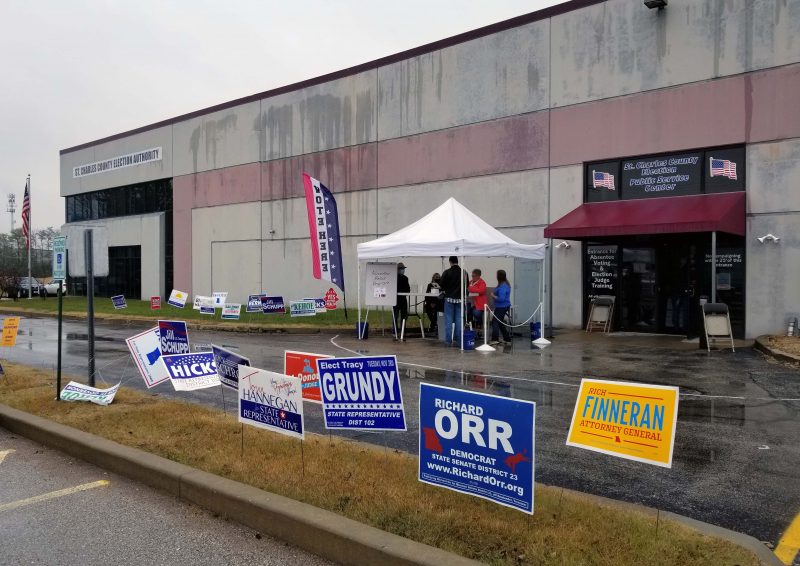 When we entered the building, the number-caller shouted "5!" These were our numbers. There were seven election judges working, so it took us less than 30 minutes to get our ballots and to cast our votes. We didn't really keep track of the time, so that's a guess, but the line kept moving. I asked the number-caller if she goes home hoarse at the end of the day and she said, "We all do."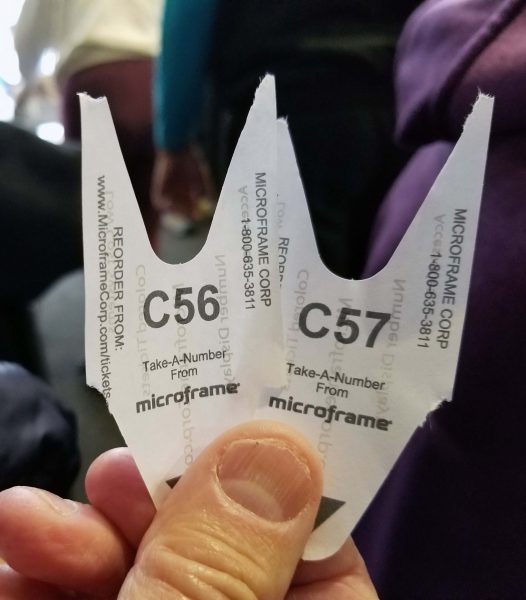 Here's a partial view of the crowd. There were people standing along two walls (including us), people seated, and people voting at the tables with the red and white divider screens (right center) and at tables in a room behind this one. We even saw someone we knew–Ed, from the bike shop where we bought our bikes and where we keep finding new bike gear to buy. Ed told me once he has five bicycles and uses them all for different kinds of biking. He's retired so he works part-time for the Election Authority and part-time at the bike shop. Today, he was answering questions on the floor and directing human traffic in the room.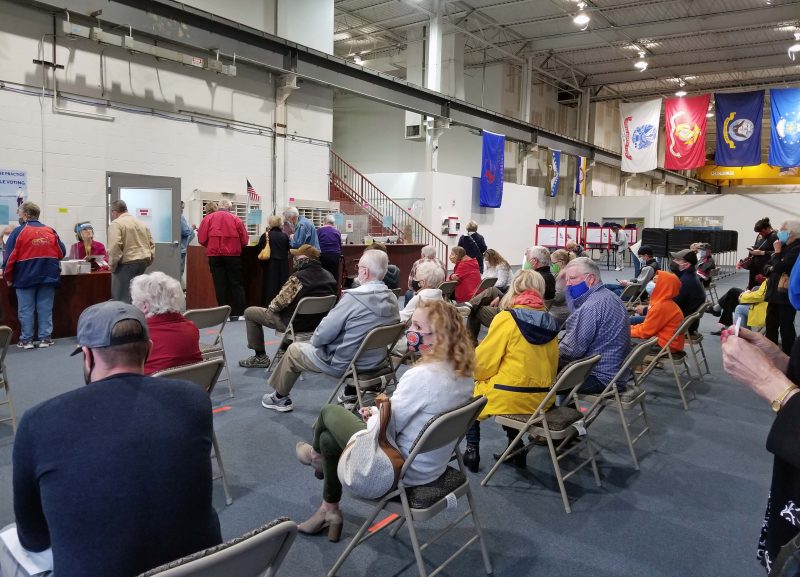 In less time than we stood in line in 2018, we had fulfilled our civic duty.