"Where do you want to go today?" "I don't know. I suppose the usual."
After that in-depth planning session, Ted and I set off on our regular 15-16 mile bike ride that we call "the perimeter route." We've biked this route at least twice weekly all summer, and it gets old. We take the outermost roads of 10 adjoining subdivisions, including ours, plus a few odd streets, just for the fun of it. The arrow points to our driveway, the starting point.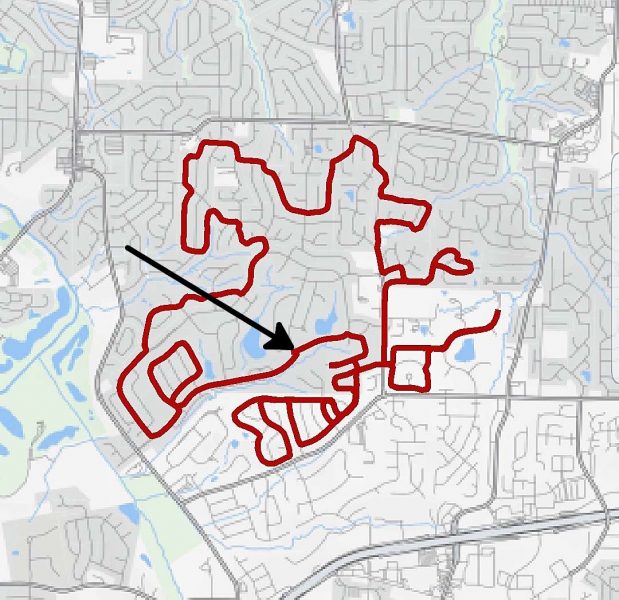 And yet, even on an old, familiar route, new things can happen. For example, one of the homeowners put out a cute display of rubber duckies. The big duck has a minion on its back.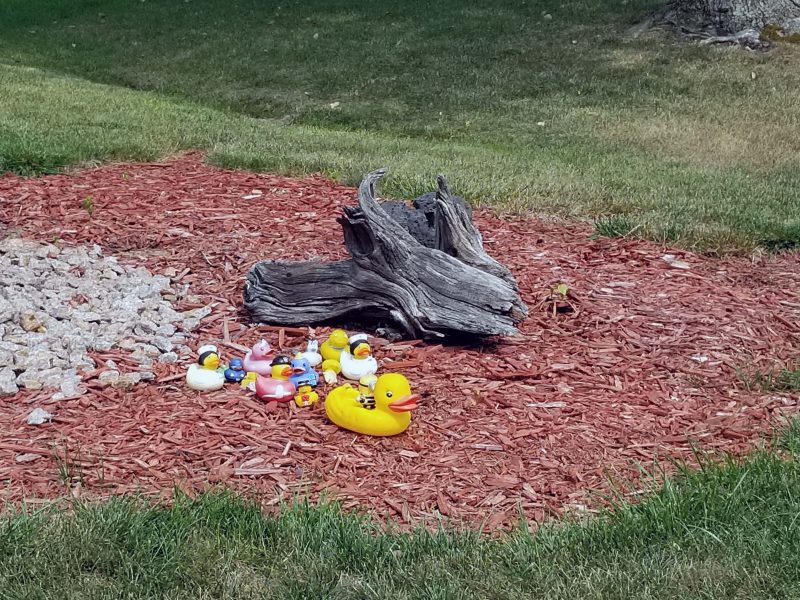 Even better, we met someone. There's a man along our route who waves at us every time we pass his house. He apparently sits on his front porch as often as we bike that route. The last time we saw him, I told Ted that if he's outside the next time we ride by, I'm going to introduce myself and ask his name so we'll both know whom we're waving to.
The friendly man was outside working in his front yard this afternoon, so we stopped to introduce ourselves. He's Floyd. Floyd Cline. Shocking! As soon as he said "Floyd" a little bell started going off in my head and when he added "Cline," I recognized the house. He's the father of Carrie Cline, one of Kathy's best friends from her K-12 school years, and of Harvey Cline, who was in Kari's grade. His response to us was "Are you the Schroeders? Do you still live on the corner in Park Charles?" Yes, and yes. We haven't seen each other since Carrie and Kathy graduated from high school in 1991, so neither of us recognized the other. We spent some time chatting and catching up on what we and our kids are doing. Then Floyd went back to work in his yard and we continued on our bike ride.
Even when we ride the same old bike route, we have new adventures. The fun never ends.