This morning, we transferred from the cruise ship to our hotel. We checked in and checked our luggage because it would be five hours before we'd have access to our room. During those five hours, we walked eight miles carrying our twelve-pound backpacks in the heat (80+ degrees).
After a quick pass through Times Square for lunch (about two blocks from our hotel), we headed in the opposite direction to Central Park, where we spent most of the afternoon. We entered the park at Columbus Circle and walked past a playground on our way to the carousel. I thought I took a picture of the carousel, which is just to the left of this picture, but I guess I didn't. The park has nice, wide walkways and also bike paths if you want to ride your bike instead of walking it like the couple in the center of the photo. I'm not sure we'd have found our way out of the park without our park map.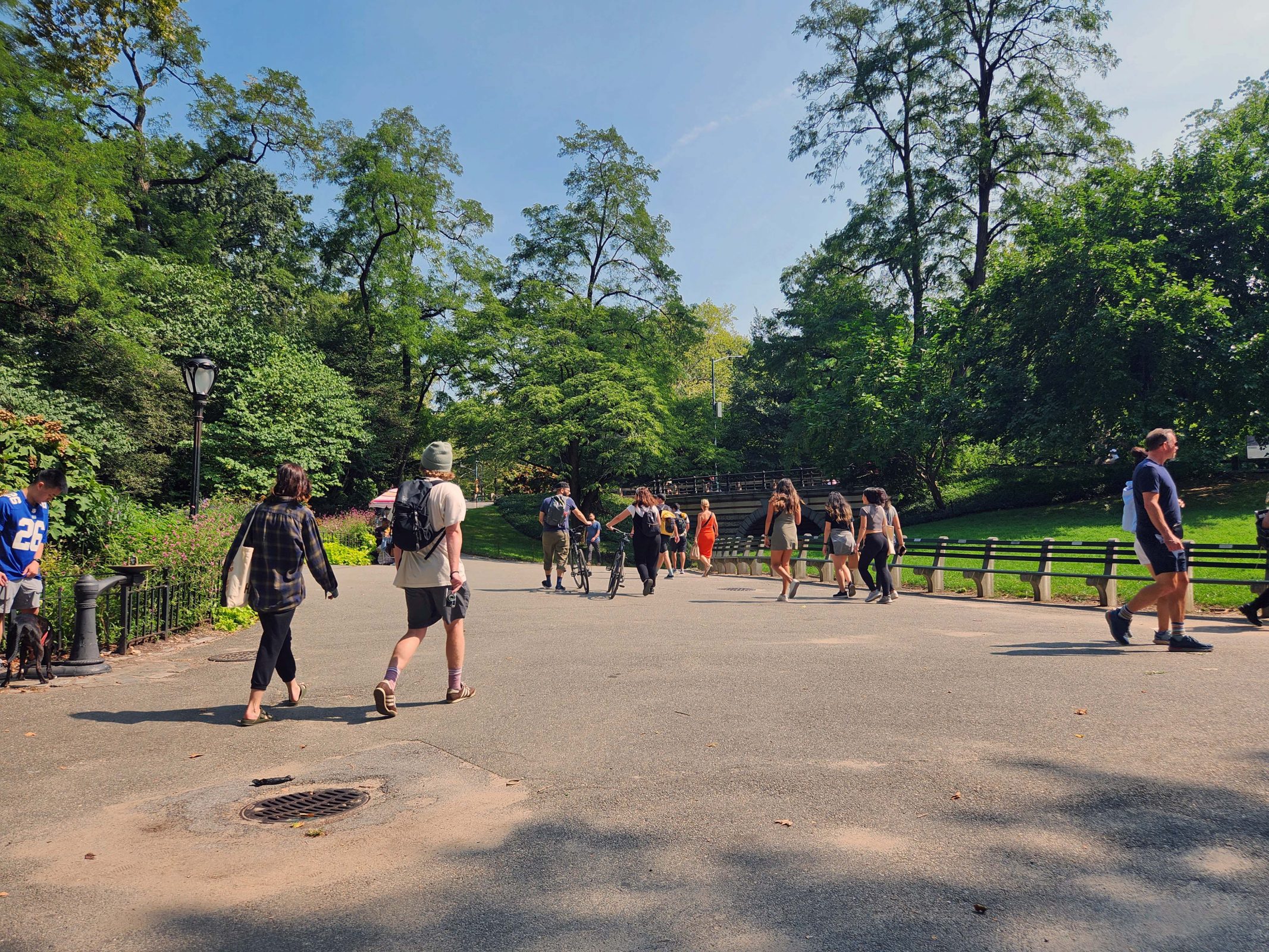 This is the Central Park Sheep Meadow where, yes, sheep used to graze. See those rocks sticking up out of the grass? Ted watches a lot of nature shows and told me that NYC used to be part of Pangea, with a mountain range as high as the Alps. Today, 450 million years later, the continents have shifted and the mountain range has been eroded by glaciers, etc. The mountain range now forms the bedrock on which Manhattan is built, and these rocks are the former mountain tops.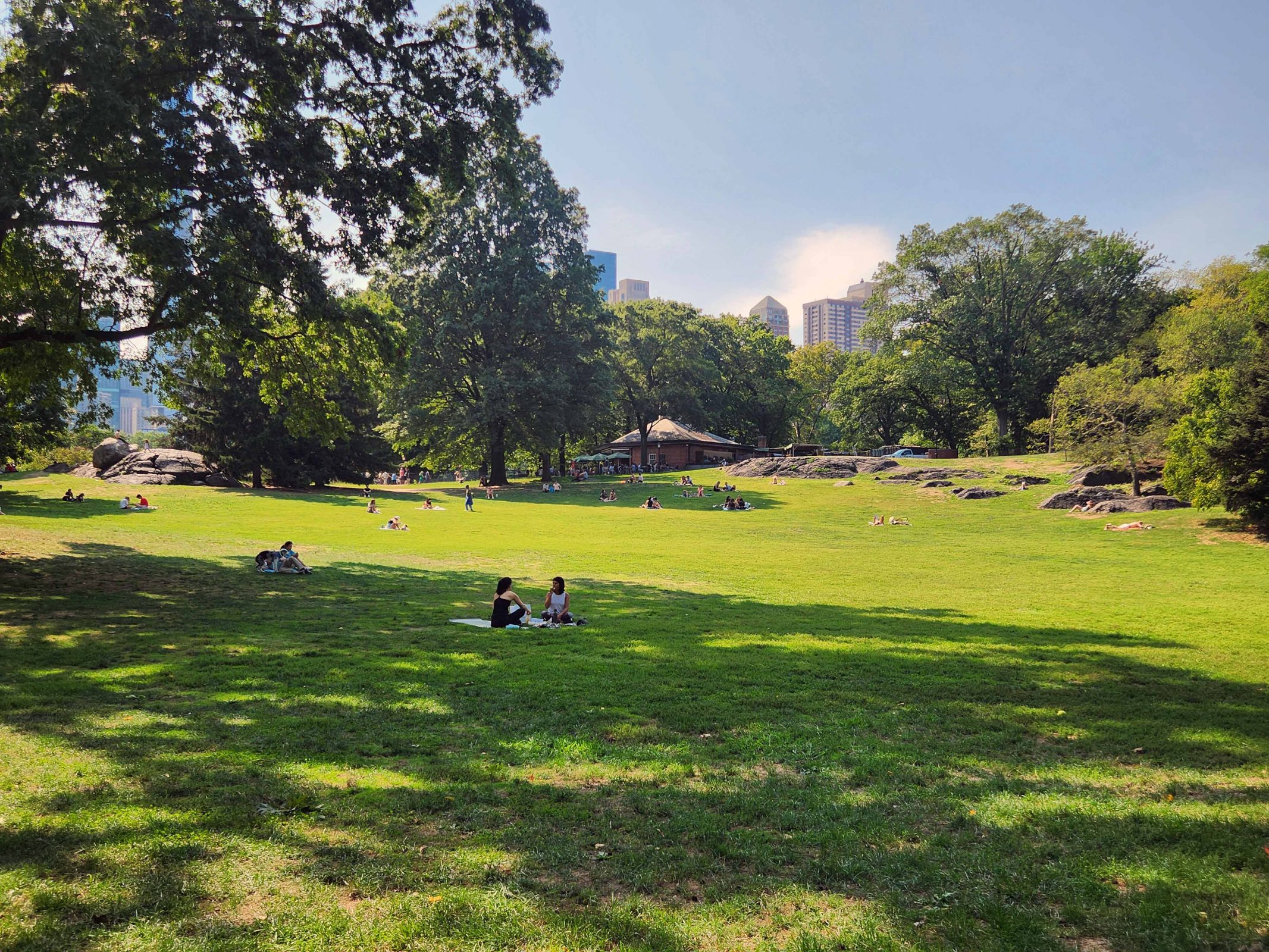 We also walked to the strawberry fields (forever), and the volleyball courts. I think we covered at least two-thirds of the park. Walking all those miles with our backpacks was making us hot and tired. so we walked back to the hotel where our room was finally available and we took a nap before going out to dinner: New York-style pizza and New York-style cheesecake.
Times Square was packed with people. It was pretty much "go with the flow or get out of the way." Look at the photo to see how many people were waiting for a "walk" light at one of the four corners of this intersection.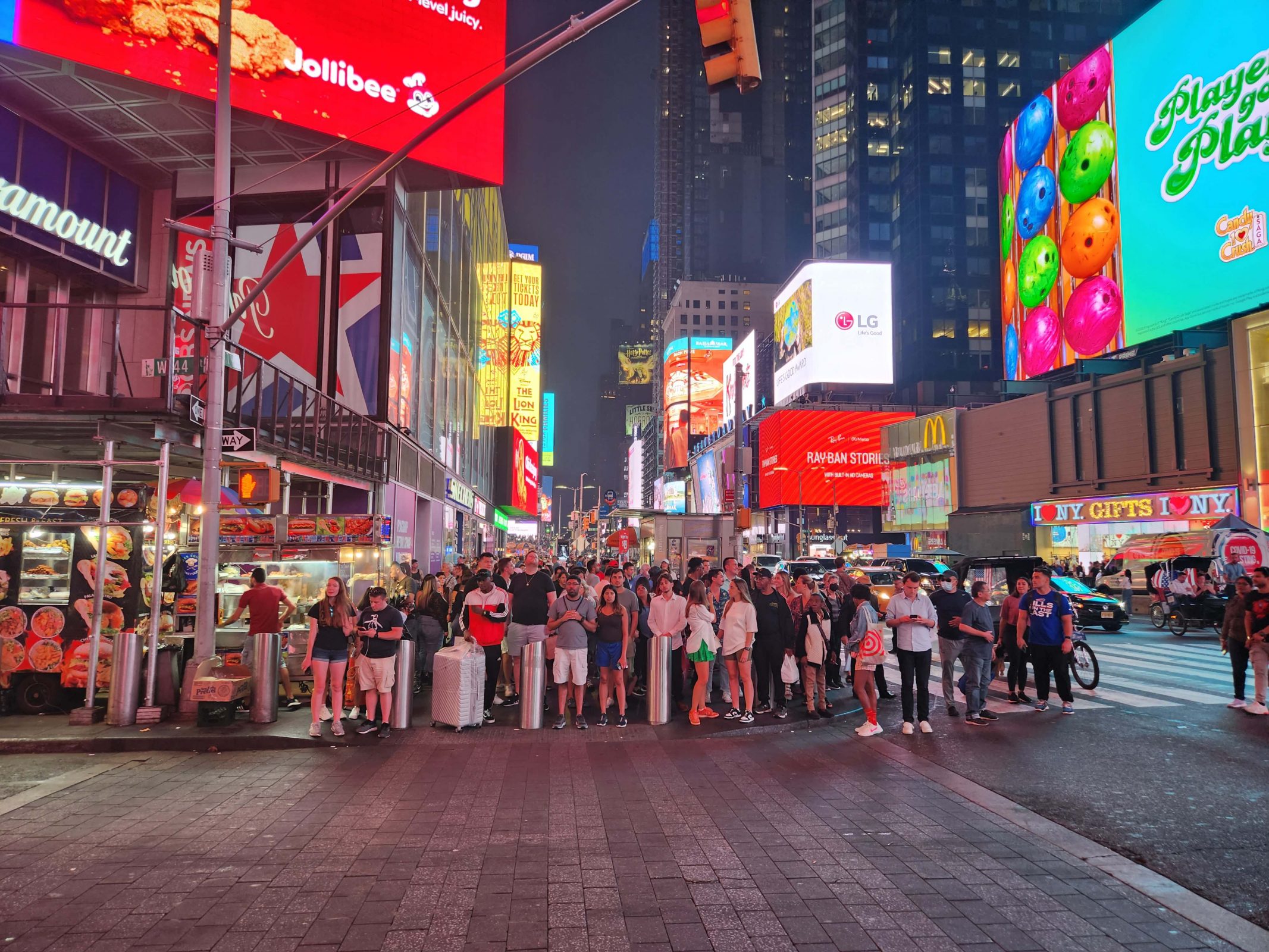 The next morning, we had breakfast at the top of the hotel with a great view of the city. A 1916 NYC zoning law demanded that architects create setbacks on tall buildings so that skyscrapers could still be tall, but would appear to be less bulky. The Chrysler Building (center, in the photo below) is an example of this. It rises more than 1,000 feet, but thanks to its slender tower (which gets progressively more narrow as it rises), it doesn't feel overwhelming. Also, a more narrow top contributed to a more stable building. New zoning laws allow for more modern architectural styles, but if you look closely at the buildings in the two photos below and in the city, you'll see that a many of them have setbacks.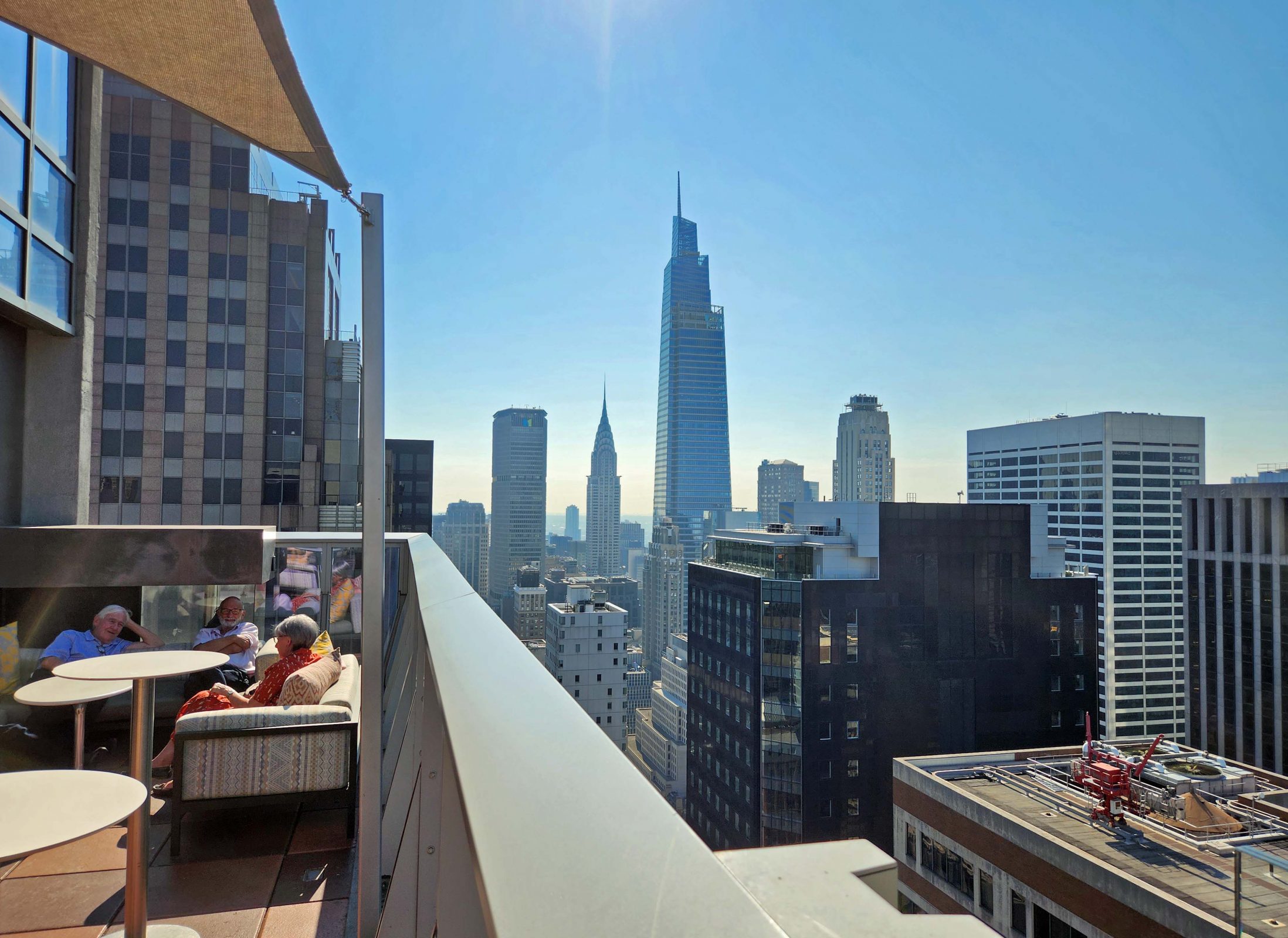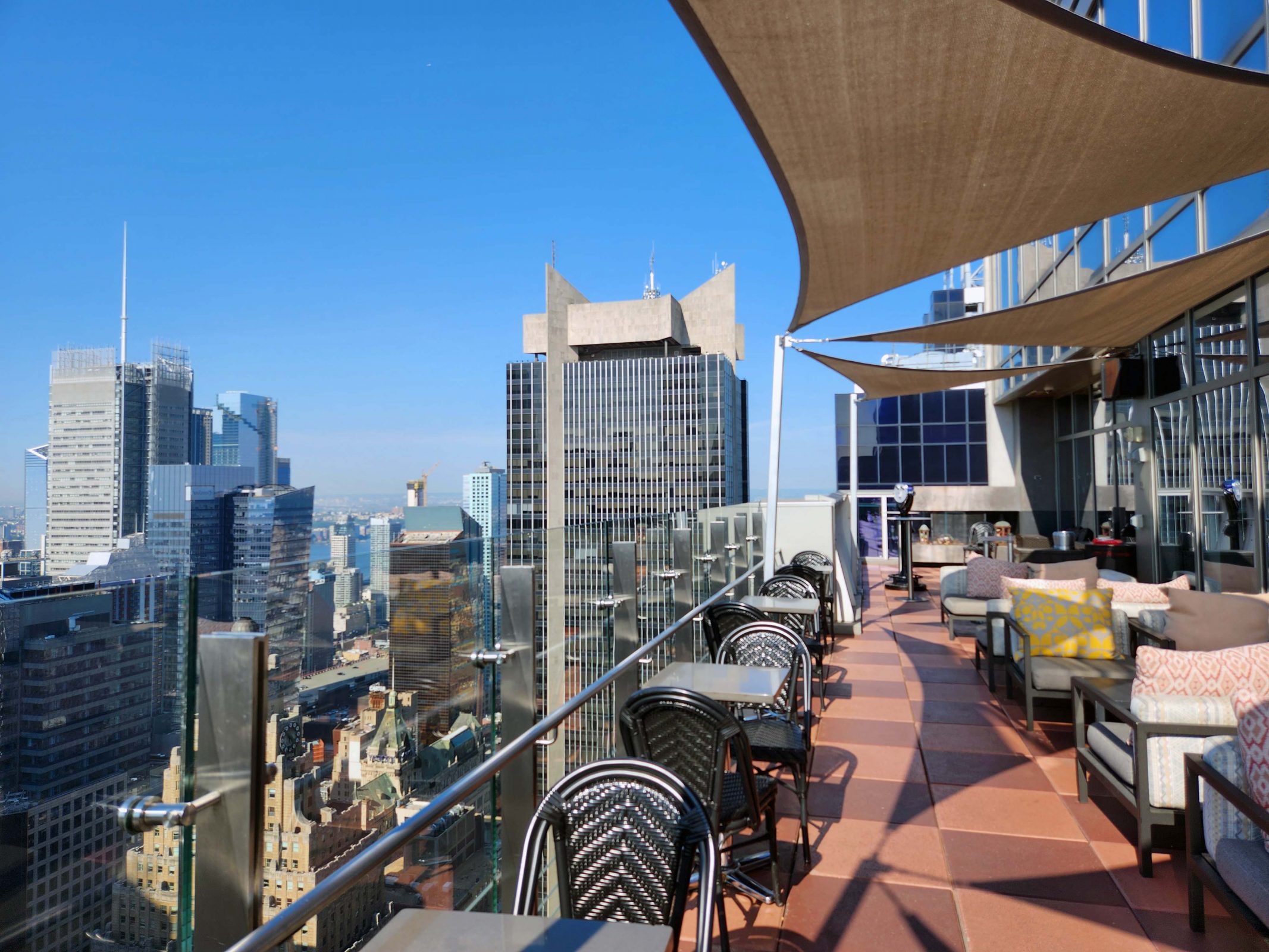 After breakfast, we walked around our hotel area. The hotel is within two blocks of Times Square and the theater district and just a little bit farther from the Empire State Building. We bought some deli food at Whole Foods and ate lunch in Bryant Park while we admired the Empire State Building.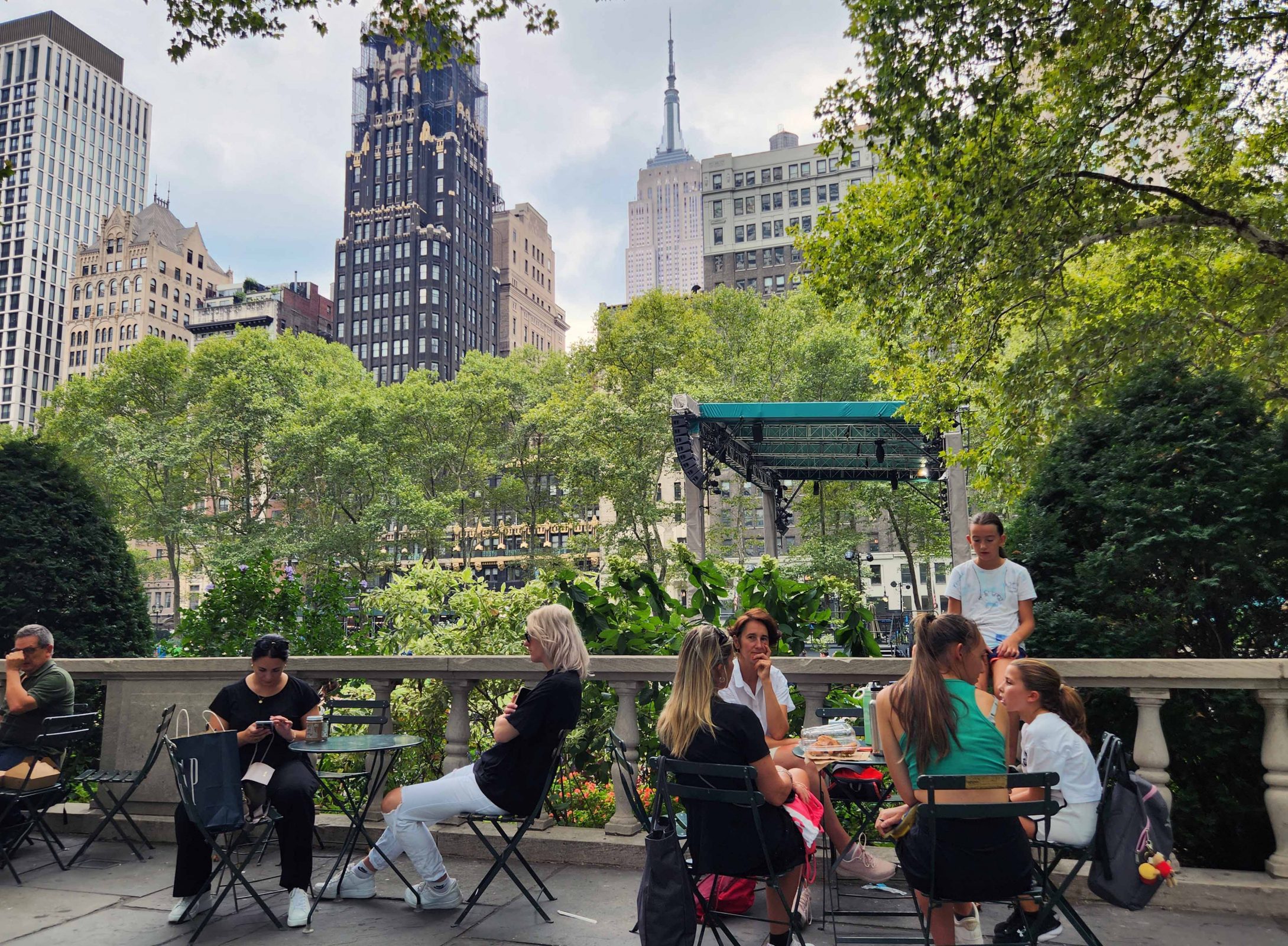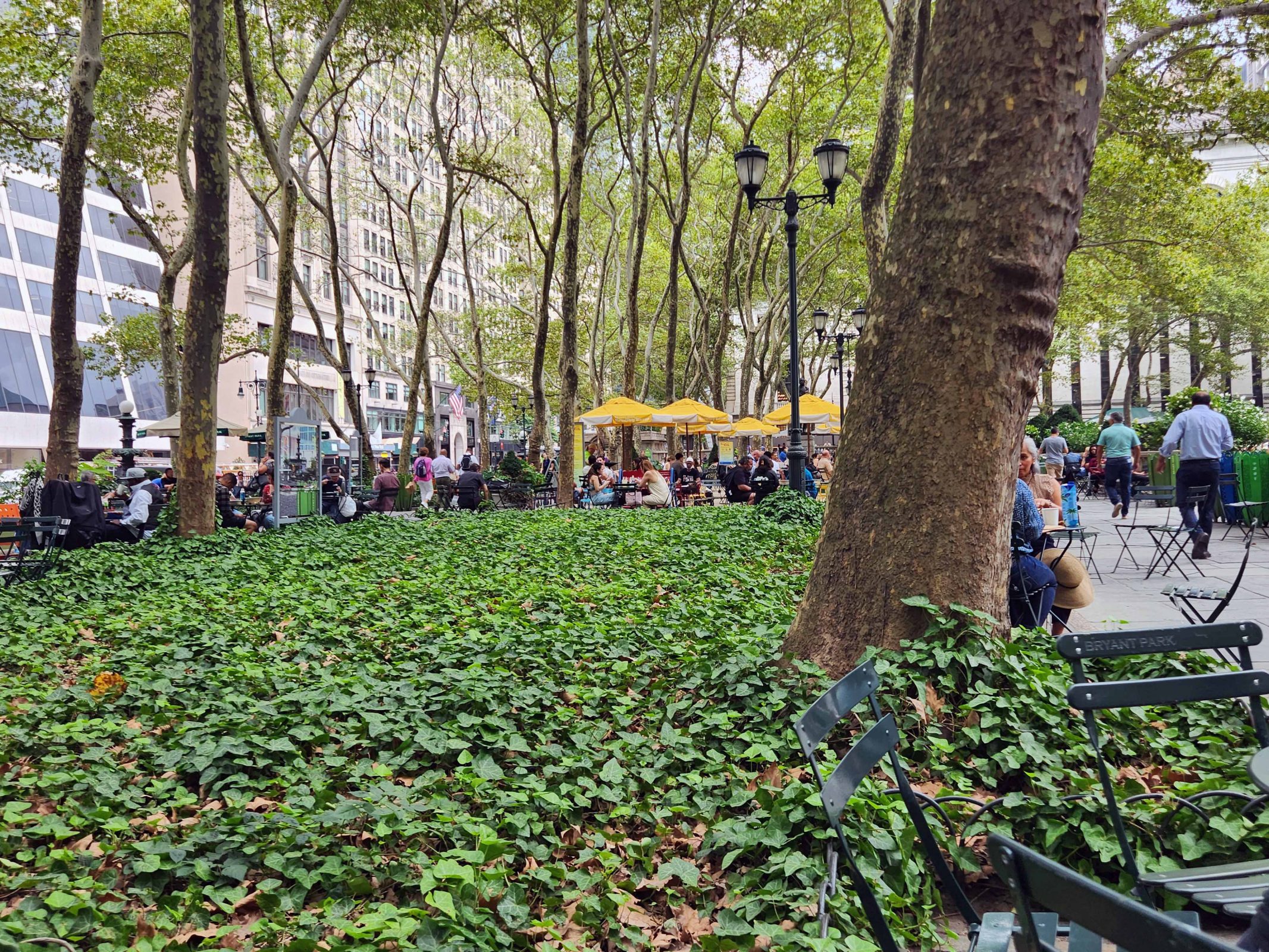 When we finished lunch, it started to rain, so we went back to the hotel and waited out the brief shower. Then it was back to walking around outside. We only walked five miles today instead of eight and we didn't need to carry our backpacks, which made it more enjoyable. We started in the theater district. This street was a pedestrian steet and had food courts. Times Square and the theater district really give your eyes a workout.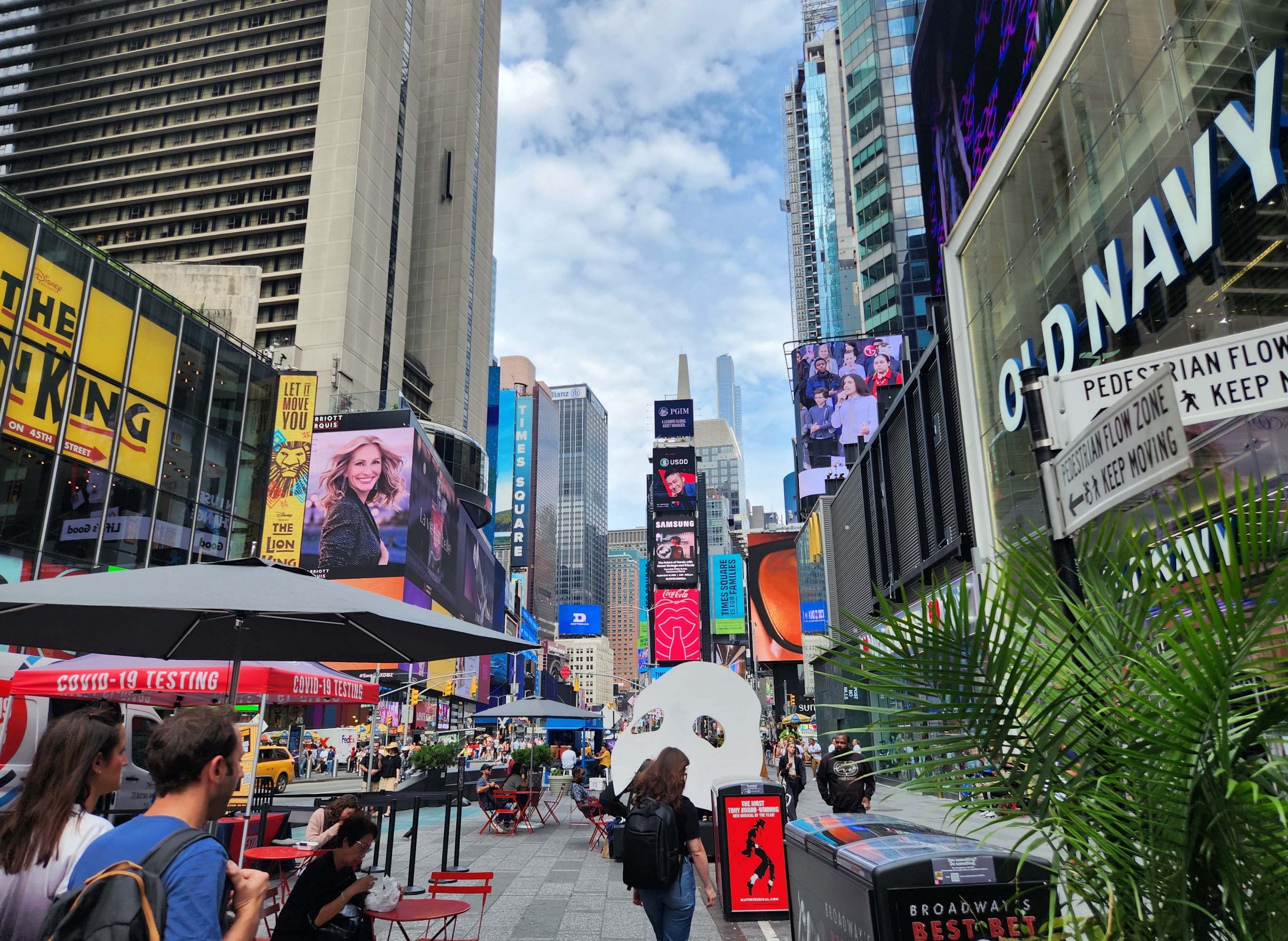 We found a little sidewalk park with a Shake Shack and had dinner there–after we dried the rain-wet table and chairs with napkins.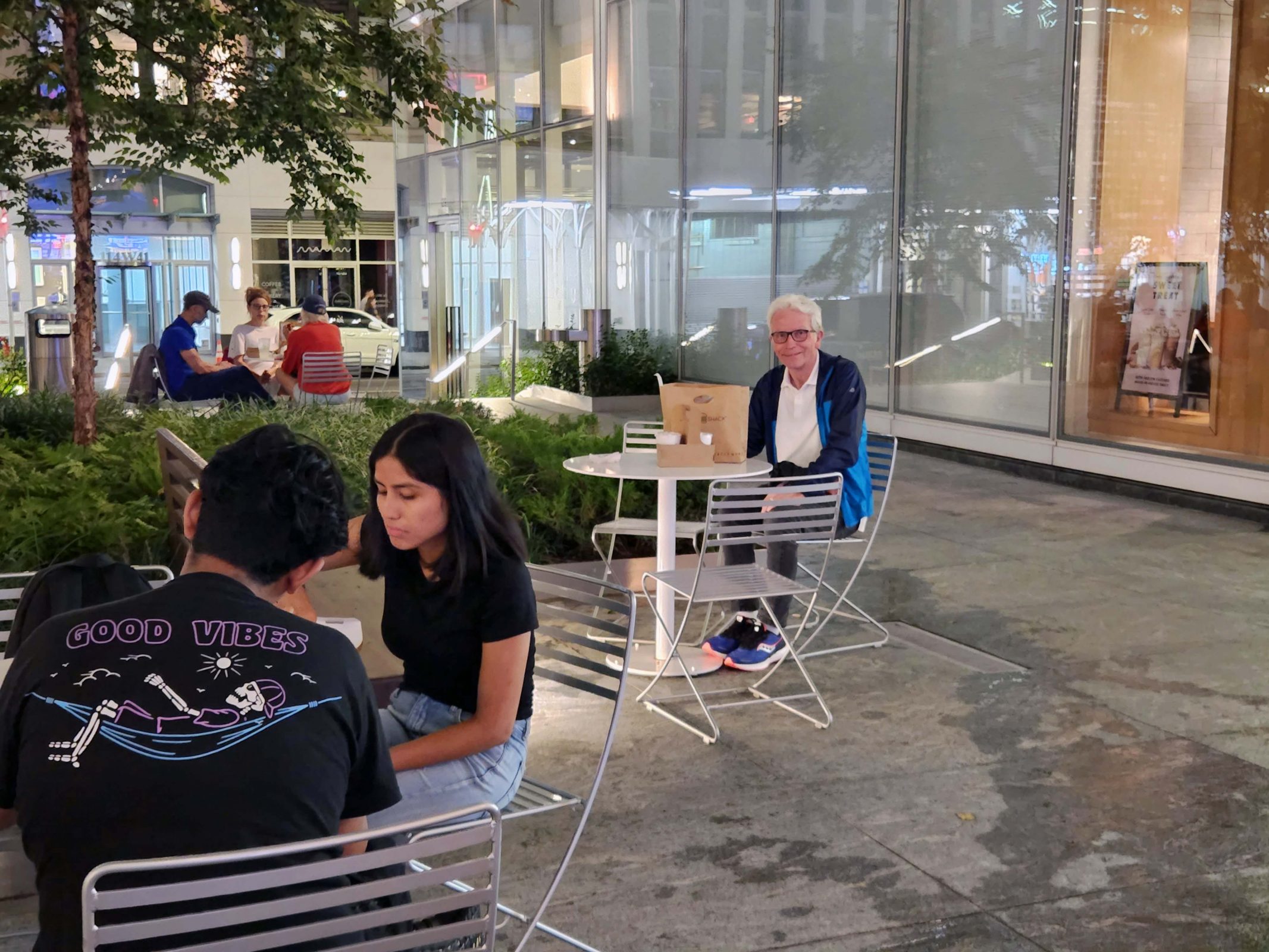 As we headed back to our hotel, we saw the Empire State Building lighted in the night sky. That's Bryant Park again in the foreground.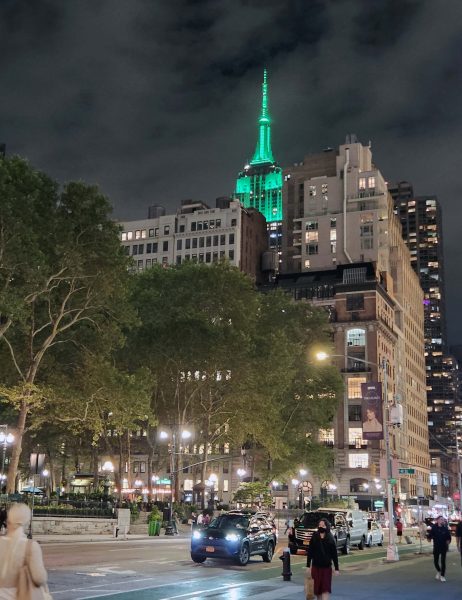 We walked through Times Square to get back to the hotel. Talk about light pollution! Not only are there countless lights, but they're very bright and most of them include motion and constantly changing colors.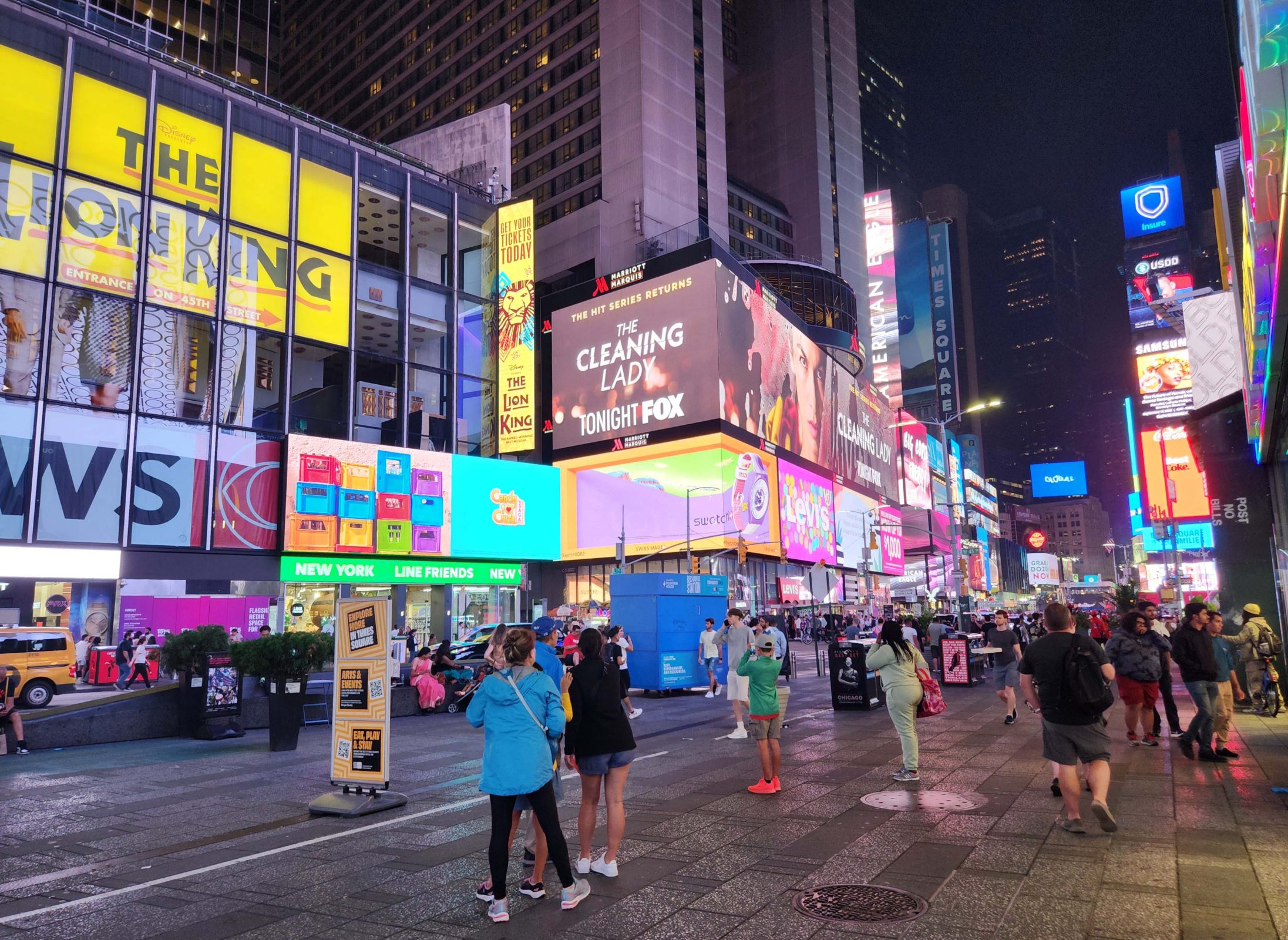 Here's the icon of Times Square, At the top of the tower in the center, you can see "2022." Above the numbers is a red ball. That's the ball that drops on New Year's Eve. The lights on the ball change color every few seconds, and so do all the pictures and colors on the tower.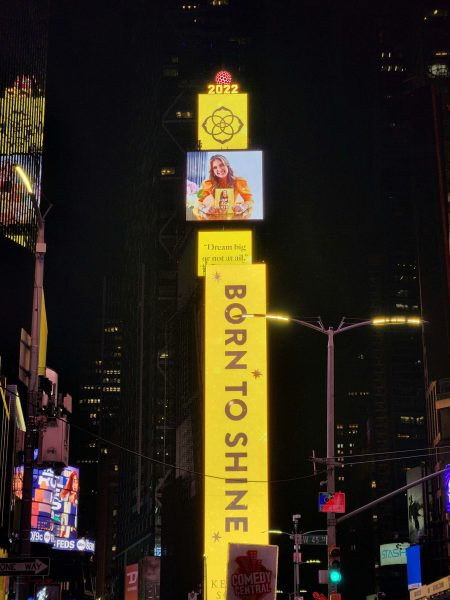 There is definitely a unique energy in New York City and it's an exciting place to be. Like the first time Ted and I were here (October 1971), we decided that, for us, New York City is the premier example of "It's a great place to visit, but I wouldn't want to live there." It was fun, but we're looking forward to going home tomorrow.
Author's note: Our cruise ship is scheduled to leave New York City tomorrow for its return trip to Montreal. This will put it in Halifax, Gaspé, and Saguenay at the same time that Hurricane Fiona is expected to arrive in those cities. We assume the cruise will be cancelled and passengers will receive refunds. We were fortunate to have beautiful weather for our cruise.