When the world locked down for COVID-19 in March 2020, there were few places to go, few things to do away from home, and lots of time to stay home and do very little. During the lockdown, Ted and I often said we'd go crazy if we didn't have a backyard so we could get out of the house, and if we couldn't exercise outdoors. A lot of other people in our area felt the same way–in the 40+ years we've lived here, we've never before seen so many people walking and biking in our neighborhood.
With documentation always on my mind (too much educational research in my background), I decided to track Ted's and my exercise during the lockdown. The plan was to do it for three months because a three-month chart fit on a sheet of graph paper. Who knew we'd be living with COVID for over a year?? As the COVID restrictions continued, we thought it might be interesting to track our exercise for a year. We talked about what counted as exercise and decided on the following: walking, biking, Pilates, and anything indoors or outdoors that required at least an hour of effort and boosted our heart and respiratory rates. That category was cleverly titled "Other." Because of COVID restrictions, our Pilates class didn't meet from March until September but, during that time, we did hour-long Pilates routines in our basement.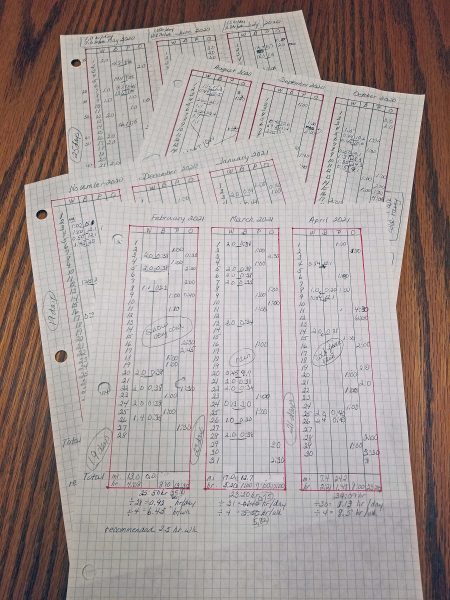 Ted and I have always exercised regularly, but tracking our time provided affirmation of how regularly we exercise. It also showed us that when we take a day or two off from exercising, we don't have to feel guilty about it. For example, one week in August when it was hot and we just didn't feel like exercising, we marked off a week on our chart as "vacation." So there! Even with that exercise-free week, we averaged 8.4 hours per week of exercise in August. Not surprisingly, we exercised the most in June (warm, but not too humid yet–average of 13.87 hours/week) and the least in December (cold weather and all those Christmas preparations–average of 5.6 hours/week).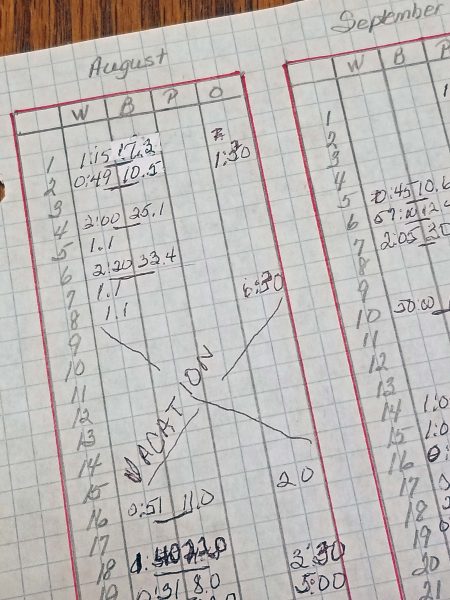 The CDC recommends 30 minutes of moderate exercise 5 days per week (2.5 hours/week) or 25 minutes of vigorous exercise 3 days per week (1.25 hours/week). We exceeded those guidelines, and we are pretty proud of that. Even in our lowest month (December–5.6 hours/week) we exercised more than the CDC suggests. Here are the stats for our exercise in the past year.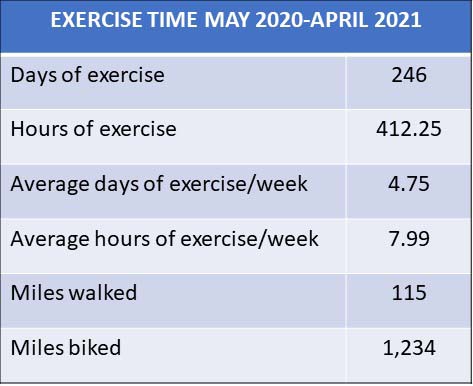 In the coming year, we plan to alternate more walking with our biking. Why? Because when the weather became too cold to bike, we marched up the steep hill on the street beside our house and realized (puff, puff) that, although our legs were really strong, biking wasn't giving us a sufficient cardio workout. Other than that, the plan is to keep on keepin' on. Move it or lose it, right?