Today, Thom and Katie took us to Ohme Gardens, an alpine-style state park in Wenatchee. Here's how the website description of the park begins.
In 1929, Herman Ohme purchased 40 acres of land for an orchard. Among that acreage was a craggy, dry, desolate, rock-strewn bluff with a breathtaking view of the snow-capped Cascade Mountains and the Columbia River valley.

Herman and his new bride, Ruth, loved to stand on that bluff and dream of flourishing alpine meadows, shimmering pools and shady evergreen pathways where the hot, relentless summer sun allowed only sage and scrub desert growth. They set their minds on achieving that dream.

www.ohmegardens.org
The alpine garden was intended to be a family retreat, but the interest of friends and community members prompted the Ohmes to open the park to the public. It was later sold to Washington State Parks to be preserved for future generations. We had a pleasant afternoon, walking through the gardens and enjoying Ruth and Herman's dream.
We walked up and down pretty hillsides and beside peaceful pools.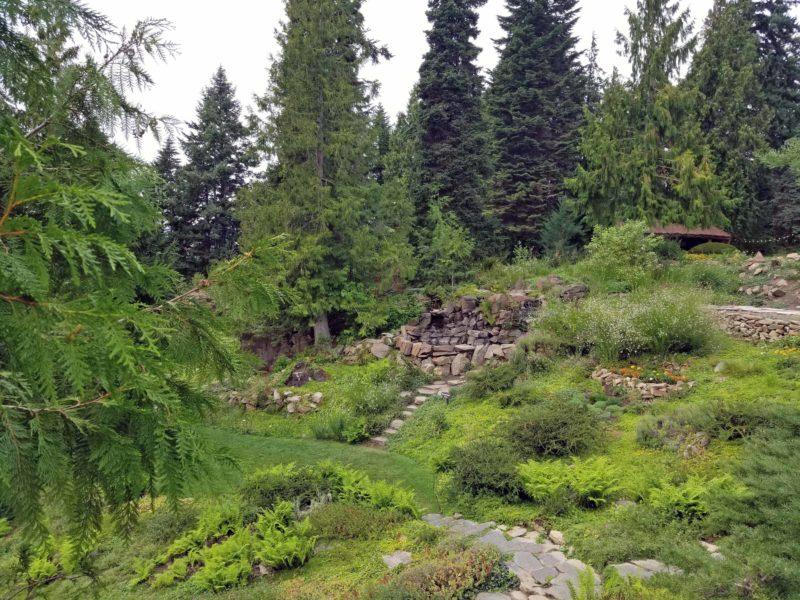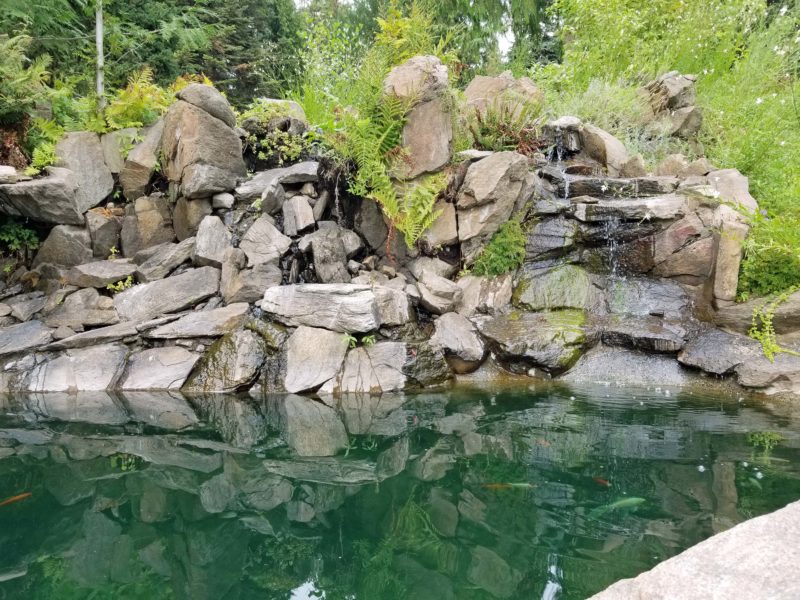 On one hillside, there was a watchtower that Sefton liked. It was open on all four sides. This side of the watchtower provides a view of Wenatchee, the mountains, and the Columbia River valley. We could see the rock outcropping that lies just above Thom and Katie's house, but it's too far to the right to be visible in this photo.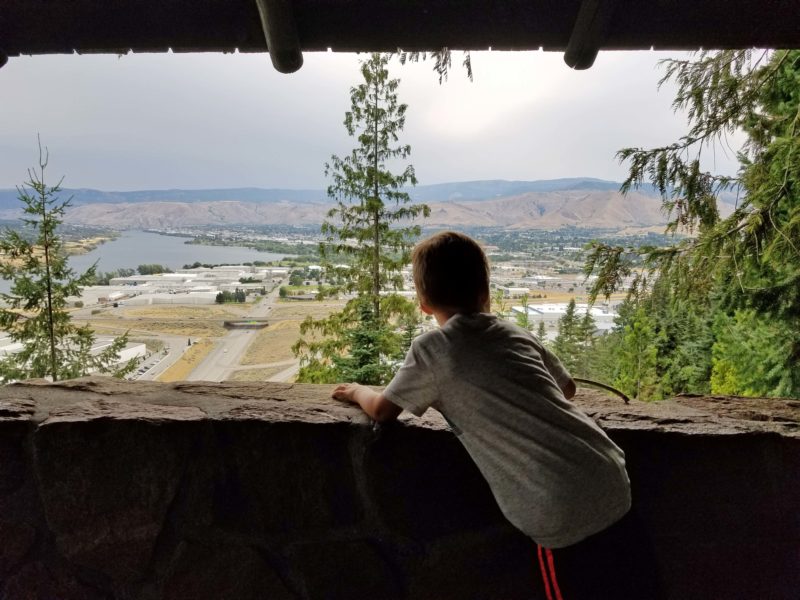 All of us except Hadley spent a few minutes looking at this pool. Hadley didn't see much of the park because she was sleeping. Being adorable all the time tires a girl out.
Throughout the gardens, there were hidden gnomes and fairies. A map of the gardens indicated the areas in which gnomes and fairies could be found and if a visitor (Sefton, for example) could find all of them, that visitor could check them off on his map, turn the map in to the attendant at the gift shop, and get a sticker. Sefton found all the gnomes and fairies and earned his sticker.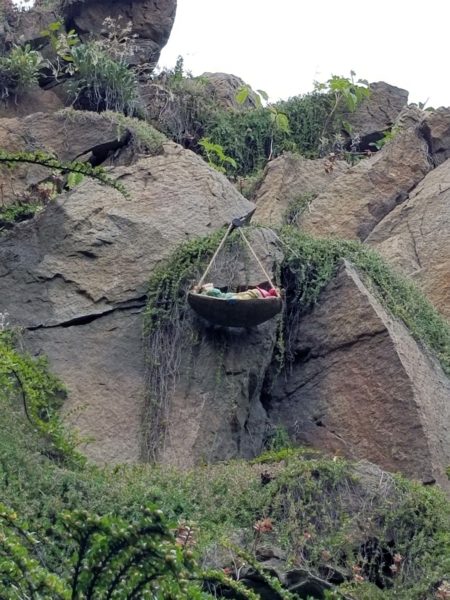 After we returned to the house, it was Hadley's and my turn to watch a GBC (Great Ball Contraption) Lego video with Sefton. Hadley was tired again from being adorable, so she didn't see much of the show. You can tell she's asleep because she has her nose buried against my chest. As long as I could hear her breathing, I knew everything was good.
After watching the YouTube GBC Lego videos, Sefton had to show me the GBC he built. His GBC didn't have moving parts (he gets a break here–he's only four), so he held one of his GBC balls in his hand and took it over the contraption's course as he explained to me what was happening at each point along the route. Notice all the Lego he has in the drawer under his bed.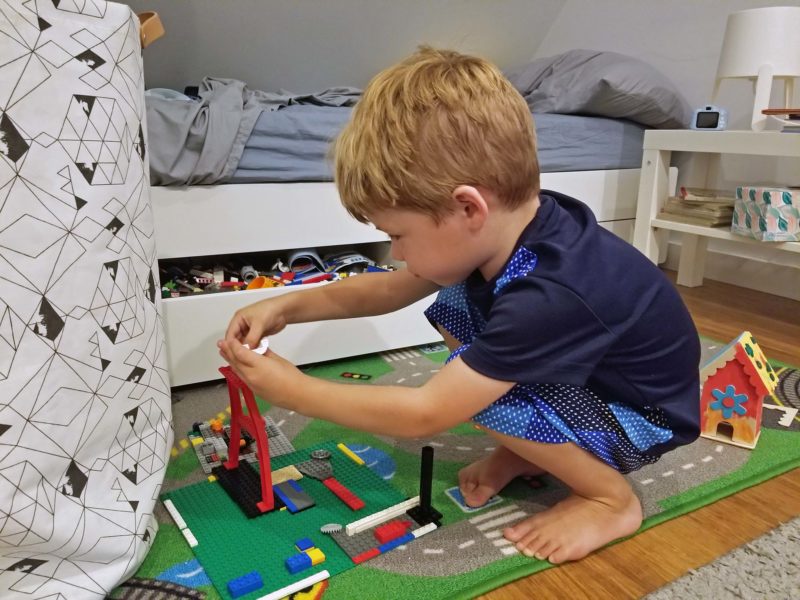 Meanwhile, pursuing a different kind of intellectual activity, Ted and Thom went out to the back yard and finished installing an RHC (Ring and Hook Contraption) that provides a way to pass the time as well as a challenge. The ring is attached to a cord connected to the post. You pull the ring back, let it go, and hope it catches on the hook. I tried it a few times and knew immediately that we'd be waiting a lo-o-ong time for me to get the ring on the hook, so I went back to holding Hadley.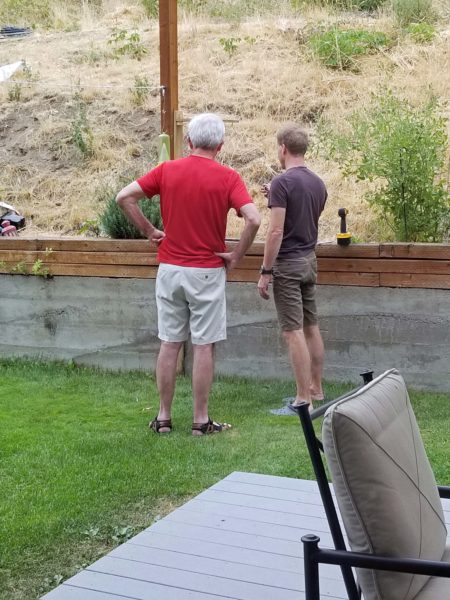 For dinner, Thom cooked wood-fired pizza in their portable wood-fired pizza oven. Because it's portable, the family can take it along when they travel in their Sprinter van. The oven reaches approximately 750 degrees and a pizza can be cooked in about two minutes. Unfortunately, Thom was reaching for something and bumped the back of his elbow on the oven chimney. The result was a pretty bad burn. You can see the bandage on his arm. Aside from that, you can't go wrong with pizza for dinner–especially wood-fired pizza.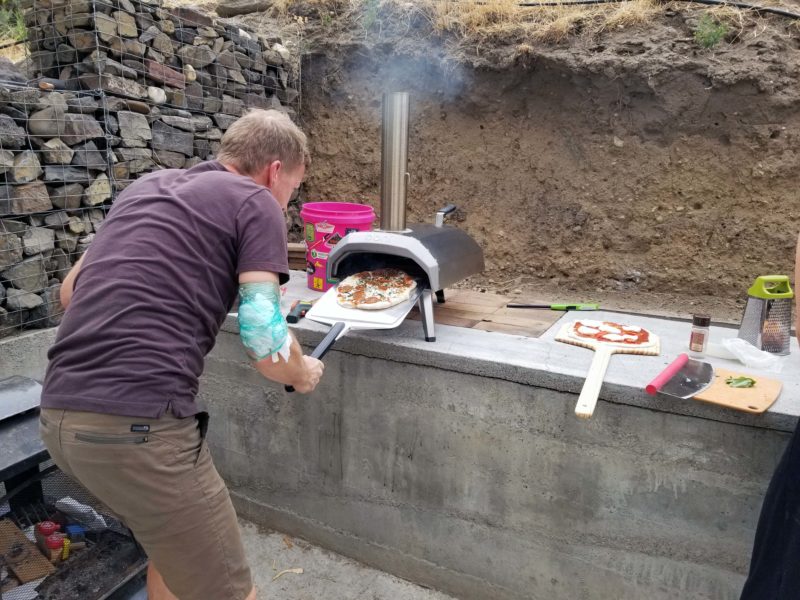 We're having such a good time with our family, we're already looking forward to our next visit.