With all the hoopla about Hamilton, Ted and I said that when the show comes to St. Louis, we'll go. The time is now. Hamilton will be playing at the Fabulous Fox Theater in St. Louis from April 3-22. I went to the Fabulous Fox website to buy tickets today.
Tickets are $80-$500. Ok, we knew they'd be high and we would have gone as high as $150 each, depending on the seats. So I clicked to select tickets and got this message.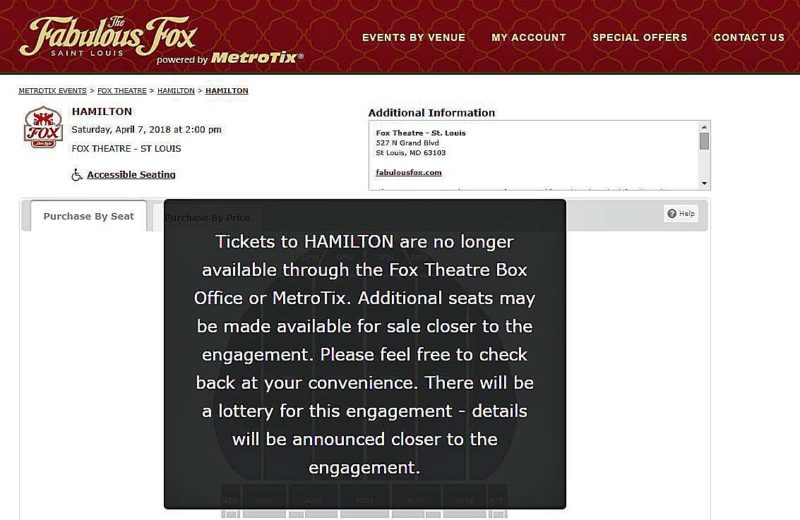 So that's why people are tuning in to Channel 4's 4:30 a.m. newscast–they're hoping to win the two tickets Channel 4 is giving away every day. Next step: Stubhub. Look at what I found on that website.
Yes, $175 was the lowest and $1,642 was the highest price for a single ticket. Sheesh! My conscience has a problem paying $100+ per hour (plus the service fees) for a theater performance. Just to compare, I checked the prices in New York City and they run the same. These prices made me wonder how much Hamilton earned as Secretary of the Treasury. I couldn't find a dollar amount, but I found this tidbit (editor needed–again!–for the fourth and the last line).

Hamilton's salary might have been modest, but tickets to see his story aren't! I wonder how early we'd have had to buy tickets to find any of those $80-$500 tickets available directly from the Fox. In a few years, Hamilton will probably be playing at the St. Louis Municipal Opera (Muny)–our wonderful outdoor theater–and tickets will be more reasonably priced. And then there will be the movie. Meanwhile, Ted is going to record the 4:30 a.m. Channel 4 newscast. Maybe we'll get lucky!
Editorial comment: I think it's sad that only wealthy people can afford to attend events like theater performances, major league sporting events, and concerts. Not only do we have a wide disparity in annual income in our country, but prices like this are fostering a wide disparity in educational and cultural experiences as well.