I enjoyed listening to my favorite playlists on my iPod last April as I sewed face masks for Ted and myself. When I finished sewing, I cleaned up the project room and put everything away. Somewhere between the project room where I was listening to my iPod and the box in the kitchen where we keep our iPods and our device chargers, I lost my iPod.
It was unbelievable! Where could it go between (almost) literally, the top of the stairs and the bottom of the stairs???? Ted and I searched everywhere we could think of that he or I might have set it and then we searched in places that we were unlikely to set it. We looked under and behind furniture, in drawers, and in places I don't remember throughout the house. No iPod.
When I went back to the project room to sew more masks for the family, I listened to music from Ted's iPod. It was fine. The world kept turning. The sun kept shining. But it drove me crazy because I knew my iPod had to be somewhere in the house, and I couldn't find it!
Tonight, I decided to change placemats for dinner because I'm tired of using the ones I've had out this week. I usually stack them on the shelf in pairs so I can grab two matching ones for Ted and me, but the blue ones I wanted were separated by several other place mats. I had to take the entire stack of placemats off the top shelf of the pantry so I could re-arrange them in pairs. When I got down to the blue one I wanted, I found my iPod! The battery was dead, but it's rechargeable.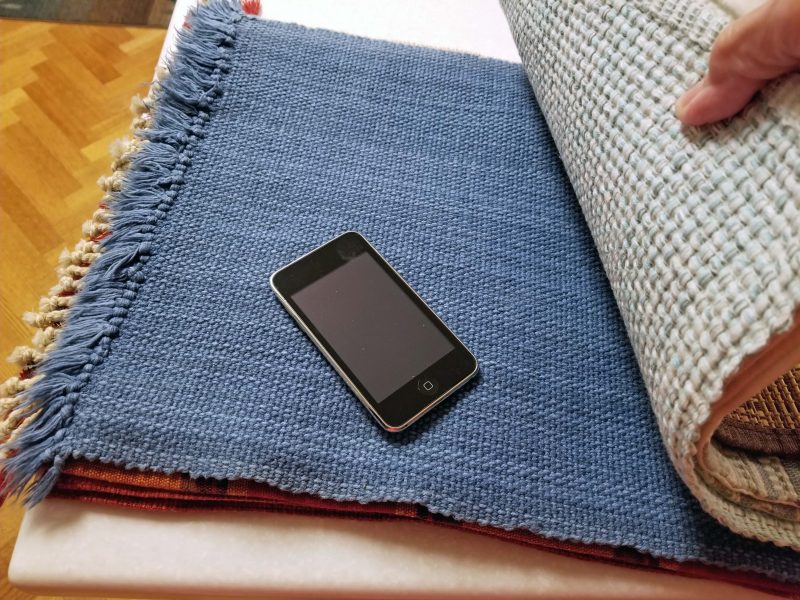 I was pretty excited about finding my iPod, but now it's driving me crazy how, on its way from the project room to the charger box, it got stuck between the place mats on the top shelf of the pantry. 2020 is a weird year in so many ways!