The CDC has changed its mind and suggested that we all wear masks to provide some level of protection from COVID-19. A kerchief or homemade mask is fine (a few weeks ago, it was deemed useless), but we should save the truly protective masks for the medical professionals.
Today I went to Joann Fabrics to buy the makings for some masks. This was the line.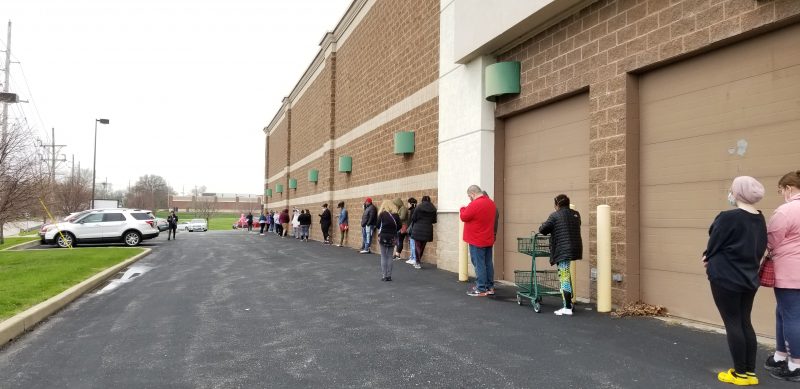 I was at the end of the line when I took the picture, and more people kept coming. After I'd stood in the cold 40-degree weather (wind chill in the low 30s), for about 25 minutes, an employee walked the line to inform us that (1) anyone who arrived after 2:00 p.m. (I arrived at 1:55) was not guaranteed to get into the store before closing at 4:00 p.m.; (2) they were out of fusible interfacing; and (3) there is no elastic in the store or online. At that point, several people (including me) left, so some of those who came after me could probably expect to get inside before closing.
I went to Wal-Mart and, even though they were admitting a limited number of customers, I walked right in. At least 3/4 of the shoppers were wearing face masks. I felt so unprotected!
So many people were buying fabric that the lady working the paint counter had a cutting mat at her station and was cutting fabric over there. I bought fabric and interfacing (there wasn't much interfacing left), but was told there is no elastic in any store right now. I have several yards of elastic at home, but I bought some wide rubber bands in case I need more.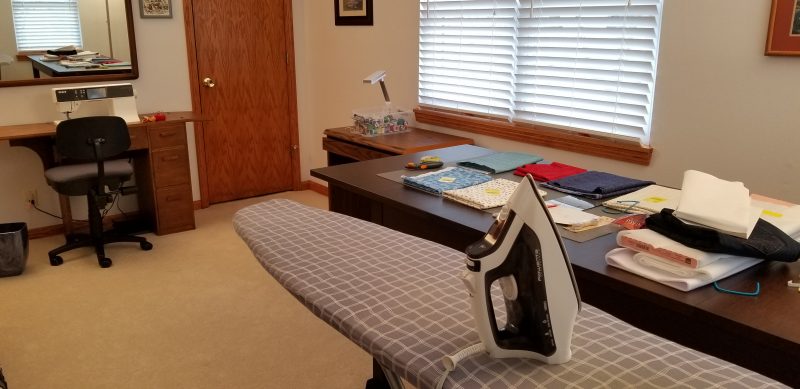 When I got home, I started making masks. Ted and I are now either protected or not, depending on what the CDC's latest update is on the efficacy of homemade face masks.