Here's our winter doormat. Be careful what you wish for.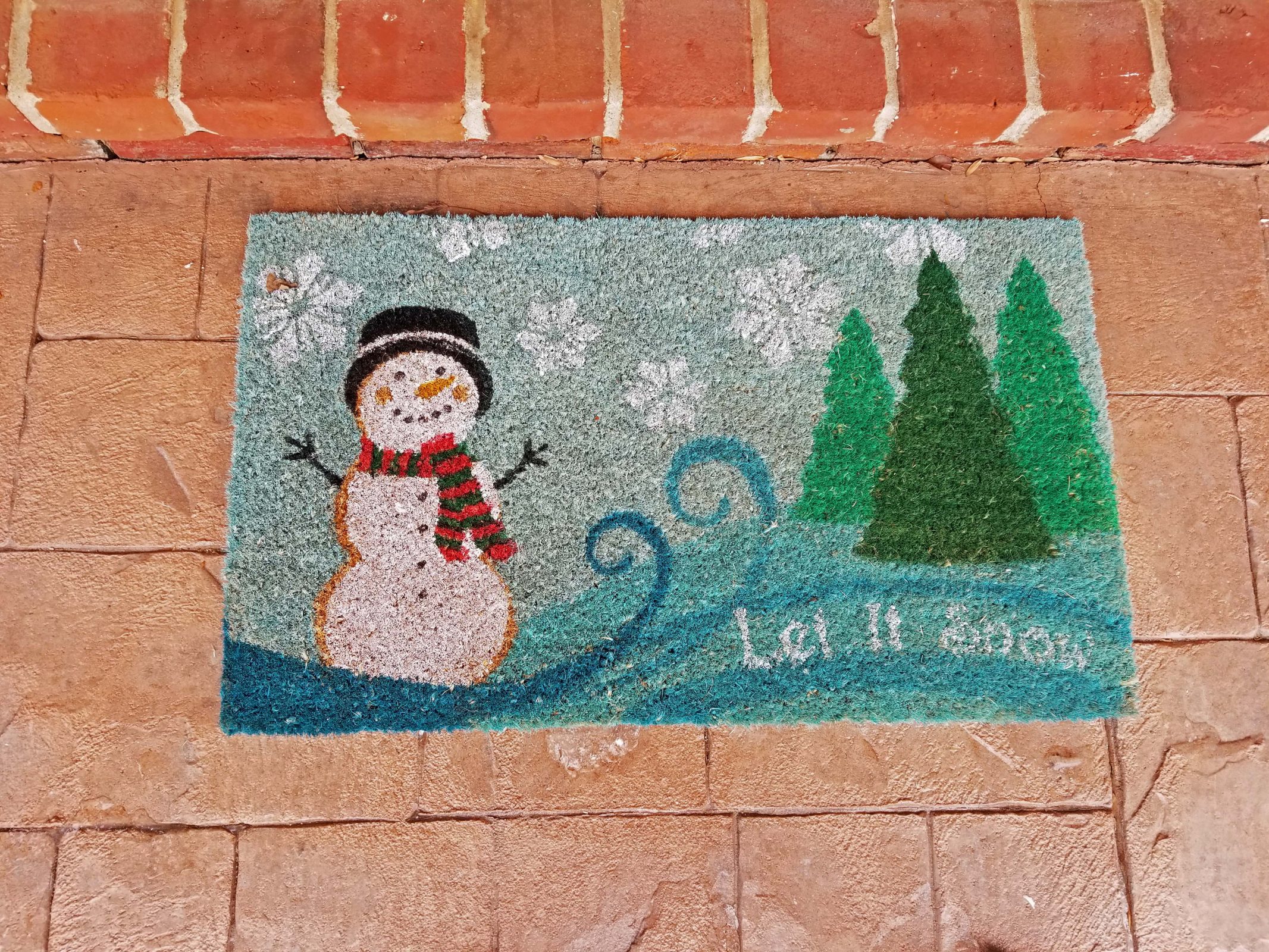 When our kids were little, it was normal for our area to have 6-8 snowfalls of 4-6 inches, as well as one or two snowfalls of 12-14 inches in a season. After 30 years of climate change, however, it has become more typical for us to have several snowfalls of 1-2 inches and maybe one or two snowfalls of 3-4 inches in a season. More snow than that in a single event is becoming unusual and, therefore, remarkable.
This winter has been a snowy one for a change. After a relatively warm November and December (we took our last bike ride on December 29), we had a few light snowfalls of an inch or less in January. Then the pattern changed. At one point last week, 46 states had snow cover on the ground. Florida, Georgia, South Carolina, and Hawai'i were the exceptions.
January 27. We had four inches of snow. Whoopee! I love using my snowblower and this was enough snow to make a snowblower worthwhile. It wasn't too cold, so I had a good time. Then Ted took a turn and used the snowblower to clear Jim's driveway. Jim and his wife are 90 years old and they appreciate the help.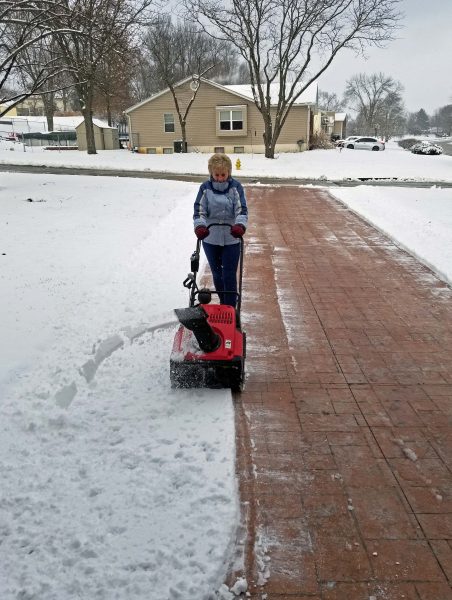 February 15. There's a forecast for a major snowfall in our area. A big snowstorm always sounds exciting to me. There's something magical about snow, and a heavy snowfall makes everything quiet and peaceful. It started snowing early in the day, but the flakes were tiny and didn't accumulate much. By late afternoon, it started looking like serious snow. Our normal temperature at this time of year is in the mid-40s, but today we set a record for the lowest high temperature on February 15: 4 degrees. The previous record was 19 degrees in 1905. We didn't just break that record–we smashed it! The wind chills were a vicious 25-30 degrees below zero. There went our dream of sitting in the hot tub while snowflakes romantically fell on us. It wasn't a good day to go outside, but it was fun to watch the snow fall and to watch a movie with a fire blazing in our fireplace in the evening.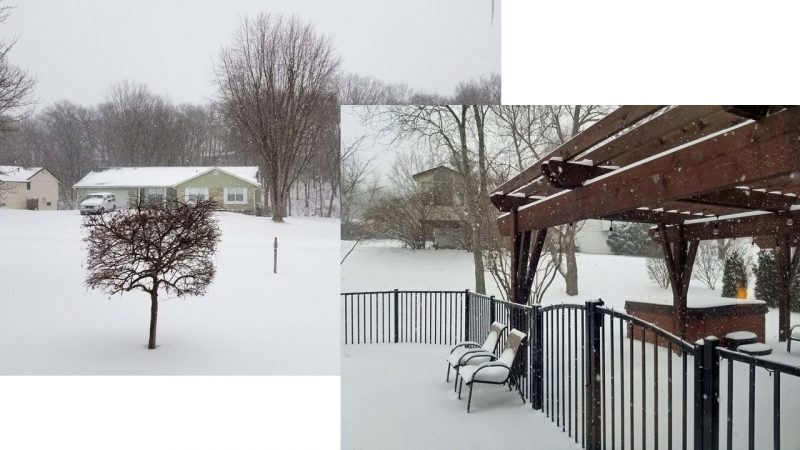 February 16. The snowfall ended, the sun came out, and we set another record low high temperature. This time, we made it to 5 degrees, probably because of the sunshine. The previous record was again set in 1905. Wind chills were still well below zero. It was so cold, the mailman didn't even walk our package all the way to the door; he only went far enough to throw it to the porch. Luckily, it was a book and it didn't break.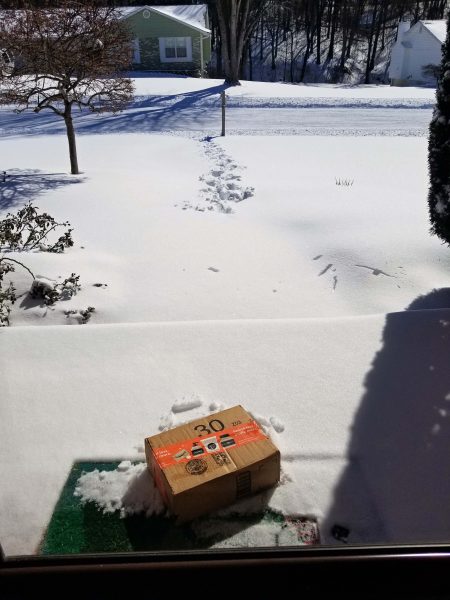 I bundled up in three layers of clothes and a sturdy pair of boots and headed outdoors, feeling like Ralphie's little brother in "A Christmas Story." My first task was to stick our trusty NWS "Snow? How much?" ruler into the snow to see how deep it was. Wow! Seven inches!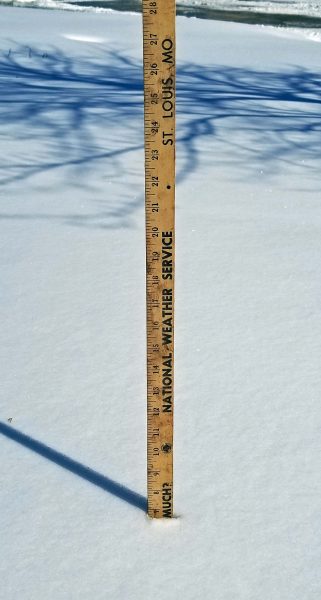 The weight of the snow made our pool cover sag, so pool water seeped through it and froze on the cover.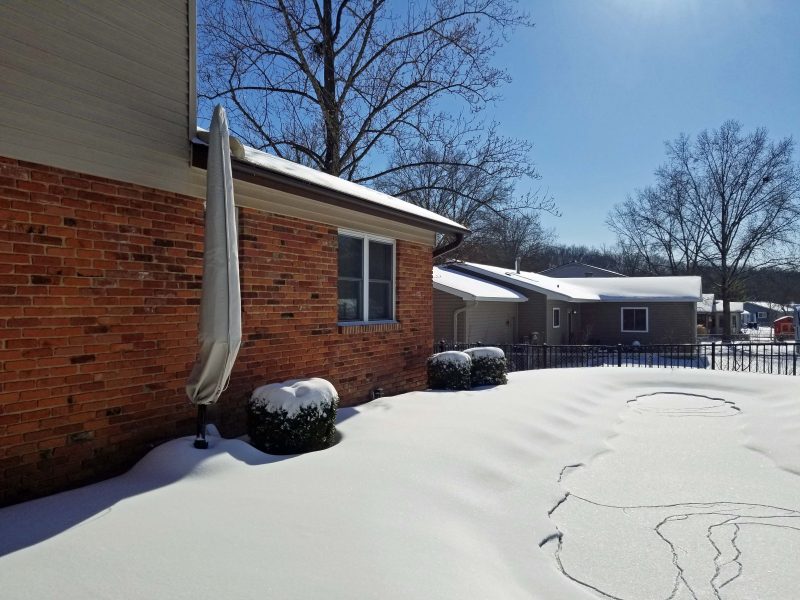 I took a few more pictures outside, but I could hear my snowblower calling my name, so I got to work. I always go up the middle of the driveway first so I can throw half of the snow to each side instead of having it all pile up ahead of my path on one side.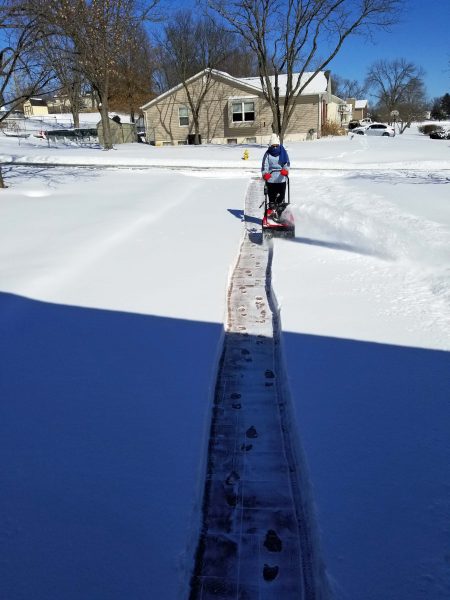 The sidewalks were a challenge. Because it was so cold and windy, the snow was light and the wind blew it across the lawn, making it impossible for me to see where the sidewalk ended and the grass began. The curves in our sidewalks added to the challenge of finding my way through the virgin snow.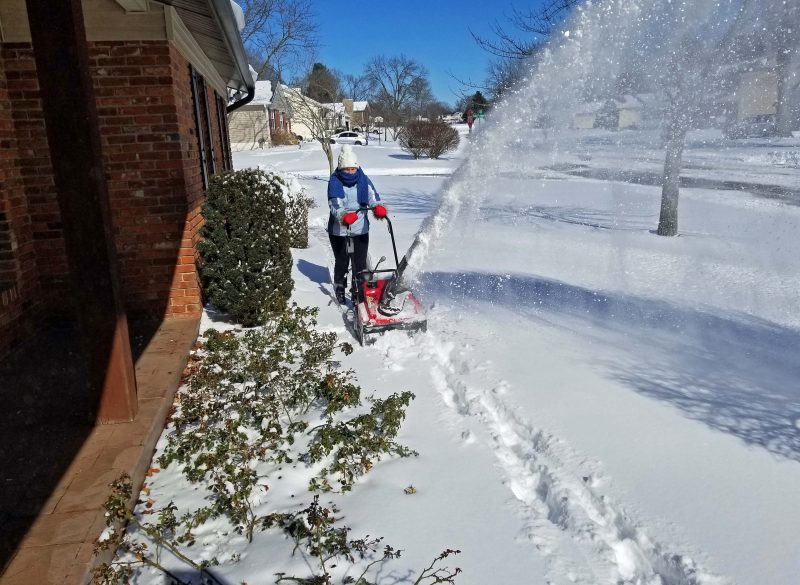 The second pass was a little easier, but our snowblower is designed to work with a foot of snow or less, so 7 inches kept me going slowly to give my little machine a chance to blow a path for itself.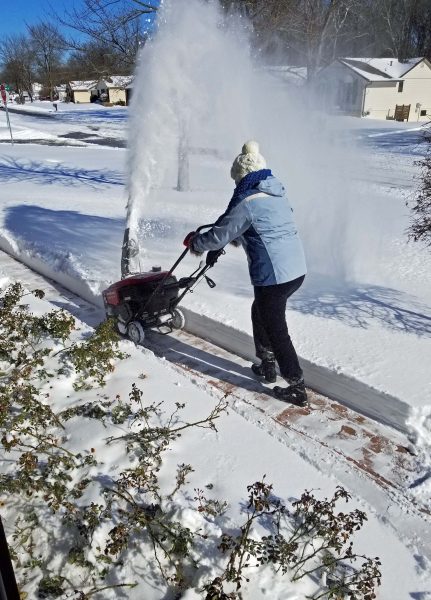 While I was using the snowblower, Ted was using a shovel to clear the places the snowblower can't go–the back step, the front porch, and the corners. Two-and-a-half hours later, we had all of our concrete clear. Then we cleared Claudia's driveway. Claudia's husband died three weeks ago and we know she doesn't have a snowblower. That was a lot of snow for her to have to shovel in a double driveway. Another neighbor with a snowblower cleared Jim's driveway. Although it's only 5 degrees, the sun is melting the snow residue on the concrete. Even a snowblower is hard work–especially with seven inches of snow to move. I was sweating by the time I went back indoors.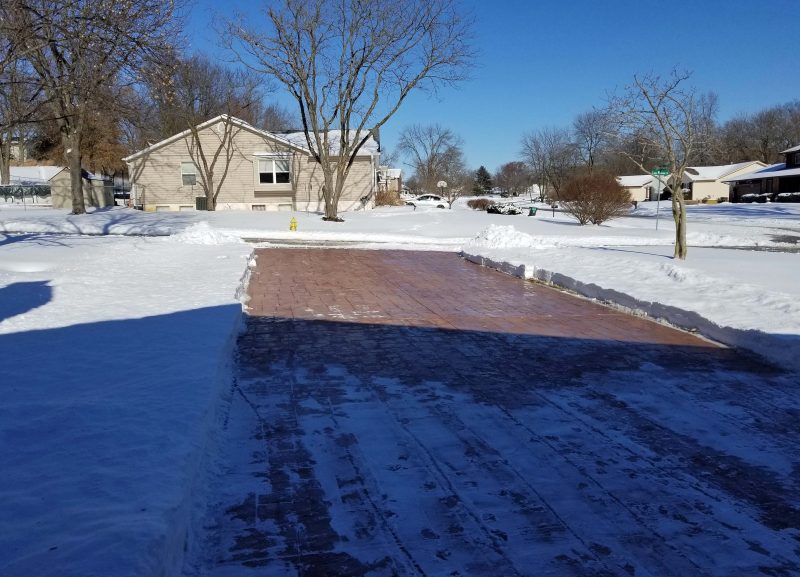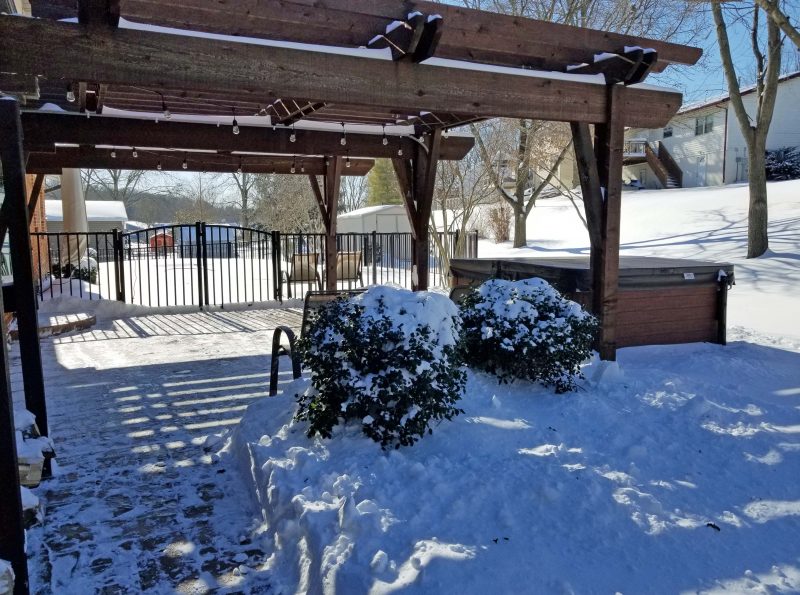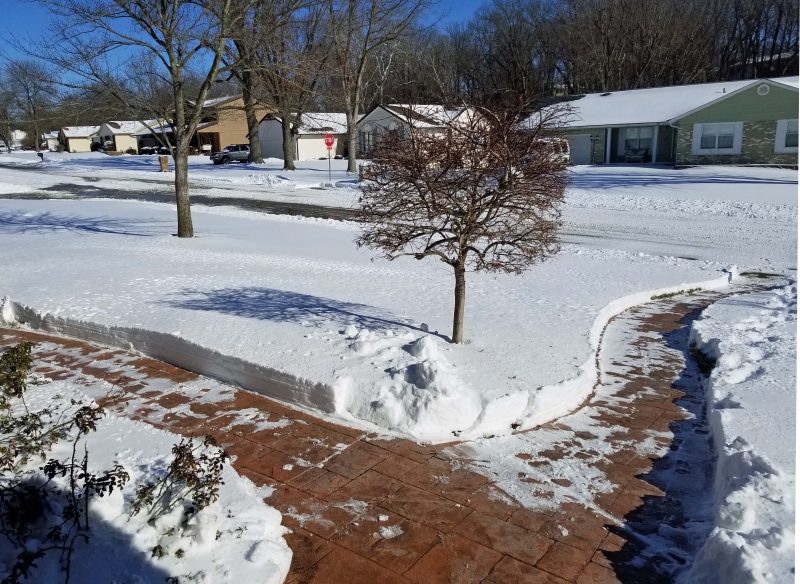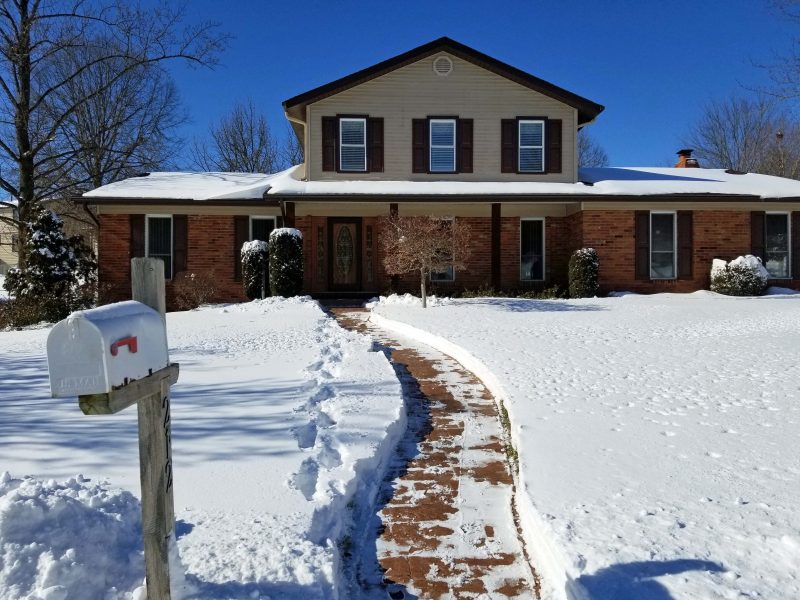 February 17. Guess what. We had another two inches of snow overnight. We got out the snowblower–again–and cleared all of our concrete–again. It was easier this time because (1) there was a lot less snow, and (2) yesterday's paths were visible. It was still mighty cold, however. We had 14 days in a row with temperatures below freezing, and 10 of those days never got above 20 degrees.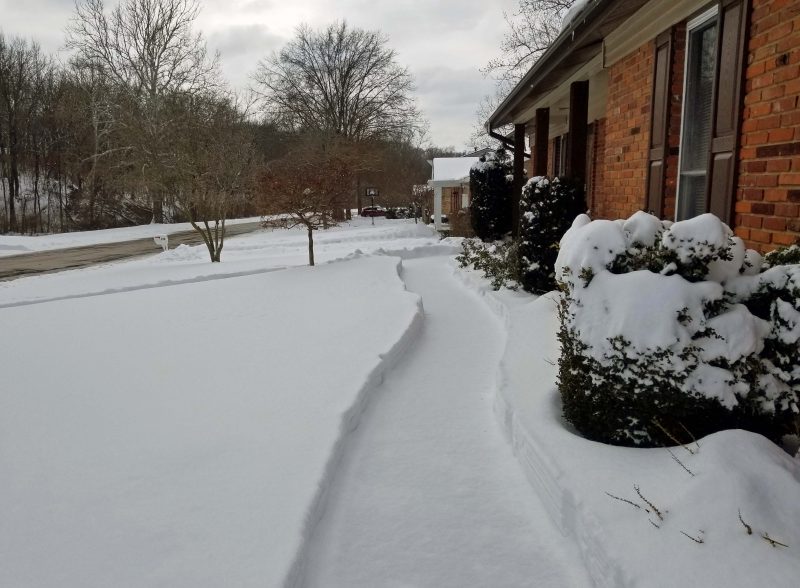 February 18. The skies dropped another inch of snow on us. The temperatures are warming up, however, and with the concrete warmed a little from the sun after we cleared it the last two days, we knew this last bit of snow would melt on its own.
February 23. Talk about extremes!!!! Eight days ago, it was 4 degrees; yesterday we warmed up to 58 degrees and today it was 71 degrees! You could almost literally watch the snow melt. By the end of the day, it was gone, except for a few places where the piles were deep or where there was shade.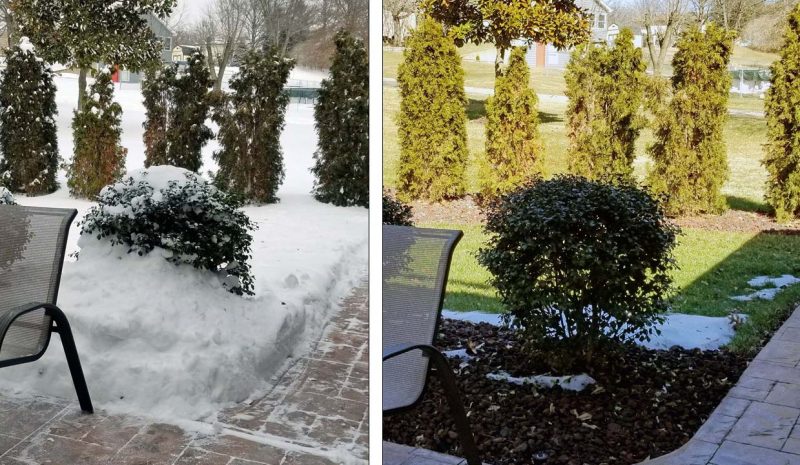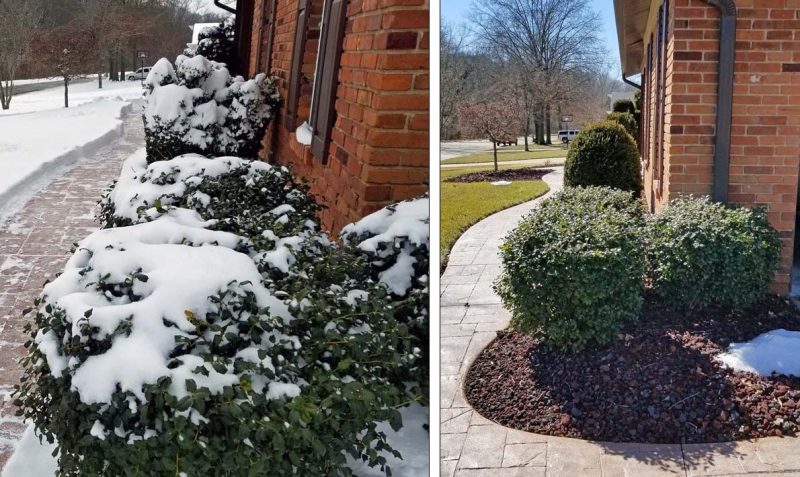 February 24. Today, it was 62 degrees–a little cool to put the top down on my car, but warm enough for Ted and me to take our walk in long-sleeved shirts without wearing jackets. With the snow out of the way, I can smell spring in the air. The snow was fun while it lasted, but I like warm weather much better than cold. Think spring!
Author's note: Ted and I know how fortunate we are to be able to enjoy this major (for our area) snowfall with the luxuries of heat, light, water, and food. We give thanks for our blessings and offer prayers for those who are suffering because of the storms across the country, especially in Texas.