Ted and I enjoyed our time with Thom and Katie's family and we are grateful to have spent even a small amount of time with Jeff, La, and Kyra. After two years of not being together in person, our visits with both families were much too short, but we learned something for our next trip. The unplanned extra time we had with T & K's family gave us the opportunity to feel that we were (temporarily) immersed in their lives. It was a treat to spend more time with Sefton and Hadley and to truly get to know them better–Sefton's interests and personality and Hadley's baby-ness and cuddling. Living so far from them, we never feel like we have enough in-person interaction to be a true part of their lives, and it was a good feeling to be with them a little longer than usual. When we plan our next trip, we'd like to spend more time with both families so that, when we leave, we feel like we've had a full meal, not only a snack.
Before driving to the airport, Ted and I each took another COVID test and were–again–definitely negative. The four days since our last test gave us some time to incubate the virus after our exposure to it, and we wanted to be sure that we tested negative before leaving T & K's family–especially the two young unvaccinated children. Just before leaving for the airport, Thom (reflected in the window) wanted to take one more picture of Sefton and Hadley with Grandma and Grandpa.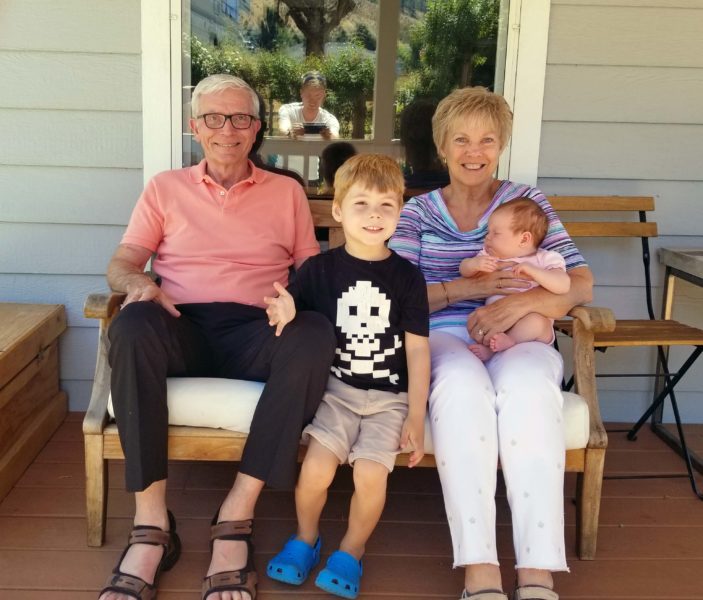 After unloading our luggage at the airport curb, we had one more hug and one more kiss for everyone and then had to get in line to board our plane at Wenatchee's single gate. The line wasn't long. Ted and I felt sad about leaving, and we vowed to return ASAP. Let's all work together to beat this COVID thing so we can travel freely again!
Once again, our 20-minute return flight from Wenatchee to Seattle on a propeller plane provided some nice lower altitude views. This photo of wildfire smoke in the Cascades looks like ocean swells.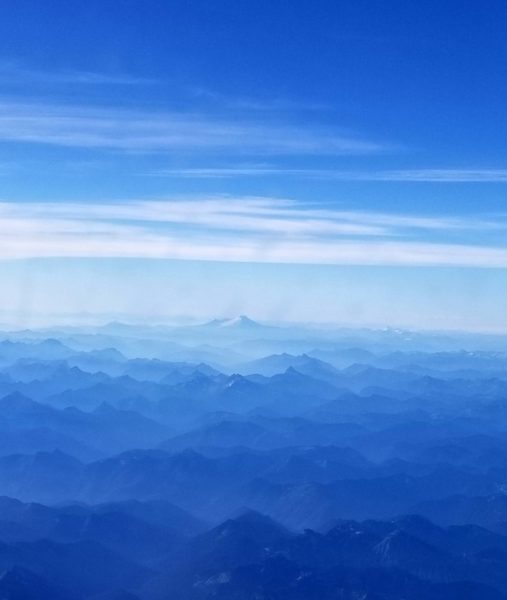 We couldn't see flames, but this is obviously the origin point of a wildfire.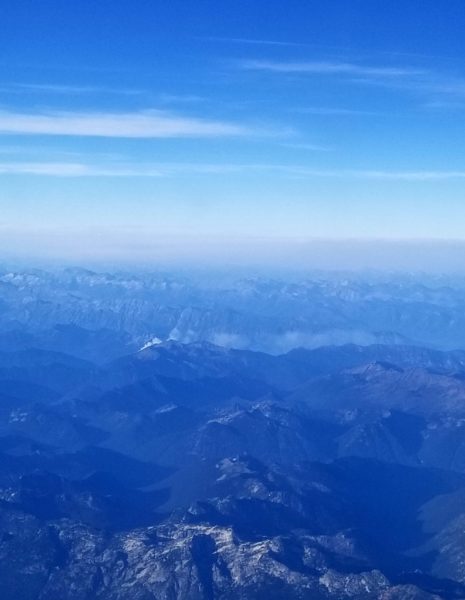 A thunderstorm developed to the south of us. Hopefully, it rained on some of the wildfires.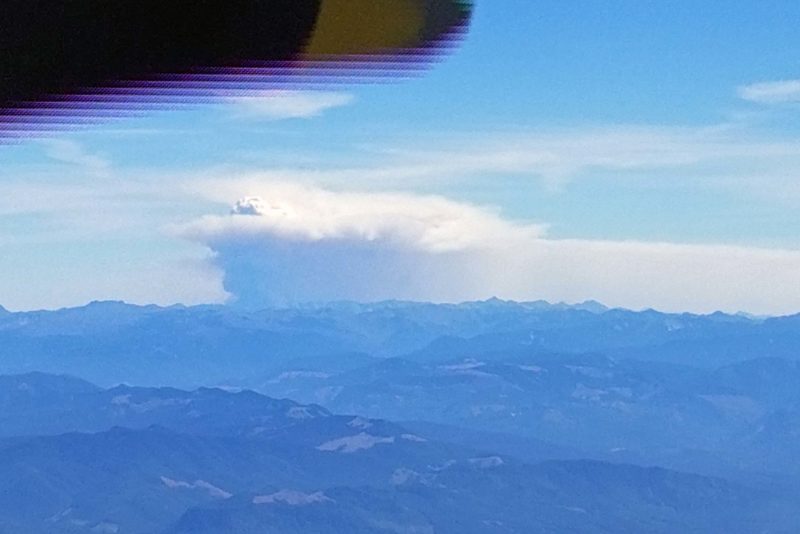 Katie mentioned to me that the June heat wave in the Pacific Northwest melted the snowpack off Mt. Rainier. I later looked this up online and learned that Paradise, at 5,400 feet above sea level on Mt. Rainier, lost a record 110 inches of snow in 21 days in June. The snowpack insulated the glaciers so, without it, the glaciers are receding as well. When we've seen Mt. Rainier in the past, it's always been snow-covered. The photo below shows large bare areas due to the absence of snow cover this summer. This is a view of the north side of Rainier; the south side has even less snow/glacier cover.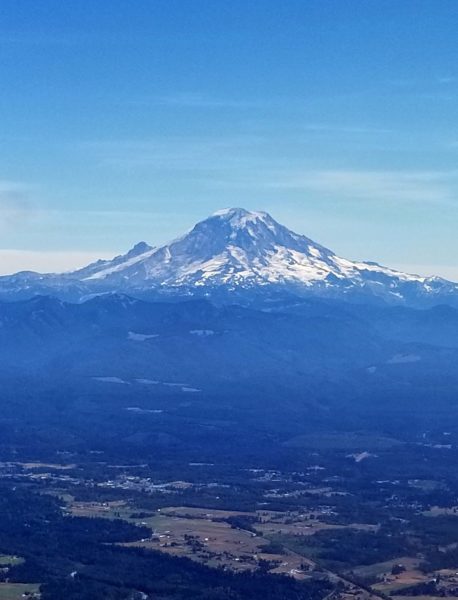 Ted and I had a three-hour layover in Seattle. We left the gate area to have dinner nearby about 90 minutes before our departure time, then returned to the gate and learned there had been a gate change while we were eating. We had to hustle to catch a train to a different terminal, then hurry to the new gate. We had an uneventful flight home, missing our boys' families already and wondering how soon we can visit them again. The best of times are those you wish didn't have to end. This was one of the those times for us.