Today, Ted and I decided we felt like biking the Katy Trail from St. Charles to Machens, so we did. Machens is the eastern terminus of the Katy and we've been there before, but it's a nice ride. We biked 25 miles round trip–just enough for today. The weather was perfect and there were wildflowers blooming for miles along the trail. We met very few other bikers, so it was a quiet ride and we could bike side-by-side nearly all the time.
When we arrived in Machens, there were several other people there. Since it's the terminus, people at Machens always ask "Where did you come from?" Today, there were three of us who started in St. Charles and one man who started in Clinton, MO, the western terminus of the Katy. We all compared notes on how much of the Katy we've covered. Ted and I have bikes 67 miles of the trail. One man who has taken the train westward, then biked eastward toward home, reviewed all the places the train stops along the Katy. You may bring your bike on the train, but they only allow four bikes and the bike has to be a regular size two-wheel bicycle–no three-wheelers, trailers, etc. There's apparently very limited bike storage space on the train. As a result, it's necessary to make a reservation and buy your ticket about a week before you plan to go.
The man who biked from Clinton started riding two days ago and finished the 237 miles by 2:30 p.m. today while we were there. He described the Katy as a "Missouri gem" and said he was really impressed with the maintenance and the condition of the trail all the way. His wife drove the support vehicle. She followed him on the highways, brought him lunch, picked him up at the end of the day, transported everything except his daily trail necessities, and arranged for overnight accommodations, When she heard we are from St. Peters, she said she'd been shopping there earlier this afternoon before she had to leave to meet her husband at Machens. I took a celebratory picture of the two of them with his dusty bicycle.
Ted took a picture of me at the Machens stop before we left for a good ride back to St. Charles.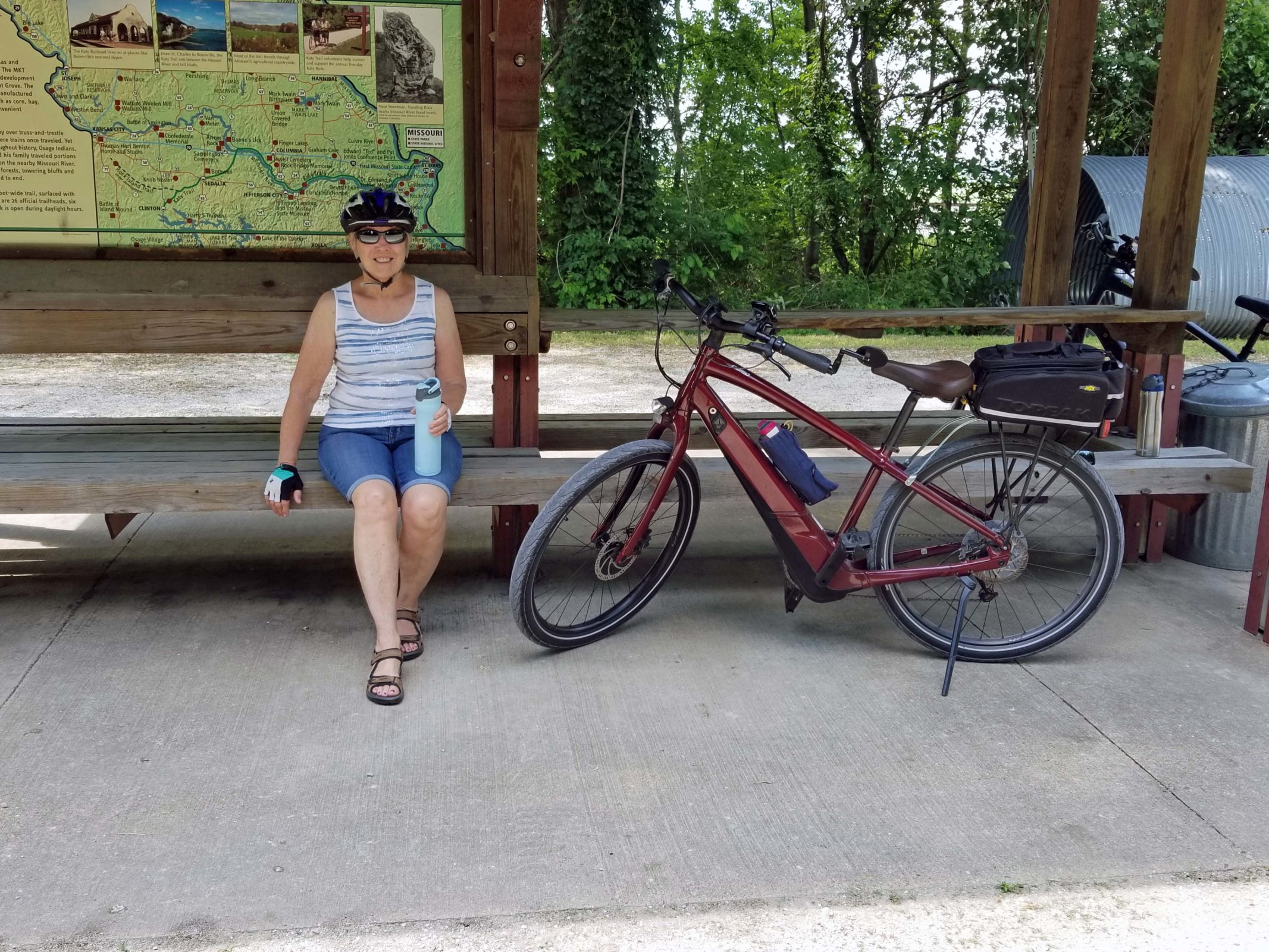 When we got home, we cleaned the dust off our bikes, had a light dinner, then relaxed in the hot tub before getting into the pool. Next: a Saturday date night Netflix movie with fresh strawberry sundaes.