This is my dad/Grandpa Pete. I don't remember the hat and I can't tell what the pin says. I can't even remember Dad ever wearing a cowboy-style hat, but pictures don't lie. Or they didn't in 1979.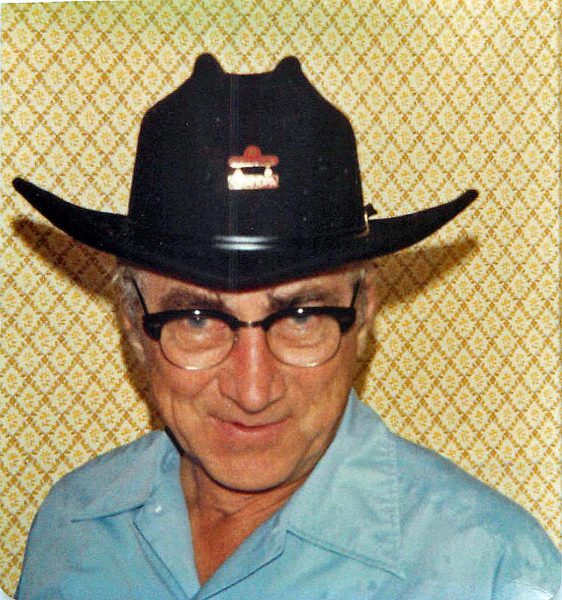 Sticking with the 1979 cowboy theme, this is Ted's Aunt Verna, his brother Gary, and his mom on our new front porch. (We moved into this house in July 1979.) I don't remember Gary's cowboy phase either, but it looks like Sheriff Brett Maverick has come to visit. Maybe he went shopping with my dad.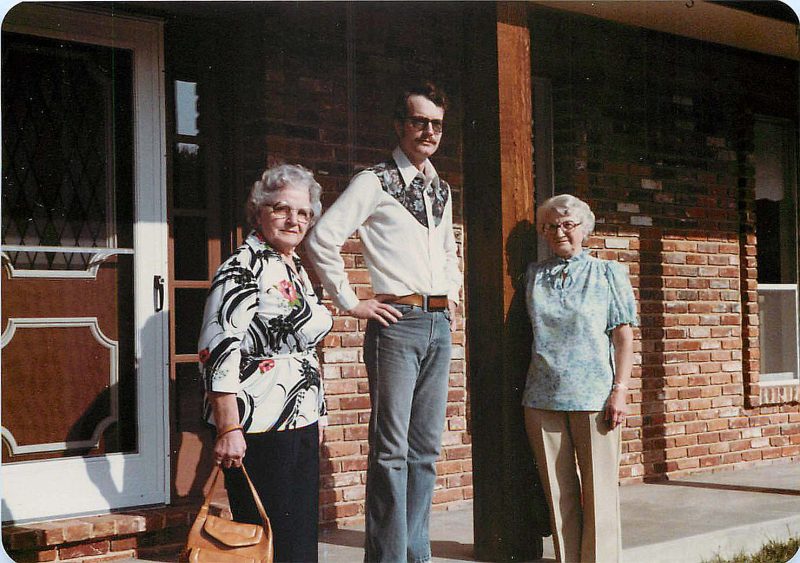 When we bought a bike for Jeff, he didn't want to practice riding it. He told me he didn't see any point in practicing, since all the kids who were six already knew how to ride. His plan was to wait until he was six and then get on his bike and go. It wasn't easy to convince him that the six-year-olds could ride their bikes because they had practiced. He's seven in this picture trying out his new, larger bike, and it looks like he's happy to have mastered that skill.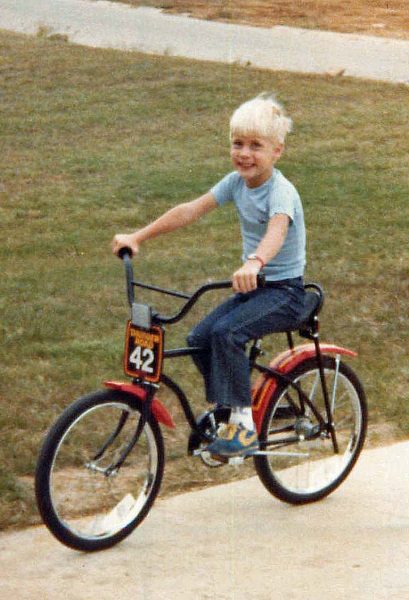 This is Kathy in first grade. If I remember correctly, her class did a unit about Native Americans and she made this costume.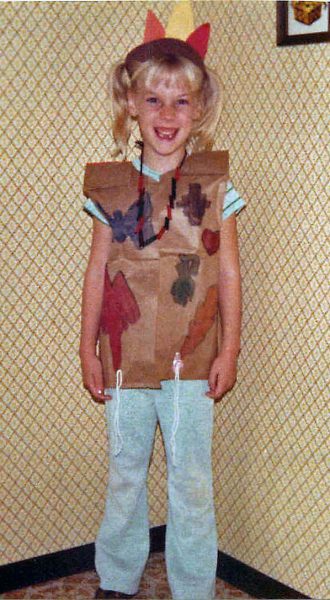 Thom (Tommy in 1979) is three years old and already in love with trucks. His career goal for many years was to drive an 18-wheeler, and he could recognize semi cabs from behind, as in "Well, only a Kenworth has a smokestack like that."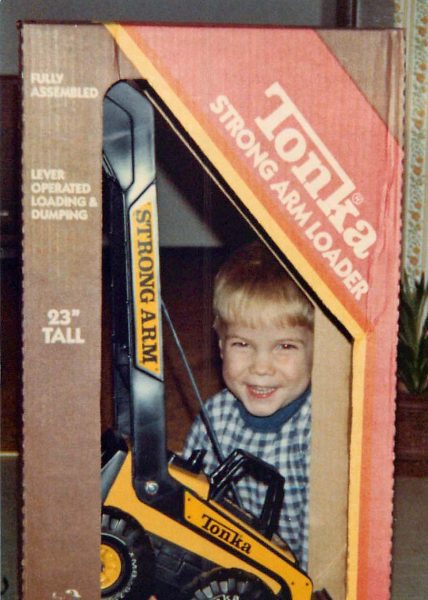 Here's one-year-old Kari with her Christmas doll, Kelly. Kelly came with her fluffy elephant friend named Elly.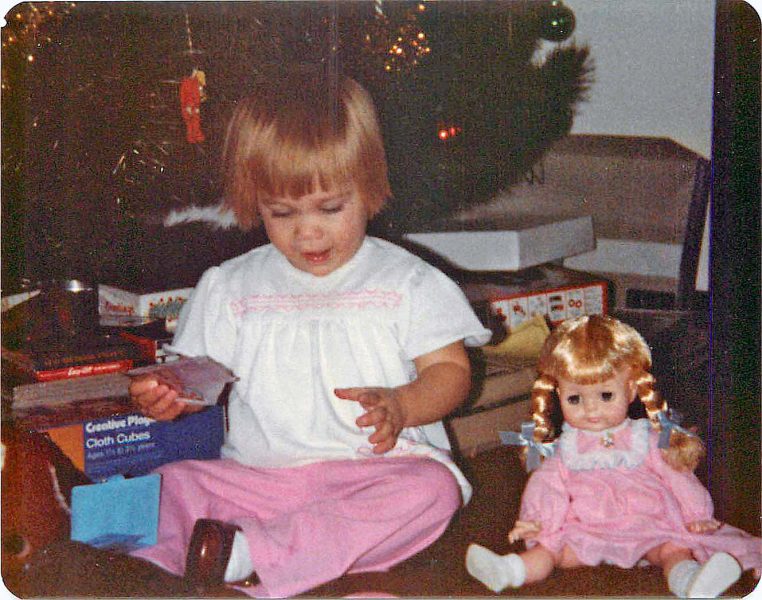 It's July 1979 and it's hot outside. The building on the left is a day care center. Our house was the first residence built in this plat of the subdivision. See the swimming pool complex in the background? This picture must have been taken within the first two weeks of moving to our new house, because Ted and Jeff walked to the pool to buy a membership for us a few days after we moved in. After that, we didn't use this backyard swimming pool. With nothing between us and the pool complex, we could sit in our back yard and hear the music blasting out of the concession stand to the accompaniment of the twang! of the diving board.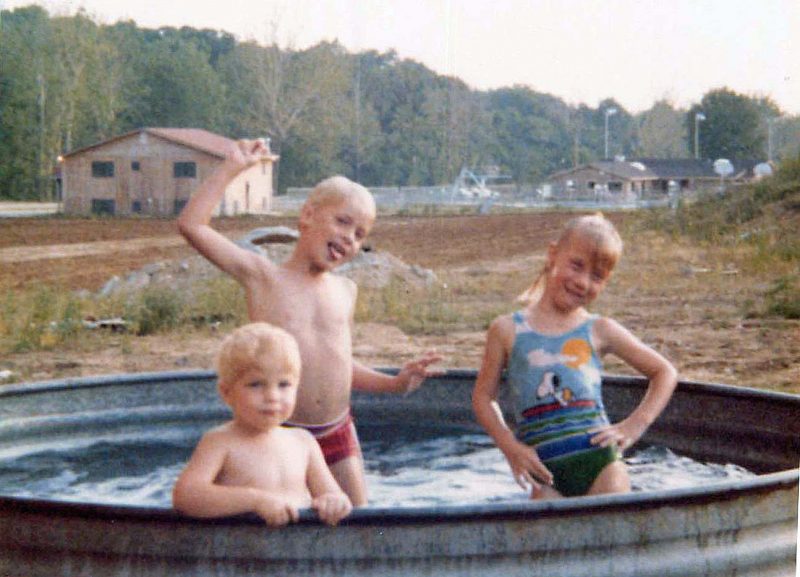 I think this must be the picture we sent with our Christmas cards in 1979. Check out Tommy's colorful belt. All my life, I wanted to learn to play the piano. My early career goal was to play like Liberace (I watched his TV show every week), but my parents never had a piano. Ted bought this one for me for Valentine's day in 1974 and I took piano lessons for five years. During that time, Thom and Kari were born and my practice time disappeared. That's a 60-inch long console stereo against the far wall in the dining room. After a bedroom set and a kitchen table and chairs, that was the first piece of furniture Ted and I bought after we got married. It had a spindle that held six LP records, an AM-FM radio, and a tape deck to hold Ted's reel-to-reel tape recorder to play tapes. And all in stereo sound!